Left over idlis usually turn into Idli upma not only because they are easy to prepare but it also happens to be Lil angels favorite snack.But last week when we had some leftover idlis from breakfast I made this masala idli that I had bookmarked at Srivalli's blog.It was yum and I am sure to make this often.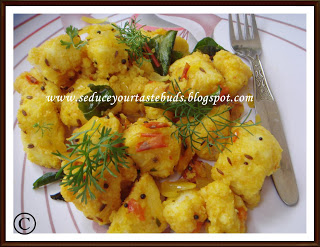 I used: The original recipe is here.
Left over Idlis – 6
Tomato-1,chopped
Onion-2,chopped
Curry leaves a few
Mustard-1 teaspoon
Cumin seeds-1 teaspoon
Turmeric powder-a pinch
Red chilli powder-1/2 a teaspoon
Garam masala-1/2 a teaspoon
Coriander leaves to garnish
Oil-2 teaspoons
Cube the idlis and keep aside.
Heat oil in a pan and put in mustard,cumin,curry leaves.
When the mustard pops put in onion and saute till translucent.
Put in toamto and cook till soft.
Add chilli powder,turmeric powder,garam masala and mix well.
Add the cubed idli pieces and mix well to coat the spices evenly.
Sprinkle a little water if the mixture is very dry.
Check for salt and add if required.
Simmer,cover and cook for 2 minutes.
Serve hot garnished with coriander leaves. This needs no side dish as it tastes great on its own.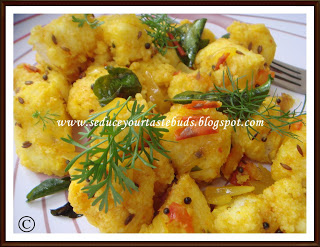 Sending this to Nupur's BB-6-Potluck edition and my event Scrumptious delights from leftovers
Bon Appetit…