I have said this a thousand times before and here it comes yet again – I love Tofu.Yes,yes,I can hear you say it tastes bland but its that very fact that makes it all the more interesting to cook with.It soaks up on the other flavors in the dish and blends with the other ingredients.
To be frank I had never tasted Tofu till I landed in the orient.Then I slowly tasted it with 'caution'[maybe looking for some food allergies or something…], and then tried to incorporate it into some indian dishes .
Gradually fell in love with it.I never fail to order this in restaurants and in the hotpot.
Another reason for my love to florish is the fact that its available in many shapes and forms, fresh at the farmers market.One huge block of tofu [that is enough to make bhurji for 3] costs just RMB 0.50!!!So less for so much of tofu!!!
And then,Lil Angel too fell in love and loves it so much that I can give her paneer and tell her its tofu and madam finishes it off.[Not that she does not like paneer but she prefers tofu.]
So when dear Jaya announced global kadai where she challenges us to Indianise Tofu.[Global kadai was conceptualized by Cilantro, and is an event where global dishes are indianised ],I immediately remembered this recipe in the drafts.
This pulao is made with peas and fried tofu cube and has a touch of Indian spices.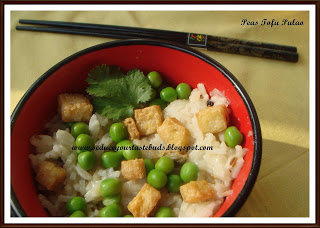 I used:
Rice- 1 cup,[preferably basmathi,I used the regular rice and didn't turn out very fluffy]
Tofu cubes-1/2 a cup
Green peas,cooked-1/2 a cup[I cooked it in the microwave for 8 minutes]
Onion-1 finely sliced
Ginger garlic pate-1 teaspoon
Green chillies-3,slit
Cumin seeds-1 teaspoon
Bay leaf-1
Cloves-2
Cardamom -2 pods,crushed
Oil-1 tablespoon
Salt to taste
Coriander leaves to garnish
Soak rice for 15 minutes.Drai and keep aside
Heat oil in a pan and arrange the tofu cubes.Fry tossing them lightly so that it turns light brown.Keep a bowl of cold water nearby and drop the tofu pieces into the water and squeeze lightly and remove.Keep aside.
In a pressure cooker put in 1 teaspoon of oil and add cumin seeds,bay leaves and cloves,cardamom.
When the cumin splutters put in ginger garlic paste,green chillies,sliced onion and saute till the onion is soft.
Bring to boil 2 cups of water in the pressure cooker and add salt and rice.
Pressure cook for 10 minutes or till done.
Spread on a plate and fluff up lightly with a fork.Add the tofu pieces and peas and mix gently.
Serve garnished with coriander leaves.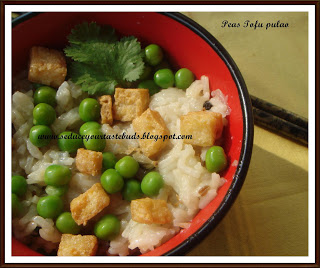 Other recipes joining the event –
Strawberry tofu smoothie – A vegeanized strawberry smoothie.
Chocolatey banana tofu smoothie – Goodness of tofu and banana with a chocolate flavor.
Tofu bhurji – Veganized Paneer Bhurji
Southwestern Tofu scramble – Scrambled tofu with vegetables and a hint of Indian spices.
Bon Appetit…