Savory Oats Porridge – Quick and Healthy Breakfast recipe with step by step pictures
I use oats in chapthi's and dosa's but to have them as a porridge has never been on my list.Mister has it for breakfast every day but I can't stand the look of sweet oats porridge.I don't know why,but maybe its because I find it to be very gooey.
Seven years back,in 2010, I wrote this post. It was inspired from my mom's version of oats porridge and I thought I will try it out as it was highly recommended by her.
I cooked it in the microwave and gave it a stove top tadka / seasoning. It did taste fantastic and I was glad that she insisted I add sun dried green chilies to the porridge for that spicy kick
Now,in 2017, I still make this porridge when I am bored of the usual breakfast dishes. I never forget to add the fried sun dried chilies.
So one fine morning when I made it again for breakfast, I thought it would a nice time to update this post with better pictures.So here is the humble porridge with new pictures . At the end of this post,you can still see the microwave method that I wrote 7 years ago.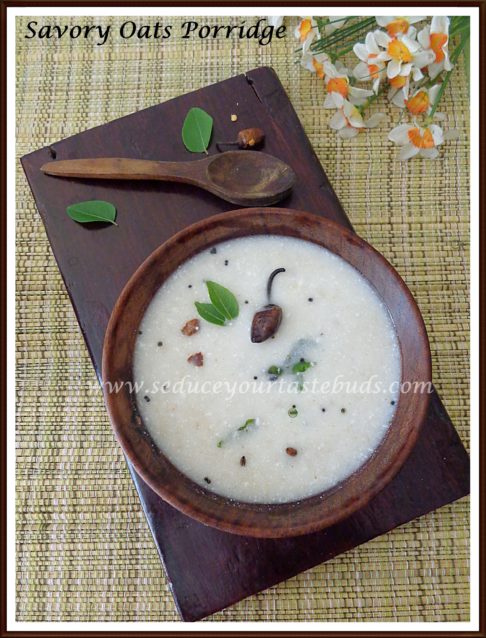 I use:
Quick cooking Oats- 1/2 cup
Fresh yogurt / curd- 1 cup
Sun dried chili / More Milagai – 3, small ones
Mustard- 1/2 teaspoon
Urad dal- 1/2 teaspoon
Cumin seeds- 1/2 teaspoon
Curry leaves- a few
Oil- 1 teaspoon
Salt to taste
Take yogurt / curd in a bowl, add 1/2 cup water and whisk well. Keep aside.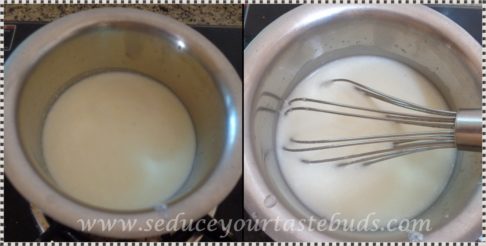 Take the oats in a pan and add 1 cup water and cook on low flame.

Once the Oats is cooked, remove from heat. Let it cool down. Add the yogurt and salt. Whisk without lumps. Add more buttermilk / water to get the consistency you prefer.

Heat oil in a small pan and add the sun dried chili / More milagai. Once it is fried, remove from the pan and keep aside.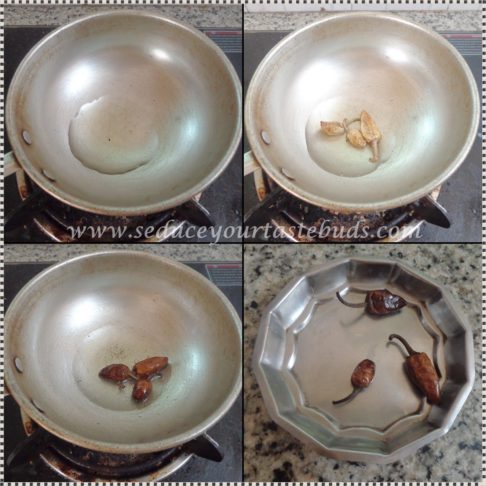 To the same pan add mustard, urad dal, cumin and curry leaves.

Once the mustard pops and the dal turns brown pour into the porridge and mix. Crush the fried chili and serve

I like to have this luke warm…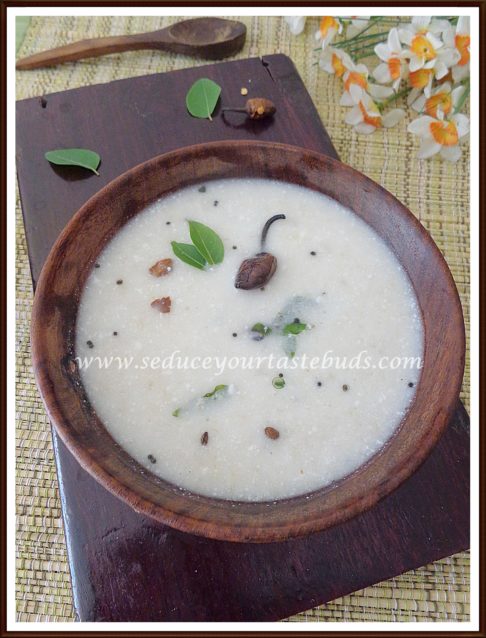 Now here is the original post..
In a microwave proof bowl I took quick cooking oats and added water so that it was one inch above the oats.[You can cook it according to your method also].Once done,I let it cool completely.
Later I added 1 large cup of buttermilk and salt and mixed well to remove any lumps.
Then heated a little oil and added a little mustard seeds , cumin seeds and a few curry leaves.Once it spluttered, I poured it over the porridge.
For an extra crunch and taste I added a fried More Milagai, and garnished it with coriander leaves.

It was absolutely delicious!!!
Oats has tons of health benefits and is especially good for heart as it is said to lower cholesterol levels and also high in fiber.I have written about it here.Do take a look
This day That year…
2008 – Pepper Flavored Rice
Bon Appetit…