I saw this in Kurinji's blog and it sounded like a very tasty meal. I had some dosa batter and made this the same week she posted the recipe. It was really a different type of dosa with all the masala stuffs in it. This is something I will be making often.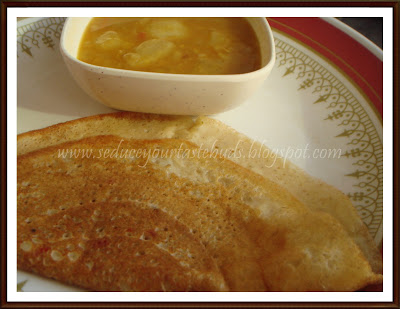 Source- Kurinji Kathambam
I used:
Dosa batter – 2 cups
Onion -1, chopped
Cinnamon – a small piece
Cloves- 2
Curry leaves- a few
Red chillies- 4
Coriander seeds -1 tablespoon
Aniseed- 1 teaspoon
Cumin – 1 teaspoon
Black Peppercorns- 1 teaspoon
Poppy seeds-1 teaspoon
Grated coconut- 1 tablespoon
Ginger -1" piece
Garlic – 3 pods
Coriander leaves- a few
Turmeric powder- ¼ teaspoon
Salt to taste
1. Heat oil in a pan and sauté all the ingredients except salt and batter till onion turns golden brown.
2. Cool and grind to a fine paste with a little water.
3. Add this paste to the batter. Check for salt and add if needed. [The batter already has salt, so check first.]
4. Mix and keep aside for 10 minutes for the flavors to blend.
5. Heat a griddle and pour a ladle of batter in the centre and spread to a circle.
6. When the edges leave the pan, flip over and cook for a couple of minutes till golden brown.
7. Remove from heat and serve with a chutney and sambar of your choice.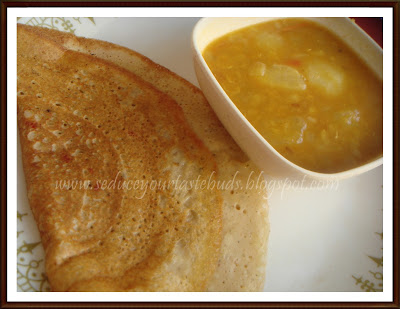 Sending this to BB-9 –Holiday Buffet hosted by Nupur of One Hot Stove.If you have cooked anything inspired from other blogs,do send to across to her event.
By the way,have you heard of Milu? Is it a place or an animal or a thing?Got you curious didn't I!!? Hop over to my Travel blog to find out…
This day That year…
2009 – Misfortune struck me by the dozen,but there was a small consolation and to counteract the misfortunes I made this Ginger tea with brown sugar
I also made these Cucumber Sandwich – An easy breezy English Breakfast
Bon Appetit…