Sprouts are a great source of nutrients.Instead of the regular dosa this one is a great change in taste.Also this batter does not need to be fermented- it can be used immediately after the batter is ground.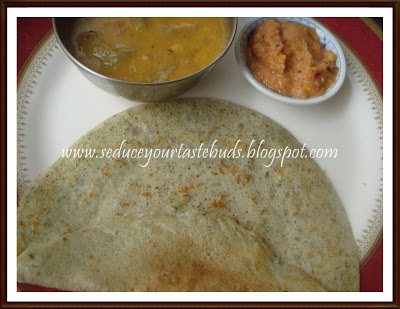 I used:
Sprouted moong – 3 cups
Rice- 1 cup
Urad dhal- ¼ cup
Cumin seeds- 2 teaspoons
Salt to taste
1. Soak the rice and dal in water for 2 hours.
2. Drain the water and grind rice,urad dhal and sprouted moong to a smooth batter with a little water.The batter should be a little thinner in consistency than regular dosa batter.
3. Add salt and cumin seeds to the batter and mix well.
4. Heat a griddle and pour a ladleful of batter in the center. Spread it to a circle and cook.
5. When the edges leave the pan flip it over and cook for another 2 minutes.
Serve with sambar/ chutney of your choice.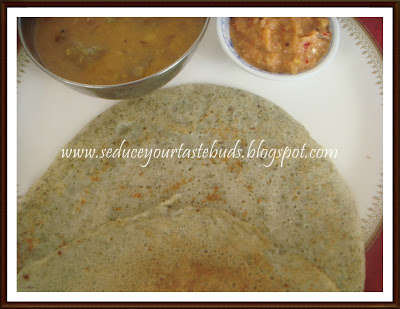 You can also add finely chopped onions, green chillies,curry leaves to the batter.
If you have leftover batter, store it in the fridge and use later.
This goes to Priya of Mharo Rajastan's Recipes who is hosting the 30th edition of My Legume Love Affair,an event started by Susan of The Well Seasoned Cook. Thanks for the remainder Priya 🙂
This Day That Year…
2009 – Cabbage Rice
Bon Appetit…