This popular Indo –Chinese dish has been on my 'to-do' list for quite sometime and I finally made it last week. I searched various sources and as usual changed and altered them to suit out taste.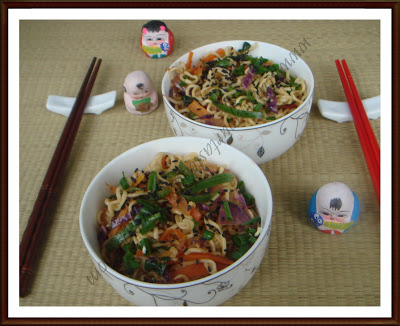 I used:
Hakka Noodles -2 packets, cooked according to the direction on the pack
Mixed boiled vegetables, chopped- 3 cups [ I used carrot, peas, purple cabbage, beans and microwaved them]
Spring onion greens from a small bunch of spring onions
Onion -1 finely sliced
Tomato -2 large
Garlic- 5 large cloves, minced
Soy sauce- 1 teaspoon
Chilli sauce- 1 teaspoon
Oil- 1 tablespoon
1. Chop the tomato finely and add the garlic to it and keep aside.
2. Heat oil in a wok and put in onions and sauté till brown.
3. Add the tomato mixture and cook for 2 minutes till the raw smell of garlic disappears.
4. Put in the mixed veggies, soy sauce, chilli sauce and mix well.
5. Add the cooked noodles and mix so that the tomato mixture coats the noodles.
6. If it is too dry, add a few sprinkles of water.
7. Cover and cook for another 2 minutes for the flavors to combine.
8. Serve hot garnished with spring onion greens.
I did not add salt as the soy sauce already has salt.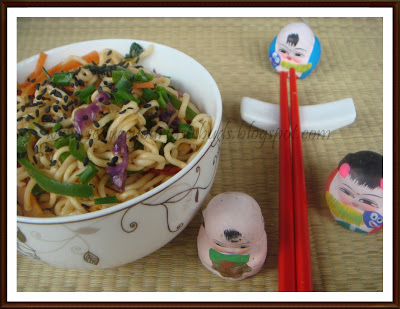 This Day That Year..
2009 – Semiya Upma – A quick fix for breakfast.
Bon Appetit…