After scheduling posts for 10 days,I began 'live' blogging from last night.Back to home-base [read – India] and getting things organized are still under way.Lil Angel is very busy and happy watching her favorite cartoons.Speaking of cartoons, I want to share something that is bothering me.
The cartoons that are being broadcast in the regional languages are somehow not fit for kids.This is my opinion.Let me justify.Last night while we were having dinner,Lil Angel wanted to see 'carton channel' and in that there was some 'monkey' story going on.The original cartoon was probably in some foreign language but it was the translated version that we saw.
The character spoke like a famous South Indian actor.The other characters spoke like movie villains and comedians.I was shocked to hear the language.The slang they spoke are not even used by adults.But kids who say glued to the TV most of the time watch it will naturally imitate the language and the behavior.
Even if this is happening in just a couple of series,it sure scares me.Imagine if a 3 year old spoke bad language thinking its a joke.Won't we be horrified if they spoke something that was way above their age and that too if its spoken in public!
If the characters did their job-spoke like they ought to,teaching good habits and morals to children,I am sure kids will learn faster than that is being taught in school.
I am forced to change channels for this cause.I prefer her to see the classics DVD's like Tom and Jerry, Popeye the Sailor, Mickey and Donald , Bugs Bunny and the like.I am not against cartoons being dubbed in regional languages but its the kind of language and slang being used.
Who is responsible for the change in language of these cartoons character?Is this happening only in cartoons dubbed in South Indian languages or is it going on in other languages as well?Am I the only one who is wondering about this?
Anyways back to Lil Angel.This is one of her favorite dosas.She calls it 'crunchy munchy cone dosa' and loves it for its sweet flavor.No complaints or fuss if this is served! The secret to this is the ghee and sugar used. Its not just her favorite,I love it too.But these days when I make this my brain screams-'You are eating soooo many calories extra,watch what you are eating'.My mind gets alert and I opt for the plain and tasteless no oil/ no sugar version.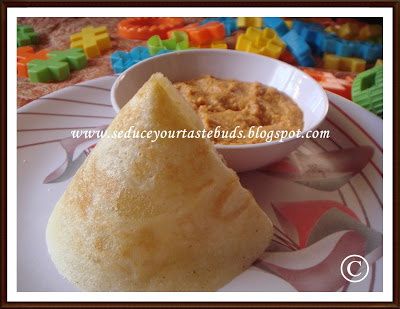 There is no recipe as such.You can make this at the drop of a hat if you have dosa batter in your fridge.
I use:
Dosa Batter
Melted Ghee
Sugar
Heat a griddle and pour a ladle full of batter in the center and spread it to a thin circle.Drizzle ghee around the edges and the center.When it turns crisp, sprinkle a teaspoon sugar over the dosa.Wait for a couple of seconds for the ghee to melt. Fold and serve.[There is no need to cook on the other side.]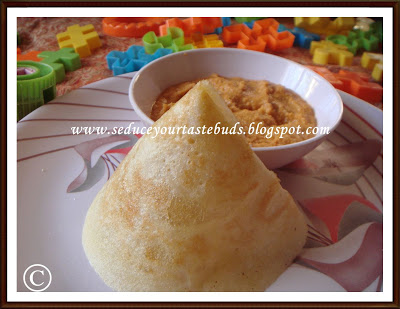 Usually there is no need for a side dish but when I eat this[which happens on very rare occasions] I pair it up with a spicy chutney.Sweet and spicy – yummy combo.
Check put what my blogging marathon buddies are cooking today…
Srivalli,Monika, Jayasree , Priya Suresh, Azeema, Priya Srinivasan, Reva and Ayeesha
Bon Appetit…