Today was the day I was so eager to witness.The morning dawned bright and clear and I was the first one to be in school.Clutching the prospectus file and the interview card, I waited anxiously for the others to come.Somehow I felt comforted by my dad's presence.More kids poured into the waiting area and my anxiety level increased.
Name was called and I walked in summoning all the courage I had and keeping my fingers crossed.The interview took exactly 2 minutes and out walked a jubilant me. Lil Angel skipped around without a hint anxiety or excitement.
Yes,yes,Lil Angel had her 'interview' to be admitted in Kinder garden today.This was the day I was looking forward to.
It seems like yesterday that Lil Angel stepped into this world.Though I was over joyed,even the minor cries and sneezes scared me.That 'yesterday' seemed to last a long long time.Nappy changes, vaccinations,colds and fevers,crawling,walking,running around,learning to talk , talking non-stop and several other things later,dawned 'today'.Today-the day I would take her to school.
The whole 'school' process looked more complicated than the interviews I had attended for my Post grad and my job.First of all the inquiring about the school and getting the application [which you must get with a day or two after the announcement, else you are out of the race].Then comes filling in , submitting the forms,getting the interview card.But you can't relax after that.The Lil one has to be coached with everything from alphabets,number,colors,shapes and what not.The worst part of this training is like this..
Me- Tell me the alphabets..
She- A,B,C,D, amma, why is the sparrow sitting on the window ?
Me–Never mind,u continue..
She-A,B,C,D,…amma, I want water
Me-[after getting her to drink a little water]ok now u tell me
She-A,B,C,D,…amma, where are we going today..
It continues like this…
Then there are people telling you what to expect.'Does she know this? Did you teach her this?What if they ask her that?'.Umpteen suggestions and comments!!!!!I was so worried.She knows everything but is very playful too.
Luckily today she was a ' very good girl' and answered everything [read- her name,parents name and a few general questions] promptly.I thought they would ask her something from the academics but I was mistaken.I had worried unnecessarily.But,thank Heavens,the lil one was so cool about everything regarding the school thing.I was totally surprised as she promptly answered the questions with hesitation.Looks like I had underestimated her!
So to celebrate this occasion of Lil Angel getting admitted in kinder garden,here is a simple yet healthy cake that I would love to share with you.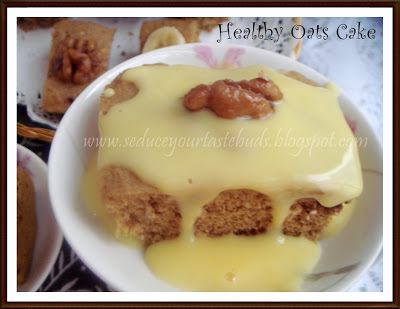 It was one of those very,very cold noons when you want to curl under the blanket,yet your mind is restless to do something.I went and baked this cake with whole wheat flour,oats, nuts and fruit.I just added the ingredients I found in the pantry.An over ripe banana that we had ignored also went into the batter.I did not use oil/ butter.So I can call it healthy ,rite…And in 10 minutes a delicious aroma filled the house.Yes,it takes just 10 minutes from start to finish and that includes the baking time too!!!!Its because the cake is baked in the Microwave.
I found that the cake was not very fluffy and soft so I prepared custard sauce and served the cake with a generous helping of the sauce.The cake disappeared within minutes!
I can proudly say that this cake was born out of my curiosity to use whole wheat and by using stuffs I had in the pantry…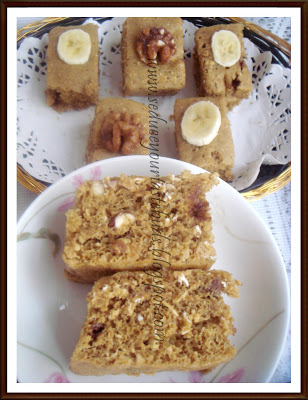 I used:
Whole wheat flour – 3/4 cup
Oats – 1/4 cup
Brown sugar-1/2 a cup
Ripe banana – 1
Low fat milk – 1/2 a cup
Baking powder- 1 teaspoon
Baking soda- 3/4 teaspoon
Chopped nuts- a handful [ I used- almonds and walnuts]
A few slices of banana and nuts to garnish
For custard sauce:
Milk – 1 cup
Custard powder-2 tablespoons
Sugar – 1 teaspoon
For the cake:
In a blender jar puree brown sugar,milk and banana.
In a bowl sift the wheat flour along with baking powder and baking soda.
Pour in the puree, oats and chopped nuts.
Mix well.Add a little milk if the batter is very thick.
Pour into greased microwave proof tins and microwave for 4 minutes or till a skewer comes out clean.
Let it cool a bit before slicing the cake
For the custard sauce
In another microwave proof bowl heat the milk with sugar for 1 minute or till it just starts boiling.
In a small bowl take a little of the warmed milk and mix in the custard powder taking care that the paste is free of lumps.
Pour into the milk and mix well.
Microwave for 2 minutes stirring once in between or till you get the custard consistency.
To serve:
Microwave the cake slices and the custard for a couple of seconds .In a serving plate,place the cake and pour warm custard sauce over it and serve garnished with banana slices / nuts.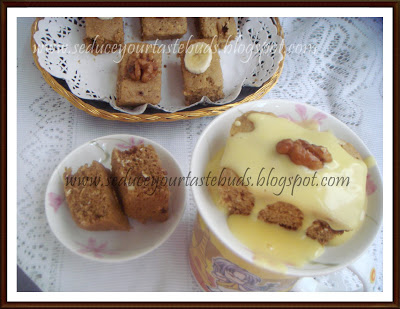 Note:
The cake turned a little hard after it was left outside for a couple of hours.I reheated it in the microwave for a few seconds and the cake was soft like it was freshly baked.
Add a little more milk if you want custard of thinner consistency
This goes to Srivalli's 365 days of MW cooking ,and a part of the combo meal to Indrani's MEC-Combo meal, also started by Srivalli
We,Srivalli,Monika, Jayasree , Priya Suresh, Azeema, Priya Srinivasan, Reva ,Ayeesha , Soumya and Veena
and myself are doing a blogging marathon this month.Check out what's cooking in their kitchen…
Bon Appetit…