Here is a delicious, chilling and totally guilt free dessert that diabetics and weight watchers will love.This recipe is from Exotic Diabetic Cooking by Tarla Dalal.I am sure you remember this book that I reviewed a couple of days ago.
This sorbet makes use of green grapes.Ginger and lemon add a zing to the sorbet.The original recipe asks for sugar substitute but I did not add as the natural sweetness from the grapes was sufficient to make it delectable.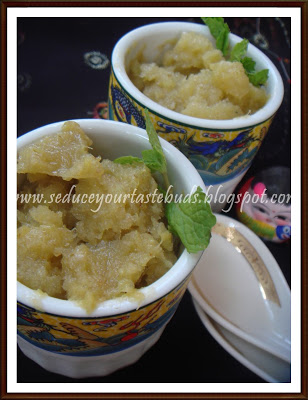 This sorbet is very low in calories and I am sure everyone will love this.This is such a refreshing change instead of eating the grapes as a fruit.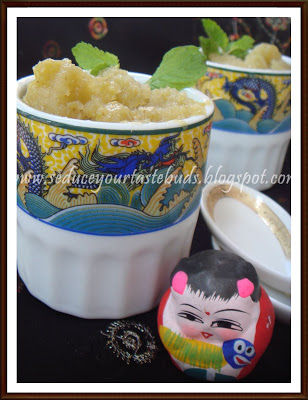 I used:
Green Grapes
Lemon juice to taste
A small piece of ginger
A pinch of salt[optional]
Mint to garnish
Blend all the ingredients adding a little water.
Pour into a shallow dish,cover and freeze till set.
Scrape out [use a fork] into serving bowls/ cups and serve with a sprig of mint.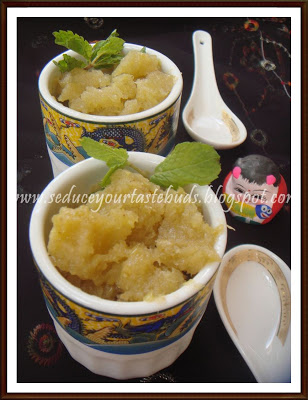 I am sure you will agree that its so simple to prepare yet will be a treat for diabetics.Well its not only for them, I loved it to.The hint of ginger,lemon juice and salt was so refreshing and it has such a cooling effect in summer….
Check out what the Marathoners are doing in Season #4 of the blogging marathon hosted by Srivalli


Diabetes Diet/Management: PJ[That's me]

Kid Friendly Recipes: Suma, Priya Suresh, Divya
Seven Days of Soup:Ila, Smita P
Seven Days of Indian Bread: Monika
Seven Days of Cakes: Bhagyashri
30 Minutes Meals: Archana
Seven days of Condiment: Kamalika, Srivalli
This Day That Year…
2009 – Orange flavored Gojju
Bon Appetit…