Here starts another edition of Srivalli's blogging marathon and the theme I have chosen is summer coolers. I found this very convenient as I am also hosting Srivalli's Kid's Delight event with the theme Cool Comforts.
Today's summer cooler is my Lil Angels Favorite.I usually prepare apple milkshake that she loves and when I saw this recipe on Nithya's 4th Sense cooking blog, I tried it right away and needless to say this became her new favorite.
Apple blended with milk and ice cream and a light sprinkle of cinnamon powder does the trick.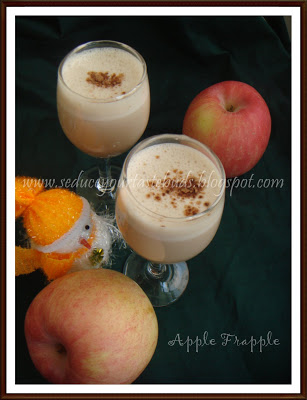 I used:
Apple – 1,large, peeled, cored and cubed
Milk – 150ml
Vanilla ice cream- 1 scoop
Sugar to taste
Cinnamon powder – a pinch
Blend all the ingredients except Cinnamon powder and serve chilled with a pinch of Cinnamon powder sprinkled on top..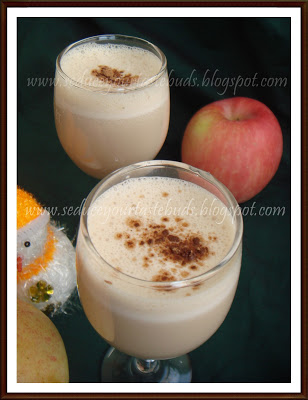 A very delicious cooler that even adults would love to sip..
The one eyed snow man in this pic was generously given to me by Lil Angel and she wanted me to use it as a prop in this pic which has her favorite milkshake. I didn't have the mind to say 'No'. So here is the snow man chilling out with Apple Frapple…
Also sending this to Nayna's Mocktails and cooler event, started by Pari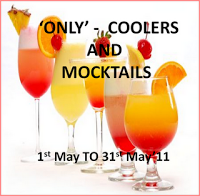 And to and Divya's Show me your summer cooler
Catch up with my fellow marathoners in BM#5and check out what they are cooking today…
Curry in a hurry under 30 min: Priya Suresh, Srivalli, Usha
Seven Days of Colorful Dishes Kid's Special: Vardhini,
Seven Days of Indian Sweets: Harini, Suma, Veena
Seven Days of Regional Specials: Aarthi, Kalyani, Pavani, Shylaja
Summer Coolers: PJ– That's me, Vaishali
Under 15 mins Quick Breakfast: Sushma Pinjala
Happy cooking…