Sugarcane juice is not amongst the favorite list of Lil Angel. She finds it too sweet. Her tolerable level is just a couple of sips and not more. We on the other hand love this so much that we don't mind gulping down a couple of cups at a time.
I wanted her to relish this.Sugarcane juice has a number of health benefits apart from the fact that is very delicious.
It is an instant source of energy.
It has anti oxidant properties
It promotes the clear flow of urine and helpful in avoiding kidney stones.
Sugarcane juice is given in the treatment of jaundice
Apart from this it is really refreshing to have a cup of sugarcane juice when the summer heat is killing us.
I wanted Lil one to enjoy this delicious sugarcane juice in a different form so I made this sorbet. In India, when the sugarcane juice is expressed, lime / lemon is kept between the sugarcane. The combo of lime and sugarcane is really refreshing. Here in China, sugarcane juice is expressed as such without any addition. I got this sugarcane juice [freshly expressed] and came home and added ginger powder and lemon juice to taste. Then made it into sorbet. Lil Angel loved this!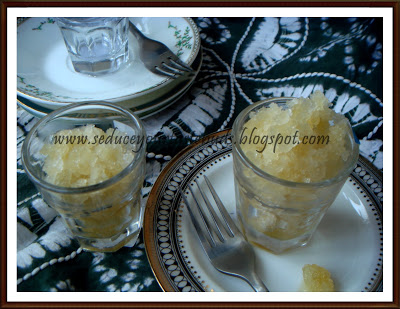 I used :
Sugarcane juice – 300ml
Ginger powder- 1/2 a teaspoon
Lemon juice- 1 teaspoon
Mix all the ingredients together.
Put it into a freezer proof container and freeze till set.
Around 10-15 minutes before serving, remove from freezer, scrape with a fork and serve in individual cups.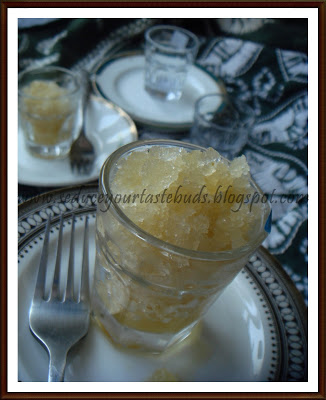 Note :
You can adjust the quantity of ginger powder and lemon juice to suit your taste.
This goes to Srivalli's Kid's delight event hosted here with the theme – Kid's Delight event with the theme Cool Comforts
Let's take a look at my fellow marathoners in BM#5 and find out what they have dished out today…
Curry in a hurry under 30 min: Priya Suresh, Srivalli, Usha
Seven Days of Colorful Dishes Kid's Special: Vardhini,
Seven Days of Indian Sweets: Harini, Suma, Veena
Seven Days of Regional Specials: Aarthi, Kalyani, Pavani, Shylaja
Summer Coolers: PJ[ That's me], Vaishali
Under 15 mins Quick Breakfast: Sushma Pinjala
This Day That Year…
2010 – Vegetable Oats Rawa Idli
2009 – Forbidden Rice Pudding
Bon Appetit…