Yesterday the climate changed suddenly. It was sunny in the morning and by mid day it turned cloudy. Lil Angel was pestering me for some snacks and I was craving for something crispy and spicy to go with our evening tea. So I made this savory snacks using Oats.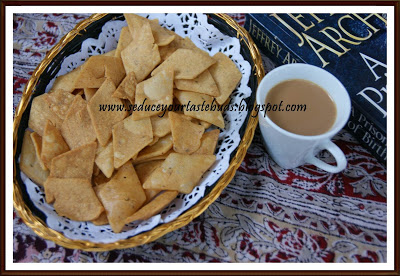 I used:
Quick cooking Oats – 1 cup
Rice flour- 1 1/2 cups
Whole white urad dhal -1/2 a cup
Ajwain seeds -1 teaspoon
Red chilli powder – 1 teaspoon
Salt to taste
Oil for deep frying
Roast oats and urad dal seperately till fragrant. The urad dal has to be golden brown in color.
Cool and powder [together] finely.
In a large bowl take the rice flour, oats and urad dal powder, crushed ajwain, salt and red chilli powder.Mix well.
Add water little by little and knead to a smooth dough.I used less than 1 1/4 cups of water. So be careful while adding water. Add a little, knead and then add some more. The quantity of water that is used up also depends on the quality if the ingredients.
Heat oil for deep frying.
Drop a small piece of dough into the oil and if it springs up immediately, the oil is ready. Simmer. If it takes a long time to rise up, let it heat for some more time.
While the oil is getting heated up, take a ball of the dough and place it between 2 plastic sheets and roll out like chapathi. If it is rolled out too thick , the snack will not be crispy.
Use a knife / cookie cutter to cut into the desired shape.
Drop a few at a time and deep fry till golden brown.
Drain onto paper towels.
Repeat for the remaining dough.
Let the crispies cool completely before storing them in air tight containers.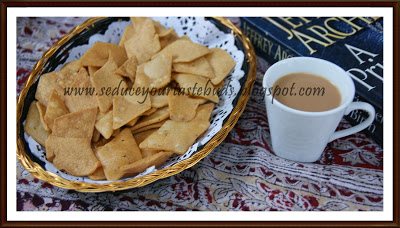 Note :
Don't let the oil heat up too much. Keep going between sim and full flame to get the correct temperature so that the snack is of uniform color
You can use pepper powder instead of red chilli powder
Garam masala can be added to make a masala flavored snack.
It was raining by the time we had this and Lil Angel was so happy to be munching on these snacks as soon as she woke up from her beauty sleep.My way to relax on a cloudy evening – A crunchy snack, piping hot cup of tea and a thrilling novel. Perfect!!!
Today is the fourth day of Blogging Marathon #6.
Check out blogging marathon page to see what my fellow marathoners are cooking this week.
Read more about oats and the delicious recipes that can be prepared with it
here
This day That year….
2009 Strawberry Milkshake
Bon Appetit…