The second post for Srivalli's Blogging Marathon is from a famous author.She was born in Delhi where she also educated.She has traveled extensively collecting vegetarian recipes for this book.Apart from this book she has authored several cookbooks. She is a teacher of Indian cooking and has completed a television series on cookery for the BBC. I love to watch her shows on TLC.
Take a look at the dish first and then let me introduce you to the author……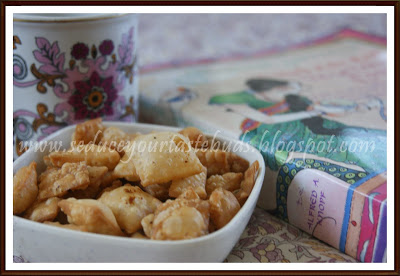 I think you would have guessed that I have been talking about Madhur Jaffrey and her book – World of the East, Vegetarian Cooking. This book has around 400 recipes from India, Bali, Japan, China, Far east and Middle Eastern countries. I shall write a review of this book after I complete the Blogging Marathon. If you are interested in buying this book click this amazon.com link- Madhur Jaffrey's World-of-the-East Vegetarian Cooking
As I mentioned earlier, there are more than 400 delicious vegetarian recipes in this book and I chose Shakkar Paara. We wanted a snack today and this was I one I could think of. Shakkar Paara is the sweet version of Namak Pare. Mildly sweet, it was enjoyed by my Lil Angel…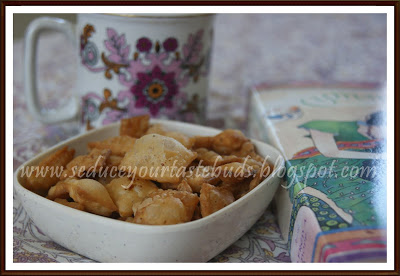 I used:
Maida / All Purpose Flour – 1 cup
Unsalted butter – 1 teaspoon
Cardamom powder- a pinch
Sugar – less than 1/4 cup or adjust to taste
Oil for deep frying
In a bowl sift the maida and butter.
Rub the butter into the flour so that the flour resembles coarse oatmeal.Keep aside
Heat a pan with 1/4 cup water and add the sugar.Simmer and wait till the sugar melts.
Add the cardamom powder and switch off the flame.
Add a little of this syrup to the flour mixture and mix to form a ball. Add more syrup if required. In case the syrup cool, reheat it and use.
Knead lightly for a couple of minutes and pinch out golf sized balls and roll out into chapathis.
Use a knife to cut into squares / diamonds.
Heat oil for deep frying.
Once the oil is hot drop in the cut pieces and deep fry till golden brown.Remove with a slotted ladle.
Repeat for remaining dough.
Store in an airtight container once it cools completely.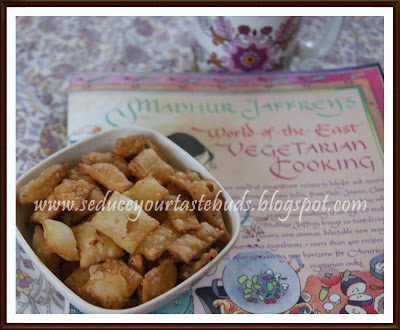 Sending this to Gayathri who is hosting Srivalli's Kids's delight event with the theme Crunchy Snacks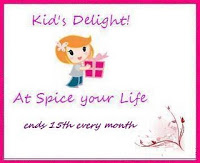 Check out blogging marathon page to see what my fellow marathoners are cooking this week.
This Day That Year…
This day in 2009, the world witnessed the longest solar eclipse of the century. Catch a glimpse of the eclipse and sip a quick and tasty Breakfast shake
Bon Appetit…