Today a second group is starting Srivalli's Blogging Marathon.The theme I have chosen for this week is Cooking from cookbook.With loads of cookbooks in my library,I thought it will be a nice theme to do as it gives me chance to actually try out recipes from these books instead of just drooling over the pictures.
The book that I first chose for this theme is Sukham Ayu, a book with a treasure trove of information on Ayurveda and lots of nutritious recipes.
As promised in yesterdays review of the book, here is the spinach chutney I tried from this book.Usually I tend to alter the ingredients to suit my taste but when I cooked from Sukham Ayu, I did not make any changes. Followed the recipe as given and was rewarded with an excellent side dish.
I have used spinach in many forms and I found this recipe interesting.As the name suggests the recipe calls for spinach and Brahmi or coriander leaves. I could not find Brahmi leaves, so I used coriander leaves.The addition of yogurt to the chutney is very new to me and it really blended with the chutney.According to Ayurveda , Ghee when used in moderation is good for health and the seasoning here is with ghee which added an extra flavor to the chutney.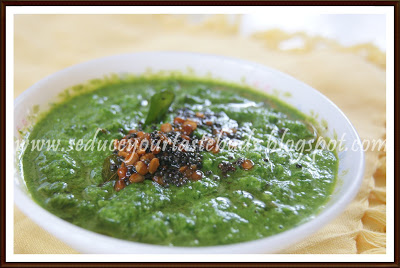 I used:
Spinach – 1 bunch
Coriander leaves – 1/2 a bunch
Black peppercorns – 6 numbers
Cumin seeds – 1/2 teaspoon
Green chilli – 1
Grated Coconut – 1 tablespoon
Yogurt – 2 tablespoons
Salt to taste
Ghee -1/2 a teaspoon
For seasoning
Ghee- 1 teaspoon
Mustard seeds- 1/2 a teaspoon
Urad dhal – 1/2 a teaspoon
Asafoetida powder – a pinch
Curry leaves a few
Wash the spinach and coriander leaves and drain in a colander.
Heat ghee in a wok and peppercorns and cumin.
When they splutter, add spinach, coriander leaves and green chillies. Saute for a 2-3 minutes.Keep aside for a few minutes to cool down.
Grind it to a fine paste with coconut and salt. [There is no need to add water]
Remove to a serving dish and mix in the yogurt.
Heat a small pan with ghee and add the ingredients for seasoning.
When they splutter, pour over the chutney.
Mix well and serve as a side dish.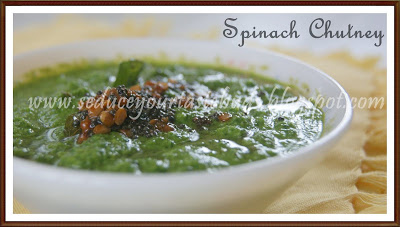 I paired this chutney with Oats Rava idli and they really complemented each other……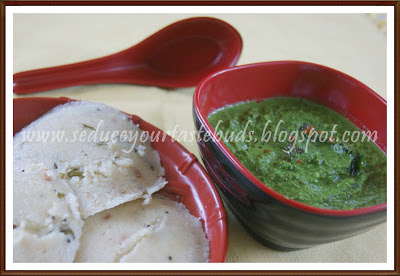 Note :
This chutney is a little watery and can be used as a dip too.
Sending this to Sravani @ Srav's Culinary Concepts who is hosting her first event titled – Cooking concepts : Roti Pachadi / Chutney
Check out blogging marathon page to see what my fellow marathoners are cooking this week.
This Day That Year…
2010 – Soya Capsicum Pulao
2008 – Vazhapoo Vadai – Banana blossom – lentil fritters.
Bon Appetit…