In the quest for a healthy and delicious breakfast for my Lil Angel, I made this vegetable adai. I waited with anxiety till she savored her first bite. Then she went on to take a second bite and I knew I had won!!!
This is a very simple recipe loaded with protein and of course veggies. A very colorful dish that kids and adults will fall in love with. Leftover adai batter can also be used.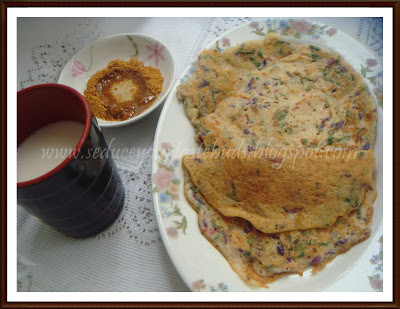 Adai batter
Grated vegetables- I used purple cabbage, carrot
Finely chopped spinach leaves
Finley chopped onion
Coriander leaves
Curry leaves
Cumin seeds
Take all the ingredients in a large bowl and mix well.
If the batter is very thick, add a little water.
Check for salt and add if needed.
Heat a griddle and pour a ladle full of batter in the center and spread it to a circle.
Cover and cook on both sides till brown. This adai will take a little longer to cook. You may also drizzle a little oil around the edges.
Serve hot with a side dish of your choice.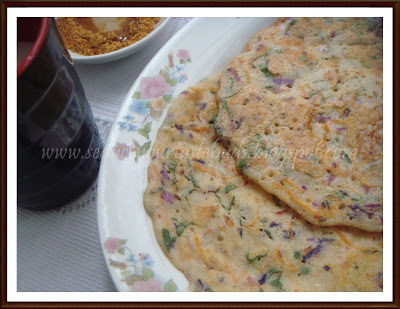 You can adjust the quantity of the vegetables to suit your taste.
Other Adai varieties
Oats Sago Adai
Ragi Adai with herbs
Barley Adai
Bon Appetit…