The minute you look at the book,it is bound to confirm what the book holds within itself! The click on the cover has a Southern touch indeed.This book – Southern Flavors by Chandra Padmanabhan, says it gives the best of South Indian flavors.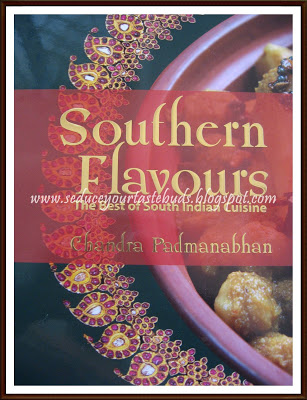 A little about the author before going on to the recipes.Chandra Padmanabhan has been this field for nearly 4 decades She has authored 3 best selling titles – Dakshin,Southern spice and Simply South.. The book Simply South won her the 'International GOURMAND award' for the second best Vegetarian cookbook in 2009.
Coming to the recipes,the book has a wide collection of dishes from Tamilnadu, Andra, Karnataka and Kerala.It has a collection of the author's favorite recipes from her previous three best sellers in addition to the 50+ new recipes featured in this book.
The contents….
The book starts with the Table of measures and the South Indian Utensils that you will require to make some of the South Indian dishes from this book.
It moves on to
Basic recipes which features the basic powders / spice mixes like sambar / rasam / curry powder and even the method to cook rice,etc. – 7 recipes
Sambar and Kuzhambu – The south Indian favourite side dishes to go with steamed rice – 28 recipes
Rasam – Also eaten with steamed rice, this thin concoction is a favourite appetiser too – 12 recipes
Porriyal and Kootu – Vegetable side dishes – 13 recipes
Rice – Features flavoured rice dishes. The South Indian staple, packed with different flavors and is ideal as packed lunches for work / travel – 16 recipes
Snacks – Can be light or heavy and can be a part of the meal too – 32 recipes
Sweets – Fit for everyday meal as well as celebrations and special occasions – 12 recipes
Accompaniments – dishes that can be paired with the main course and snacks – 20 recipes
Each of these headings starts with a small introduction of the recipes that are features under each section.
After the recipes is a section that helps in menu planning – The Buffet spread. This section has 2 menus that has select recipes from the book.13 recipes listed under each menu would be ideal to host a South Indian buffet party.
This is followed by the ' Suggested Menus' section which features 5 menu choices .It has 6 recipes under each menu that is ideal for everyday cooking.
The book ends with a Glossary of the ingredients in English,Hindi and Tamil.
Some features that I liked in this book:
This book has some traditional South Indian recipes that are no longer seen in the modern kitchen.
The pics of idli stand and kuzhipaniyara kal is worth mentioning as many from non Southern states may have never seen these before.
Tips and notes in the recipe provides insights to recipes and also has mentions about the substitution of ingredients if needed.
Each recipe starts with an intro that explains in a couple of sentences about the origin of the dish and the places where it is famous.
Recipes like Nupindi Pulusu [Sesame flavoured curry from Andra],Kaay Hulli[Curd curry with veggies from Karnataka],Ghashhi [Chickpea curry from Saraswath community of Karnataka] , Kosu Carrot rasam [cabbage carrot rasam], Kadugu Chaaru [Rice water rasam from Andra] ,Sagalay [Stuffed aubergine from Saraswath community of Karnataka] ,Mosaru Godhi [Broken wheat with yogurt from Karnataka] ,Chepankilangu vadai [Colocassia Patties from Tamil Nadu] , Arathikai Pachadi [Green plantain relish from Andra] are some of the recipes that are new to me and as the names go- very intriguing…
Though there are around 20 full page colour pics of the dishes featured in this book, it would have been nice if there were more clicks.
I would definitely recommend this book for someone who has just entered the kitchen or who is planning to do so in the near future. This book is a boon for the newly weds. If you are going to cook South Indian food for the very first time,this book is worth keeping handy.And as for Bachelors, the simple recipes are sure to earn appreciations on the first try itself.
With a book full of delicious recipes,I tried a dish that sounded very different and tempting. A snack to go with our evening coffee that was light and perfect – Moru Appam.This is a savoury rice dumpling from Tamil nadu. It is similar to the Chettinad Kuzhi Paniyaram. This is a perfect recipe to use up the left over Idli / Dosa Batter.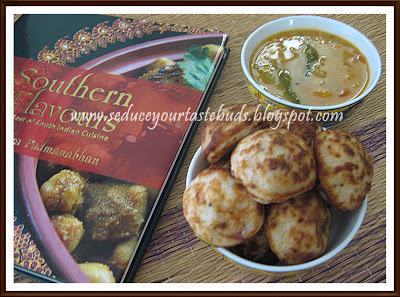 I will post the recipe next week.Until then you can enjoy this tasty click….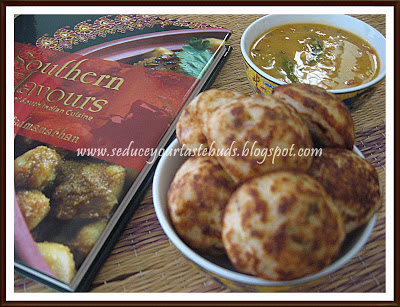 The Book At A Glance
Book – Southern Flavors
Author -Chandra Padmanabhan,
Publishers -Westland Ltd
No. Of Pages – 172


No. Of Recipes -140
Please note that I have not been paid to write this review.This review is a part of the Book Reviews Program at BlogAdda.com. Participate now to get free books!
Happy browsing…