One of the most cherished moment in a woman's life is when she sees her newborn for the first time. After all those months of being fussed over and pampered,being scared over several issues and not to mention the numerous medical tests and the inevitable advises from almost everyone you meet…, the cute little picture from the first sonogram,this phase sometimes seems to go on for ages until that wonderful little wail makes us forget the hardships that we have faced till then. The sleepless night [ and days too],colicky cries, fusses and all seem small when we think how blessed we are to have a little one adore us and love us more than anything in this world…
Wondering why I am going into this topic once again? I am reliving the moments my friends threw me a virtual baby shower almost 6 months back when I was due with lil dude. I felt so happy to share the joy with my friends, many of whom I have never even met! Blogging has indeed given me a whole bunch of friends…
So when I heard through Reva of Kaarasaaram,that Krithi was due,I was thrilled! A small group of bloggers have joined hands to welcome Little Kavin and share the joy of being a new mom with dear Krithi who blogs at Krithi's Kitchen. We met virtually when Krithi wanted to host my event – Herbs and flowers.I wanted to be a part of the celebration…
No celebration is complete without a dessert,right..Here is a healthy and tasty dessert that is fit for the new mom which is both healthy and delicious…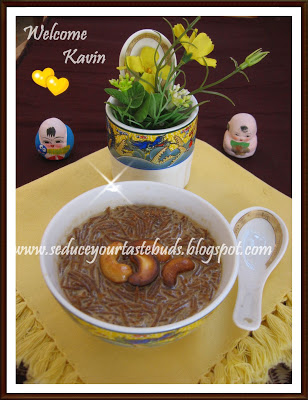 Welcome into this world,Dear Kavin..
May you be blessed with all that is best and beautiful in life 🙂
Now coming to the sweet treat for new mom Krithi…
I saw this recipe in Srimathi's Few Minute Wonders and was looking for the perfect time to make this.This recipe uses semiya prepared from ragi. Ragi / finger millet is a rich source of Calcium and Iron.Both of which are essential during pregnancy and the post partum period.It is also rich in amino acids that are vital for the proper functioning of the body. On regular inclusion in the diet, ragi keeps malnutrition at bay and is also said to lower cholesterol.
For those who are new to ragi semiya / ragi sticks, this is what is looks like…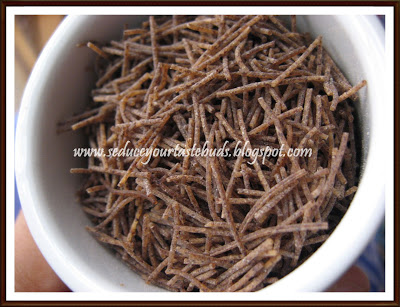 For this nutritious and delicious kheer,
I used:
Ragi semiya / Ragi sticks / Ragi vermicelli -1/4 cup
Whole milk – 1 1/2 cups
Brown sugar – 1/4 cup
Fried cashew and raisins- a few
Ghee – 1 teaspoon
Heat ghee in a heavy bottom pan.
Put in the ragi sticks and fry for a minute, till they turn crisp .
Add enough water to submerge the ragi sticks and let it cook al dente. Add more water if needed.
Add the milk and brown sugar and mix well.
Simmer for a few minutes and remove from heat.
Serve warm / chilled garnished with fried cashews and raisins…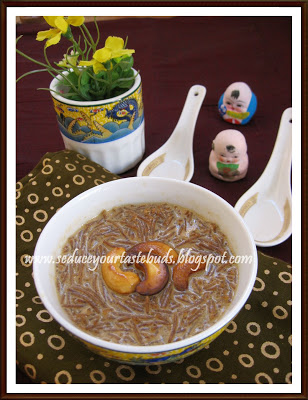 Note :
Unlike the regular vermicelli, ragi semiya does not swell up much.
You can also use regular sugar / jaggery.
Adjust the sweeter to suit your taste
Add a pinch of cardamom powder at the end if you like the flavor…
This bowl of kheer is specially for dear Krithi…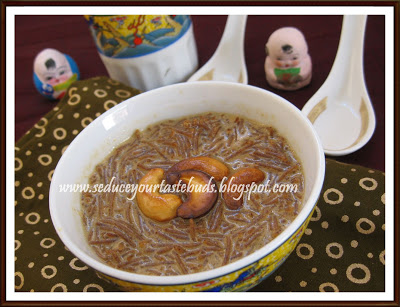 Check out my other friends who have joined hands to welcome dear Kavin…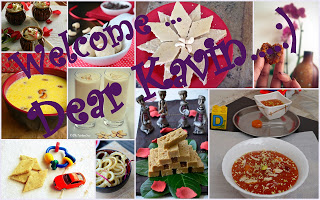 Priya Suresh
Priya Sreeram
PriyaMahadevan
Vardini
Shama
Nupur Mehra
Dhuythi
Radhika
Anu
Reva
Denise
Updated – 15/7/2014 – This recipe is off to Srivalli's Kid's Delight Event, hosted by Kalyani with the Theme – Iron rich recipes…
Bon Appetit….