For the final recipe for Blogging Marathon #23,with the theme 'Cooking From Kid's Story Book', I have prepared this simple coffee as an inspiration from the tale – Beauty and the Beast…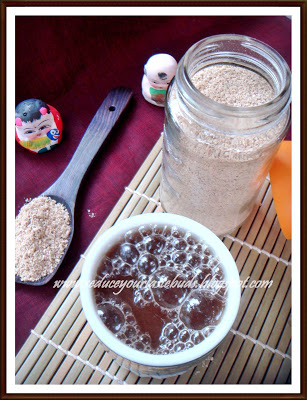 Here is the gist of the fable. Read the full version here…
Once upon a time there was a merchant who had three daughters. One day he set out on a journey and asked each daughter what they wanted as a gift. While the other two daughters asked for brocade dress and a pearl necklace, the younger one whose name was beauty asked for a rose.
The merchant was caught in a storm and finally landed in the middle of a forest and saw a beautiful castle.He walked towards it with hopes of finding a place to rest.
No one was around in that castle but there was a feast spread out in the table. He ate heartily and found a comfortable bed and fell fast asleep.When he woke up the next morning he found a cup of steaming coffee near his bed.
After a delicious breakfast he walked around and saw a garden full of roses.Remembering his promise to Beauty, he plucked a rose.A beast appeared and scolded him for being ungrateful and that he would kill the merchant for it.
The terrified merchant told the Beast about his daughter and the Beast promises to spare his life if he sent his daughter to the castle. With a heavy heart the merchant reached home and narrates the incident. Beauty goes to the castle.
The Beast is very pleasant and treats her well.Slowly Beauty starts liking the Beast.The Beast gives her a magic mirror through which she sees her family. But soon she is home sick and also sees that her father is gravely ill. So she requests the Beast to send her home for a few days.Reluctantly the beast agrees but asks her to return within a week.
Beauty goes home and nurses her father back to health.She stays at home for a longer time.One night she dreams that the Beast is dying.She hurries to the castle but can't find the beast anywhere. She is distraught.
Finally she sees the Beast fallen in the garden.She rushes to him and says she will marry the beast.The beast turns into a handsome young man. The curse is broken and they get married and live happily ever after….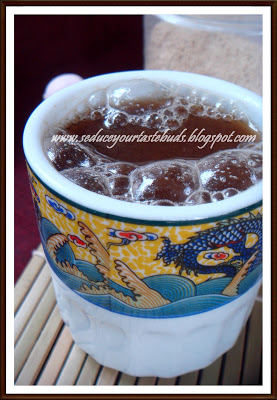 This coffee is a very warming beverage and apt for this season. The powder can be prepared ahead and stored.


I used:
Dried ginger powder -1/2 cup
Dried basil leaf powder – 1 teaspoon
Pepper powder- 1 teaspoon
Mix all the ingredients and store in an air tight container.
When you need a warming cup of coffee,
Boil a cup of water and add a teaspoon of the mix.
Add 1/2 teaspoon of instant coffee powder and palm candy / panam karupatti to sweeten.
Strain and serve piping hot…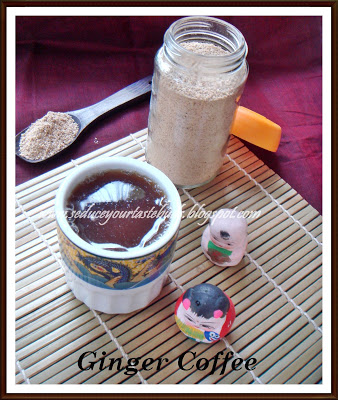 Note :
Do not use sugar to sweeten. It does not give the desired flavor.
Adjust the quantity of mix added to the water to suit your taste.
Dry Basil leaves either in the microwave[like I did for curry leaves] or in direct sunlight and crush / powder
Check out the other ginger coffee version too…
Take a look at the Blogging Marathon page for the other Blogging Marathoners doing BM#23
Sending this to Archana who is hosting Srivalli's Kid's Delight event with the theme – Cooking from Kids story book….
Bon Appetit…