Over the past few months I have developed a sort of work-rhythm for the blog.I cook ,click,edit the pictures and put them in the drafts.When there is an event or for while signing up for BM editions, I post recipes from the drafts or select themes that fit into the ones in the draft.
This month everything went Topsy turvy. I had nothing planned and nothing  fit into themes that I chose for BM and worst of all, I did not even have a single post ready for Cooking with Cookbook Challenge!
So this morning I was frantically searching for some simple recipe that I could cook and post for Cooking with Cookbook Challenge. I have loads of the supplement book that comes with Aval Vikatan , a tamil fortnightly magazine and I was sure to find an easy one.
Everyone from Tamil Nadu [and some from outside too]  know that this magazine is very famous for its supplement books that have 30 thematic recipes in a booklet form.
Today's recipe is from 30 cool cool recipes booklet and the easiest one in that was this jam milkshake! This is something that you can whip up when the kids need something chill for summer or otherwise 🙂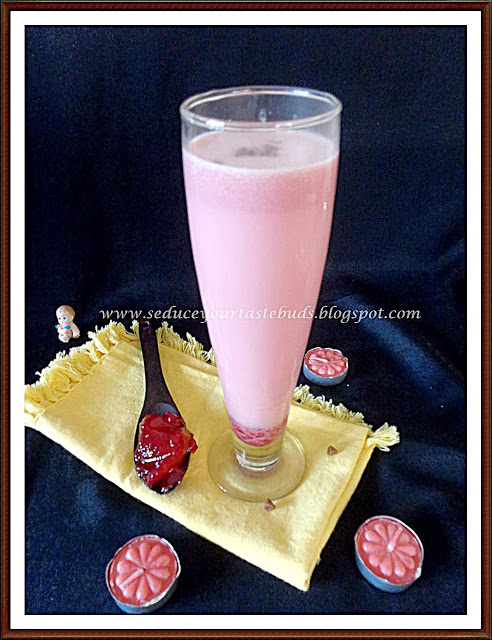 I used:
Milk- 200ml
Mixed fruit jam-3 tablespoons
Chocolate chips to garnish
Take the milk and jam in a blender jam and blend till well combined.Chill and serve topped with a few chocolate chips.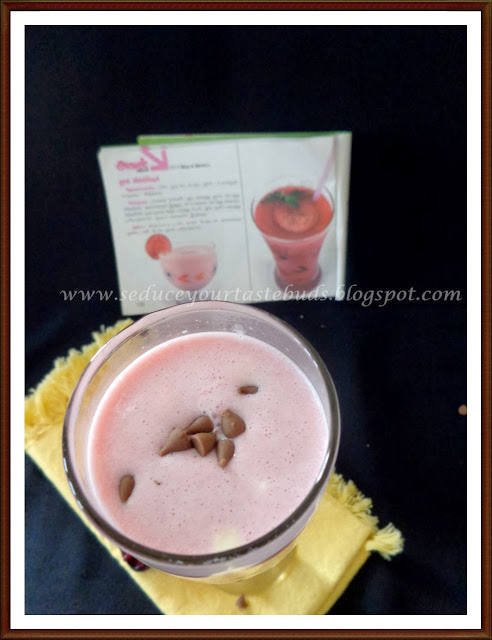 Note:
I added jam straight from the fridge to chilled milk and it did not blend well.You can see the jam bits settled at the bottom on the glass in the first pic. I feel it would have been better if the jam and milk were both in room temperature
You can use any flavored jam.
Add more jam if needed.
The original recipe suggests adding sugar but I skipped it.
Also the recipe suggested adding dry fruits or nuts as topping but I felt kids would prefer chocolate chips 🙂
This post is for the Cookbook Challenge of the month….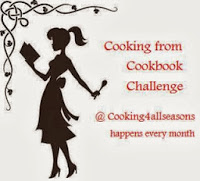 Bon Appetit…