For the past few weeks, it has been raining cakes, breads and cookies in this little space of mine. To add to all those sweet treats, here is another dessert that somehow seems to be very apt for this season! This week I am doing 'Bookmarked Recipes' as the theme for Blogging Marathon #35.
When I signed up for this edition I had more than 5 recipes for the bookmarked theme and I was glad that I need not stress out.But as the holiday mood kicked in, it was hard to resist the urge to make something sweet!
Thus when I opened my bookmarked page, I remembered this pudding from Rak's Kitchen. With a bread loaf at hand it was a breeze to prepare this dessert.
In school, pudding was on the menu for the boarders and they used to tell us about it. We ,the day scholars, used to get our share when we had the Children's day celebration, Christmas celebrations etc.I used to love the texture but I could smell the eggs in the pudding and somehow did not like it no matter how good the pudding looked or tasted. I would often pass it on to one of my class mates.Now that we are into the blogging world, there are loads of eggless puddings to be tried and tasted!!
I made this last week when my nephew was visiting us.The poor guy is in the hostel and really craved some home cooked food.So along with his wish to eat some good food, I baked cakes, cookies and made this wonderful pudding too….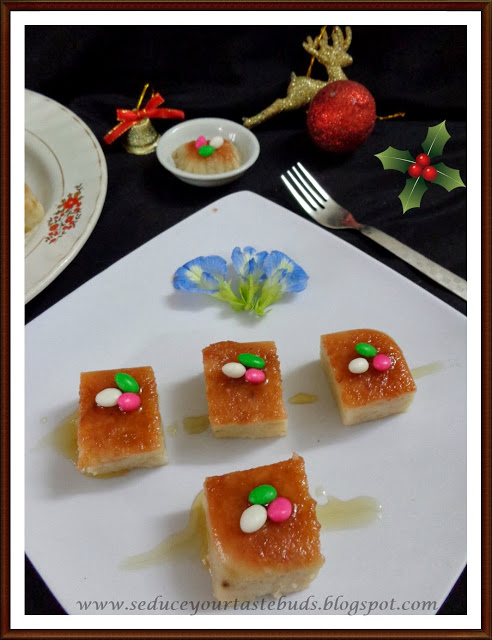 I used:
For the pudding
Bread slices- 8
Milk- 1 1/2 cups
Sugar – 10 tablespoons[see note below]
Vanilla essence- 1 teaspoon
For the caramel
Sugar- 2 tablespoons
Water- 2 teaspoons
1. In a vessel, put in torn bread slices. Add milk , sugar and vanilla essence.Mix well.

2. Heat a pan with the sugar and water.It will start boiling and then turn into caramel. Take care during this step as the caramel will get burnt if not removed from heat at the right time.The correct stage is when the liquid turns to a dark golden color.

3. Pour this into a pan[or any other vessel] and tilt is so that the caramel coats the base evenly. Now pour the prepared bread mixture on top of this. Cover with an aluminium foil and punch holes.

4.Place it in a cooker / steamer and steam for 20 minutes or till the edges pull away slightly from the pan. If using the pressure cooker do not use the weight / valve. Remove from the steamer / cooker and refrigerate for at least 2 hours. Gently invert onto a serving tray and cut into pieces and serve…

Note :
Do not over cook the caramel. It will turn bitter.
The quantity of sugar that I used was a little extra.It was too sweet. The kids loved it but the adults felt the sugar could be a lessened a bit.
I used a normal loaf of bread .If you use sweet bread, you may want to reduce the sugar quantity.
You can serve it as such or use a garnish of your choice. I used small candies. You can also drizzle chocolate sauce on top and serve.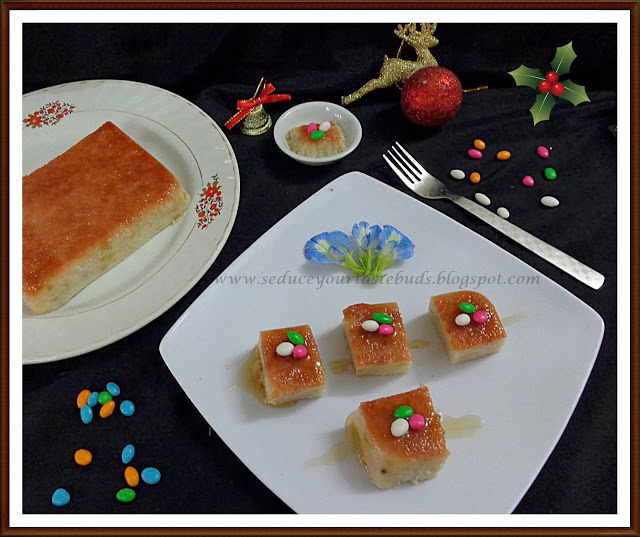 Take a look at the Blogging Marathon page for the other Blogging Marathoners doing BM #35


This also goes to Nayna's Let's Cook Christmas Party Foods , Nupur's Christmas and New Year giveaway…

Bon Appetit…