Maharashtra is the next place that we are going to visit on our Culinary tour – Indian Food Odyssey . It is a sate in the Western part of India and is the second most populated state in the country and not to mention the wealthiest state!
It houses the Bollywood and hence Mumbai which is a part of this state is extremely popular .Cricket craze can be seen in this state but Hockey and kabbadi are also quite famous.
Maharastrian cuisine caters to all sorts of people. It varies from mildly spiced dishes to spicy ones that can bring a tear in your eye! The staples in this state are Rice,jowar, bajra and lentils and vegetables.
The food/meal is served on a thali / palte and each food has a designated place in the thali.The staples are mostly rice/ bread based dishes.
Each region of Maharashtra has its own list of appetizers, sides and mains.The people of Maharashtra are for their aesthetic presentation of food and hence it makes the dish all the more appetizing.
This state also boasts of a large variety of fasting dishes and dishes that are prepared during festivals.
Today , I have made a simple snack from this state…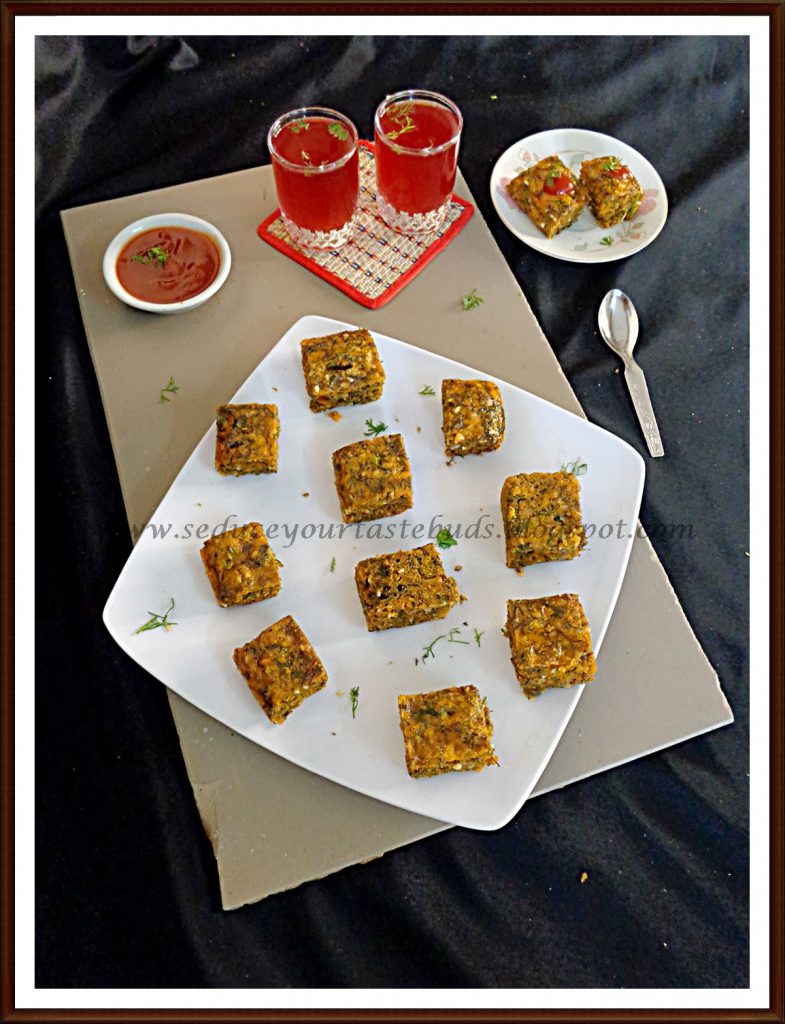 Behind the scenes:
This is one of the recipes that I struck off from my bookmarked recipe list. I made this immediately after the Gujarati Methi Muthia, i.e the very next day after we had the muthias.
I went along with this recipe boldly as I knew my folks would like it and with the success of the Gujarati Methi Muthia, I did not think twice.
As expected, it was really good and added to the fact that it is steamed, we enjoyed it a lot. And I really wished I had made some more….
Generally, this is deep fried. I shallow fried it and the taste was really good!
The Futi Kadhi was made with the Kokum that Pradnya gave us on our visit to Ahmadabad last year.While making this dish, I was living those moments when we met and had a great time….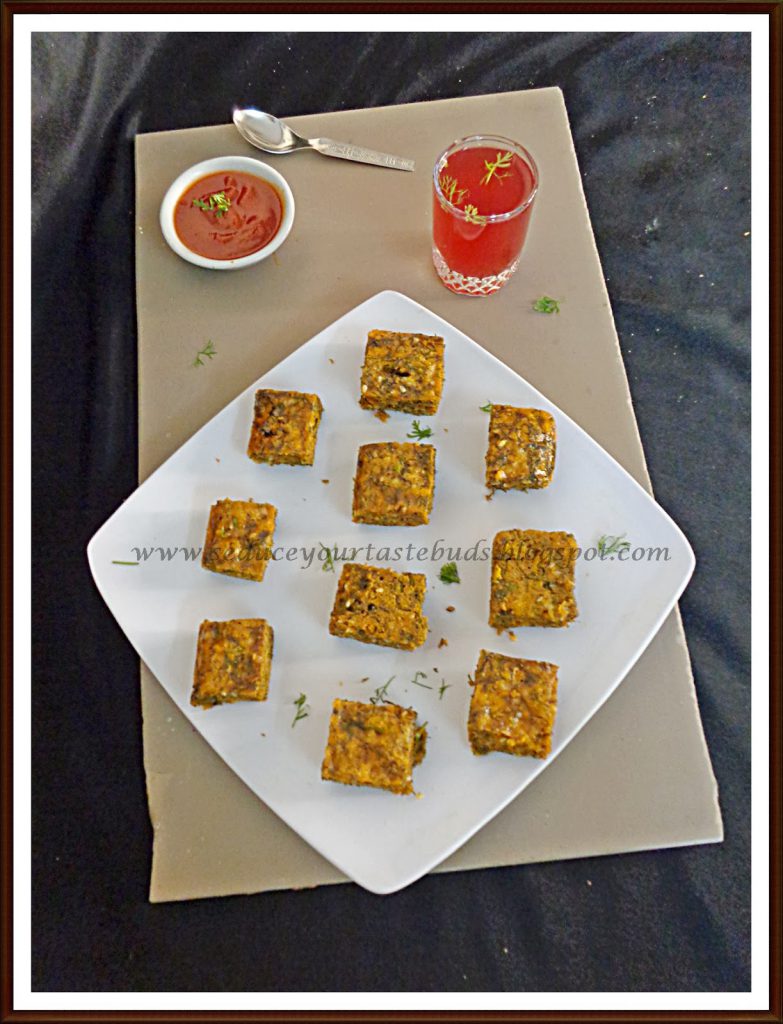 I used:
Besan – 1 cup
Coriander leaves from a large bunch ,only leaves, finely chopped
Rice flour-1 tablespoon
Turmeric powder- a pinch
Asafoetida powder- a pinch
Red chili powder- 1 teaspoon
White sesame seeds- 1 tablespoons
Ajwain / Carom seeds- 1/4 teaspoon
Minced ginger- 1/2 teaspoon
Salt to taste
Baking soda- 1/8 teaspoon
Take all the ingredients in a bowl and mix well. Add water little by little and make a pasty mixture as shown below. Grease a pan and spread this mixture in the tray. Tap gently a couple of times so that there are no air pockets in between.
Heat water in a steamer[or pressure cooker without using the nozzle stopper / weight] and steam for 20 minutes / till done. Do not over cook. You can check for doneness by inserting a toothpick in the center. If it comes out clean, it is done.
Remove from steamer / pressure cooker.Let it cool. Mark squares with a sharp knife and remove them slowly.[If you do this when it is hot, the squares will not come out properly.]
Heat 4 tablespoons of oil in a pan and arrange the cur wada squares on the pan.Cook turning them once in a while till the two sides turn a bit crispy. Remove from pan and serve as such / tomato sauce.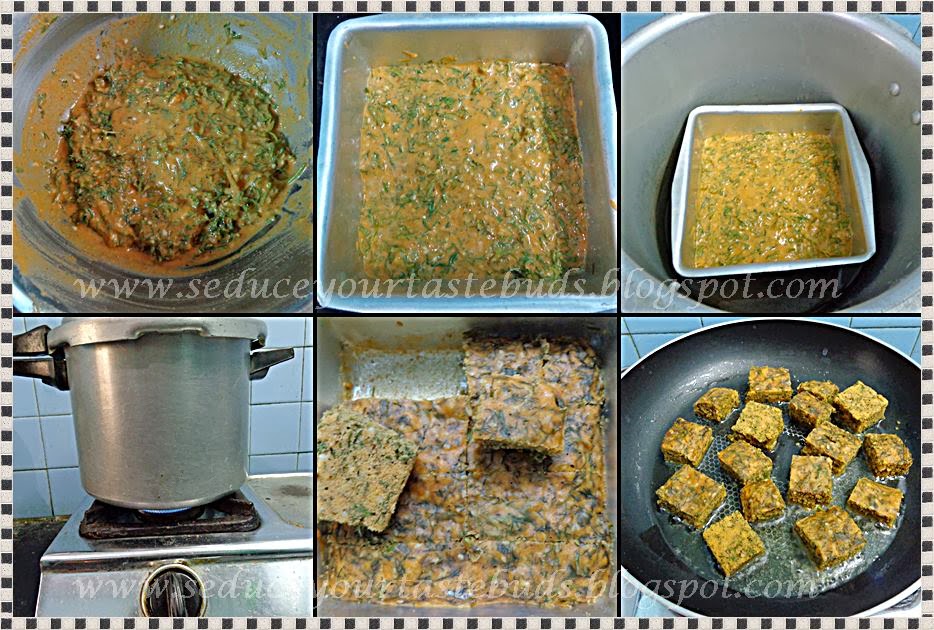 The almost guilt free snack will be a hit at home….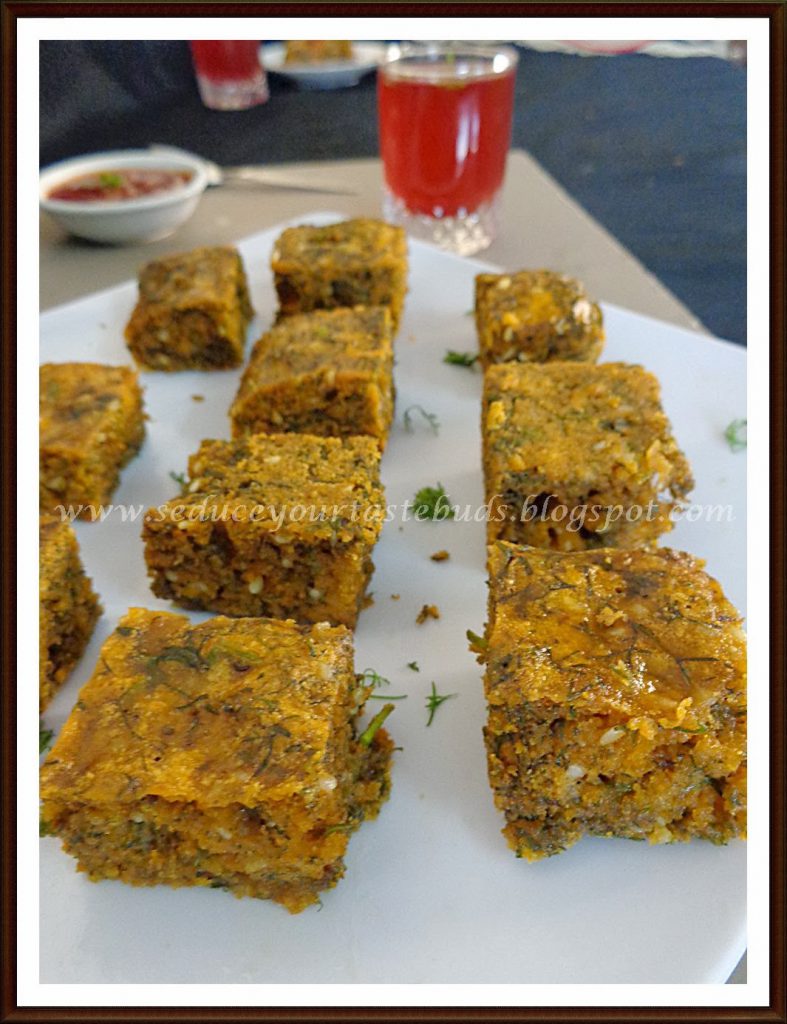 The kids will also enjoy this tasty snack…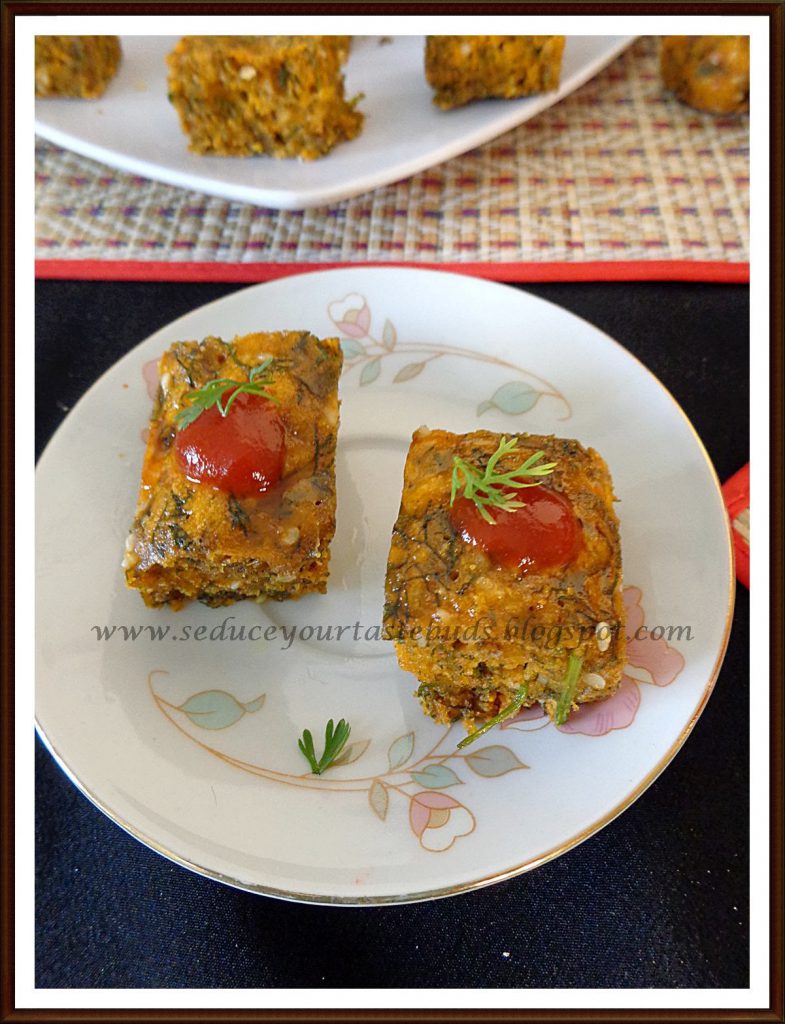 Next one is our beverage- Futi Kadhi….
Sol kadhi is a famous drink that is made in the coastal areas of the country. Kokum is the souring agent and coconut milk is used. I made this without the coconut milk and it was really tangy and we all wanted some more!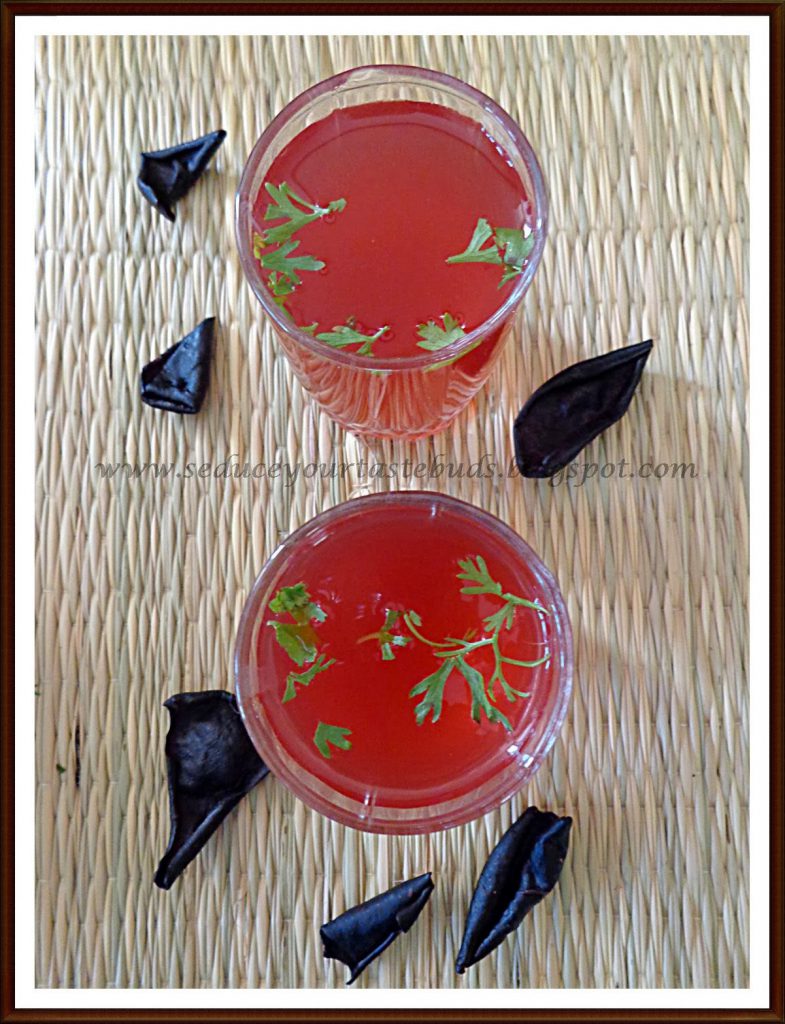 I used:
Kokum-10 pieces
Sugar – 1 teaspoon
Water- 400 ml
Salt to taste
Kaala namak / black salt – 1/8th teaspoon
Roasted cumin powder- 1/4 teaspoon
Green chili-1, finely chopped
Coriander leaves to garnish
Soak the kokum pieces in water for an hour. Squeeze out as much as possible and discard the kokum pulp.
Mix in all the other ingredients except the garnish. Keep aside for a few minutes for the flavors to blend and serve garnished with coriander leaves.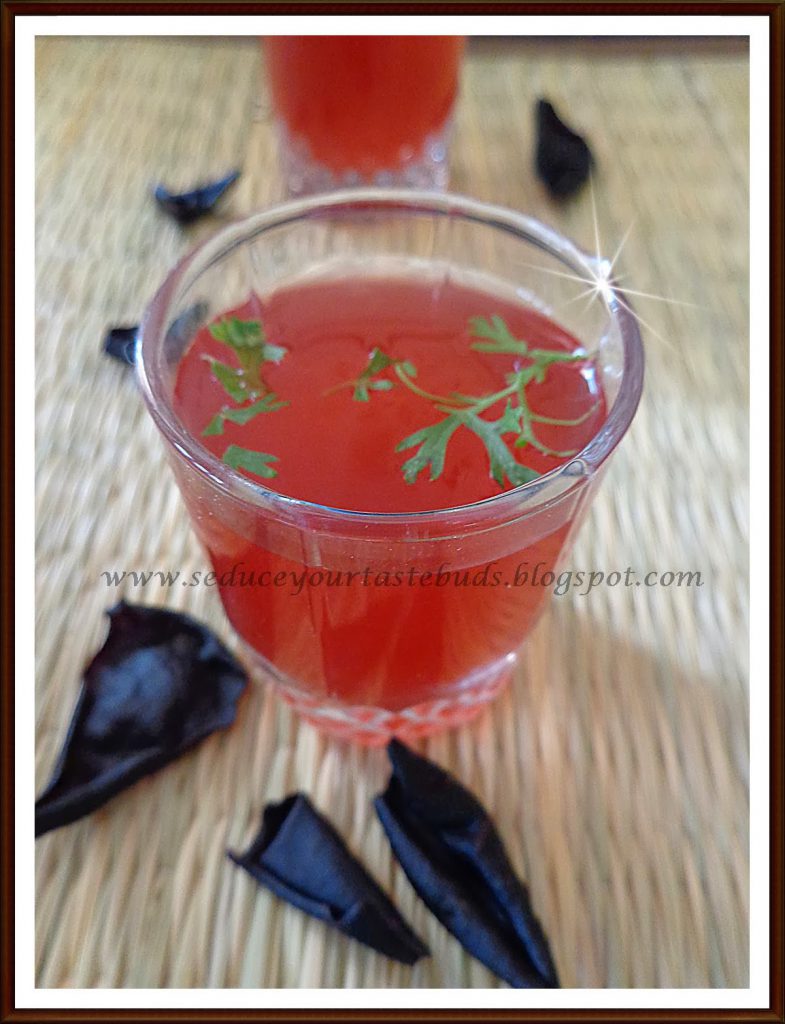 Note:
I served this chilled and it tastes awesome.
Also strain before serving
Adjust the spices / sugar to suit your taste
Bon Appetit…