I just can believe that we have completed week 1 in this
30 day culinary journey around the globe
! The journey so far has been incredible and we have been sampling the best of cuisines from each country.And since we are taking a break tomorrow, I thought I will ramble a bit….
Back then in college, during the first year,we had a Professor for French who was very
different from the rest of the teaching staffs. He would walk into the class on time and start writing on the board regardless of how many students were present when he came in.Since students had to come to his class from the different buildings and different majors, many of us used to arrive 5-10 minutes late. He did not mind that but we had to say, 'Good morning Sir, May I come in' in French. If we came in as a group,
we had to say this individually! So this is one of the very few sentences that I still remember to say in French!
So as the class proceeded, he used to look around the class making a mental
note of the absentees and continue with the subject. The last 15 minutes
of the class was something that almost everyone loved. He would read experts from
books .His favorites were the works of Richard Bach. That is what I am guessing coz Richard Bach's books were most often seen on his desk.And of course Kahlil Gibran's – Prophet was also read
out in his class.
Not all the students enjoyed the last 15 minutes. They would have a bored look on their faces or just give a blank look at the Professor! But he did not mind that one bit!
I was so impressed by his way of reading it and discussing the book that I bought Richard Bach's Jonathan Livingstone Seagull. I loved to read it again and again and I treasured that book so much. This was the first book that he read out to us. Impressed by this , I went on to buy – Biplane , Bridge across for ever and A gift of wings by the same author.
Then when he read out from Kahlil Gibran's – The Prophet, I got that too! I was not the only one doing this!This happened to many girls in that class!!
Some days, he would just start a topic and we would discuss that and pour out our thoughts. One day he spoke about 'RAK' or 'Random Acts of Kindness'. He went on to explain that it was a selfless act of helping others without expecting anything in return. So he said that if we were interested we could share our RAK in class the following day.
Many of us did share for a few days and after that he probably assumed that we would carry this on and started on the reading. Then he talked about learning one new thing everyday.He started off with learning a new word daily and it was really interesting!
And then when it was time to do the semester assignment, he wanted us to enact a skit in French!!We were assigned to be paired up in the alphabetical order and my namesake and me got thinking.I found a small comedy in The Reader's Digest titled Waiter From Hell and decided to do that in French. We did present it as a skit both in English  and French and got good marks!
Then the year came to an end and so did the classes. We got immersed into our majors the following years and I rarely saw him on the campus as his block was farthest down the campus. But when I did meet him sometime on the way, I made sure to wish him in French and he would wish back with my name. Yes, he remembered each and every one of us even after we left the class!
Even to this day the word France / French bring back those beautiful memories of our French class and I will cherish them for ever.
After all this rambling,if you were thinking that I will go straight to the recipe, I am here to prove you wrong! I still have some interesting facts on France to share…
 It is officially known as the French Republic. The name France is derived from the Latin word – Francia , meaning 'Land of the Franks'.
 French, the official language in this country stands second as the widely studied language in the world after English.
France has 7 mountain ranges and 5 major rivers.
The famous Mona Lisa is housed in the Louvre museum.
The Eiffel tower is one of the most visited monuments in the world.
The glass pyramid that stands outside the Louvre museum was built as a tribute to the Egyptians.
Louis Pasteur the French scientist made discoveries in  the field of microbiology and chemistry.
The French love their cheese and there are over 1000 varieties of it in the market!
There are 17 wine producing regions in France and all of those wines pair beautifully with those cheeses.
The Jean clothing originated in France and it was originally used to make tough clothing  for the gold diggers
French Cuisine:
It is one of the famous and well known cuisines of the world.It is characterized by extreme diversities.Each region has its own specialties. This article takes you through the French Cuisine…
Behind the scene:
Now coming to the recipe for the day… This was something I wanted to try for as long I as I remember,meaning – from the time I started blogging! But initially I made a farmhouse soup and Potato Sarladaise. Both the recipes came out very well.But when it was time to click them the lighting was not sufficient but yet I clicked them.
Later on when we stated posting dishes, I somehow felt the pic to be inadequate and decided to make something else for this country and then remembered the French Toast.
I made it three ways – the basic one, a sweet and savory ones. IT was such a hit at home that we finished a whole loaf in a matter of minutes! And now my kids ask for this everyday!!
First let us see the basic recipe…
French toast known as Pain Perdu literally means 'lost bread' which can be translated as re-calming the stale bread by dipping it in a mixture of eggs and milk and rendering it fit for eating in a delicious sort of way.
French toast can be has a breakfast dish. for lunch, dinner and even during those in between times!
Basic Eggless French Toast:
I used:
Bread slices- 4
Milk-1/2 cup
Vanilla custard powder – 2 tablespoons
Sugar- 1 teaspoon
Butter as needed
In a bowl, take warm milk, custard powder, sugar and mix well so that there are no lumps.
Heat a pan/ skillet and add a little bit of butter. Dip the
bread slice in the custard mixture so that it coats both the sides. Do
this very quickly, else the bread will fall apart.
Place the bread over the melted butter and cook on low heat till both sides turn crispy and golden brown in color. Remove from heat and serve.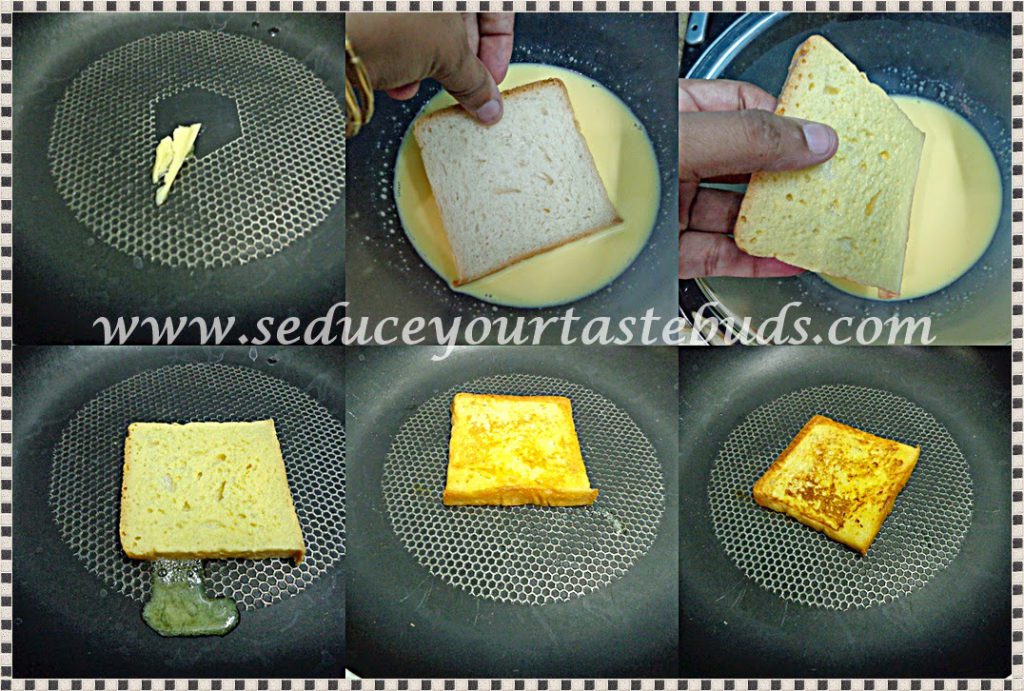 Serve as such or with butter and jam.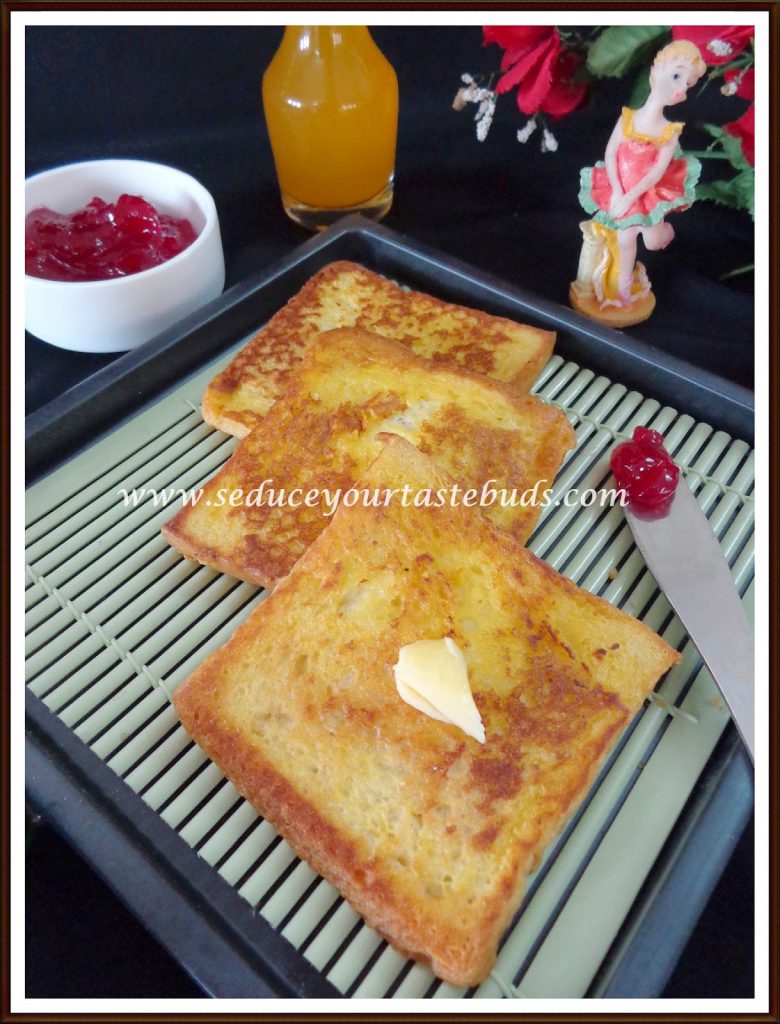 Note:
I feel that using a thick slice of bread will make the taste even more better.
Wait patiently for one side to cook before flipping it over.
Instead of custard powder use corn flour and 1/2 teaspoon vanilla essence.
If you don't mind the calories, drizzle butter around the edges while cooking.
I also made a Chocolate french toast and my kids loved it so much that I have requests to make them everyday!
And also check out this Savory French Toast  that Lil Dude loved!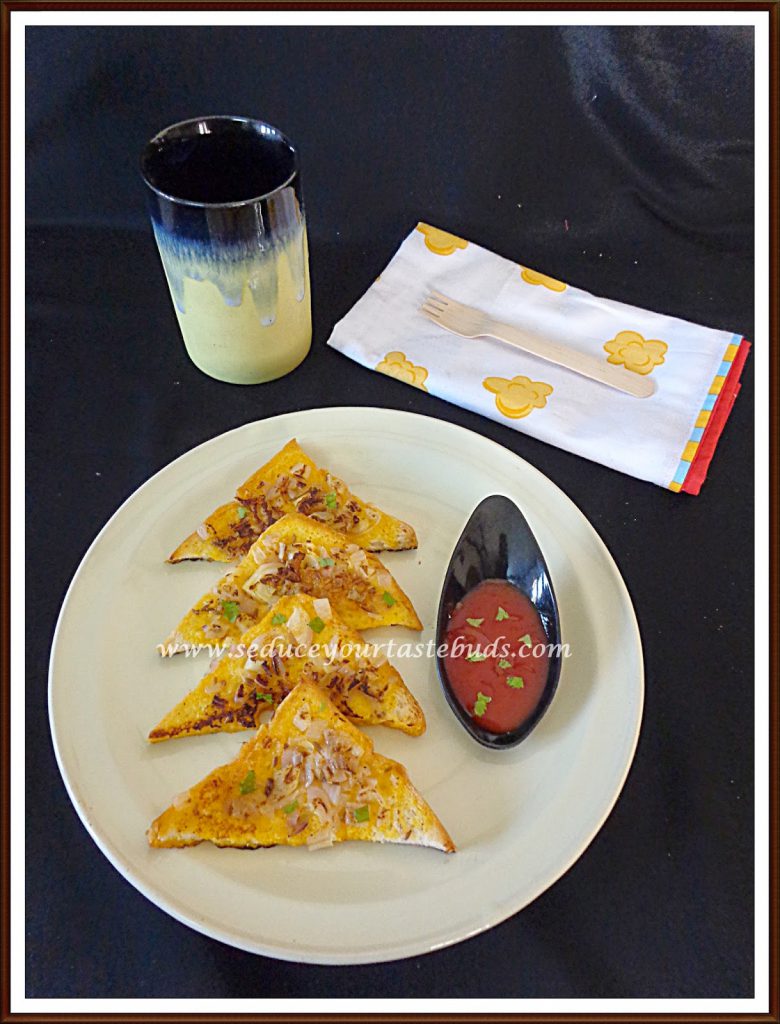 Bon Appetit….