The books-cookbook and the others-are either gifted by people who know and understand my craze for reading and collecting books or the ones that I buy when there is a promotional sale.So,this book came as a steal when there was a promotion online and I just couldn't resist buying this one!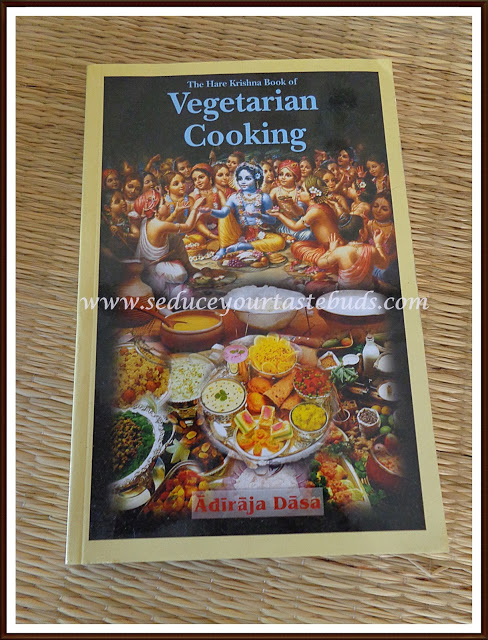 The Hare Krishna Book of Vegetarian Cooking by Adiraja Dasa is a Baktivedanta Book Trust Publication.
The cover of the book shows Lord Krishna being offered food with a huge spread in front of them! Now, isn't that cute!
According to the author, this book is designed to help one prepare authentic Indian meals at home and also to get acquainted with with the tradition behind India's great vegetarian cuisine.
The book starts with
Preface – where the author tells us why this is no ordinary cookbook and the reasons/circumstance behind this book.
Introduction – A little about this book , the Vedas[Holy scriptures],Bakti Yoga,Indian cooking in this book refers to the Vedic style of cooking ,how Vedas define a true vegetarian,Vegetarianism,etc.
Vegetarianism: A means to a higher end – talks about vegetarianism, giving a list of world famous vegetarians, advantages if becoming a vegetarian, how it improves health,the economical comparison to meat eating, ethics,Karma, religion,etc.
A temple of Krishna in your home – The reasoning behind offering neivedyam to Krishna [or other Gods],how the cook prepares and offers food to the Lord.
Vegetarianism and the Hare Krishna movement – spells the Krsna Consciousness movement, distribution of Prasad after the prayer / chanting,Hare Krsna movement restaurants around the globe, The ISKCON food relief program etc
The Science of Eating and good health – This chapter explains how to spiritualize your eating,eating at fixed timing, pleasant atmosphere,combining foods wisely, sharing the food [prasad],cleanliness,eating in moderation,avoiding food wastage,trying an occasional fast.
Utensils – that are required for cooking…
Suggested menus – Gives sample menus for the whole day and the list is indeed mouth watering!
Preparing and serving a Vedic meal – talks on how Vedic cooking s practical and also on the methods / process/ procedure of cooking that will minimize the time spent on cooking but will achieve maximum output, the seating arrangement for a meal, etc.
Recipes – This section is really so interesting!!!
Spices and herbs – masala blends,your spice shelf- gives the list ,quality and usage of the spices that are used.
Milk products – Ghee , paneer yogurt – their food qualities and how to prepare them at home.
Rice -Types of rice that can be used and some points worth remembering while cooking rice + 12 rice varieties.
Dals and soups– Lentil- types and how to cook them + 15 recipes
Breads and pancakes– 11 recipes
Vegetables – 25 recipes
Savories – 19 recipes
Chutneys and raitas – 13 recipes
Sweets – 24 recipes
Beverages- 11 recipes
Appendixes– Measurement conversion tables
Where to get essential ingredients
About the author
Glossary
There are a bunch of colorful full paged photographs that will surely make you drool.The recipes are simple and easy to prepare with clear instructions on how to make them easily.
This book is worth buying not only for the array of tasty dishes but also to understand in-depth the philosophy of being a vegetarian from religious, scientific and ethical perspectives.
A good book for someone attempting to cook Indian vegetarian food and a gem for someone trying to turn into a vegetarian.
This is my fifth book for Foodies Read 2015 Challenge where I have signed up for the Chef de Cuisine which is 14-18 books to be read and reviewed by the end of this year….
Happy Browsing….