I remember mom making loads of these when I was a kid. There use to be a green colored bucket that was always full of one snack or the other.
I still wonder how mom managed to do all the house work, sit with me studies, prep me for school and still take part in several rangoli contests, attends functions, write for kids magazines,a predominant member of the ladies circle. Amidst all these she still had time to make snacks and fill up that green bucket!!
Maybe in the present times,all these may seem possible and a simple task.But the place where we lived was cold,chill and rainy for 8-9 months a year, no servants/ washing machine,no regular bus facilities and a whole of other things we take for granted now was missing back then. Yes, the place where we lived was sort of remote!
Anyways, even now when ever the topic of snack comes up dad and me never fail to mention the green bucket to mom and she in turns feels pleased about it.
I have helped her on several snack making evenings especially thattai murukku. Suddenly a few day I had this sudden craving for thattai murukku and set off making these. I am pretty impressed by the way they tasted but not so impressed by these clicks! It was gloomy and raining and this made the snack all the more enjoyable but the climate was not so good for the clicks!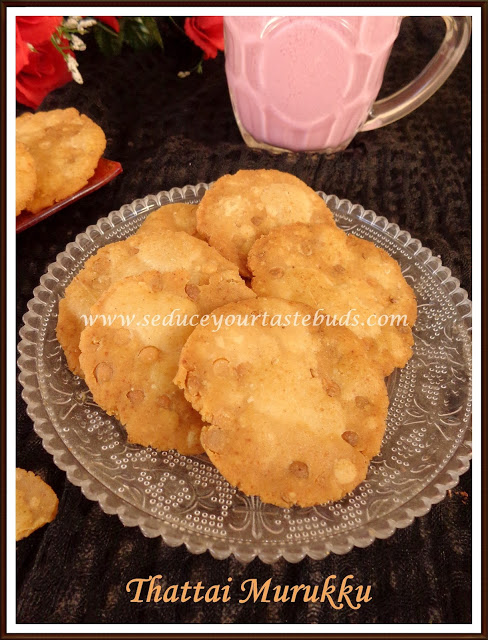 I used:
Rice flour- 1 cup
Channa dal – 2 tablespoons
Butter, softened- 1 tablespoon
Red chili powder- 1 teaspoon
Sesame seeds- 1 tablespoon
Asafoetida powder- a large pinch
Salt to tatse
Soak chana dal for 1 hour. Drain and keep aside.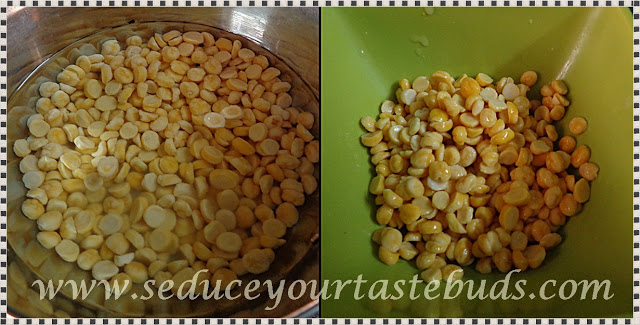 Take all the ingredients in a bowl and mix. Add water little by little to make a smooth dough.Pinch out a small marble sized ball and place on a greased plastic sheet. Flatten it with your fingers. Or cover the dough with another greased sheet and press with a tumbler / flat part of the ladle. Gently emove from the sheet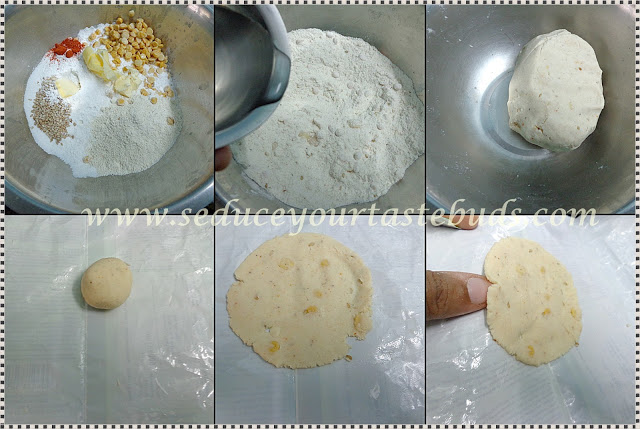 Meanwhile heat oil and check if it hot by dropping in a pinch of dough.If it comes up immediately, the oil is in the right temperature. If the dough remains at the bottom, the oil is not hot enough and if the dough becomes red / dark brown immediately, the oil is too hot. Adjust the temperature accordingly.
Gently drop the pressed thatati into the oil and fry on both sides till golden brown. Remove from oil once done. Repeat for the remaining dough. Of your pan is large enough, fry 4-5 at a time but do not crowd them in the pan.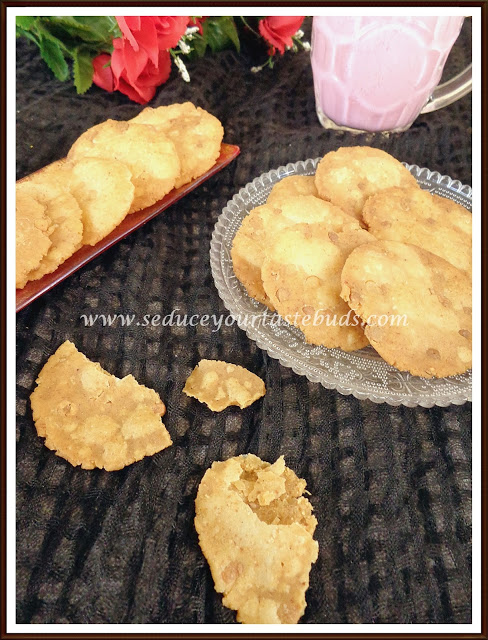 Bon Appetit…