I would usually celebrate a birthday with an Indian dessert or a cake. But today,for a change,I am celebrating my babies birthday with a warm and sweet beverage.
My blog baby is stepping into the 9th year today and little did I know or guess that I would be so much attached to it!But what I do know is that I have come a long way from where I started and plan to keep going.
So, today, I have a simple beverage also called egg milk punch made of sweetened milk,eggs,creams and sometimes spirits like rum,brandy etc.
It is a traditional beverage served in Canada and the U.S. from American thanksgiving through the end Christmas season.Wiki gives a detailed account of its history here…
I wanted to make this ever since I saw it in Aparna's blog and finally made it today .This one is made with custard powder. I have not tasted the original version, but this one really tasted good.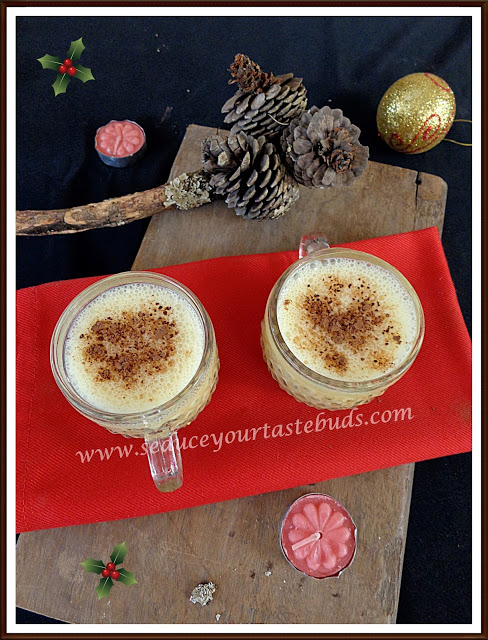 I used:
Adapted from – My Diverse Kitchen
Milk – 300ml
Cream- 1/4 cup
Ground ginger- 1 teaspoon
Grated nutmeg-a large pinch
Vanilla flavored Custard powder – 1 heaped tablespoon
Vanilla essence- 1 teaspoon
Powdered sugar- to taste
Unsweetened cocoa powder- to garnish
Dissolve the custard powder in a little milk.
take the remaining milk and cream mix together and add the custard mixture, sugar and heat it.
Simmer and keep mixing so that lumps are not formed.
When mixture thickens slightly,add the essence and spice powders and whisk.
Switch off the heat and let it rest for 10 minutes.
Pour into serving mugs and serve garnished with a pinch or two of cocoa powder.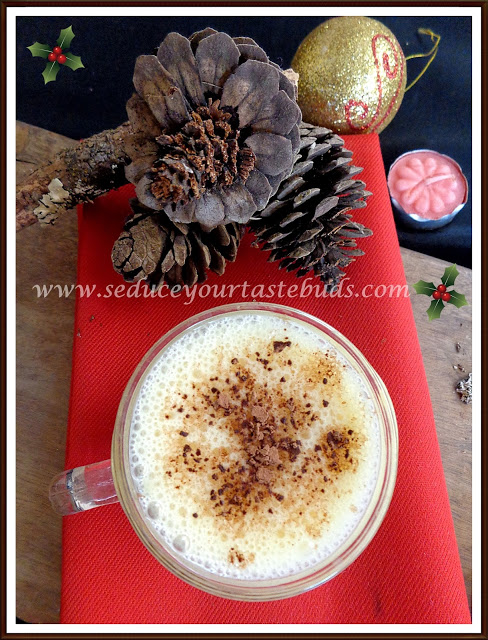 Wishing all my readers
A very happy
and
Prosperous
New Year