For one reason or the other, I don't always have butter in the fridge.So, when I need to bake, I tend to choose recipes that don't call for butter. That is exactly how this bake came into being. The kids wanted something to snack on and I wanted something for the blog. There was one sad apple in the fridge which was calling out to me.I made this cake and it validated the above said points!
During our Blogging Marathon #50th meet celebration,Kamalika gave us a jar of cinnamon sugar. I have been using it ever since in my bakes.Here too I have used that one.
In case you do not have cinnamon sugar , replace with 1/2 teaspoon of ground cinnamon. Be sure to adjust it to how strong the flavor is.
I used:
All purpose flour- 1 1/2 cups
Yogurt – 1 cup
Sugar- 1 cup
Baking powder- 1 teaspoon
Baking soda- 1/2 teaspoon
Cinnamon sugar- 1 tablespoon
Oil- 1/2 cup
Grated apple – 1 cup
Tutti frutti-1/8 cup[optional]
Take the yogurt in a bowl and add sugar, cinnamon sugar.Mix till the sugar dissolves.Add baking powder and baking soda. Mix well.
The mixture will froth .After it is bubbly, add oil .Into this mixture add the flour, grated apple and tutti frutti.Mix to combine[Don't beat vigorously].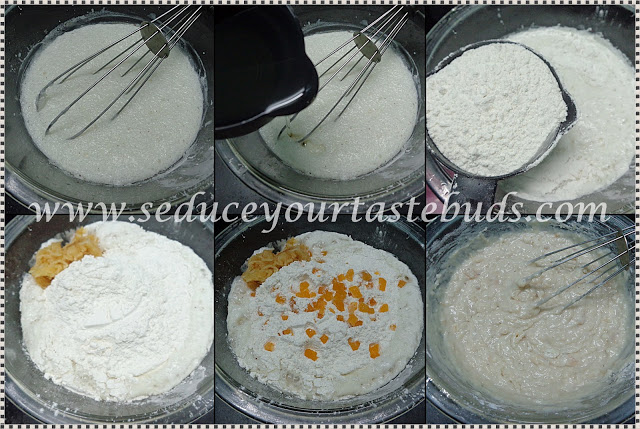 Transfer onto a greased and dusted cake pan and bake @ 180 degrees for 15 – 20 minutes / tillt done. The timings will vary so keep an eye out after 15 minutes. Once the cake is done, remove from oven.When it cools a bit gently invert it onto a wire rack.
Slice and serve after the cake is completely cooled down.
This cake is for the Blogging Marathon #61, Week 2, Day 1 with the theme – baked snacks for kids.
Check out the Blogging Marathon page for the other Blogging Marathoners doing BM#61
Bon Appetit….