Welcome to the 63rd edition of Blogging Marathon where a group of 28 bloggers are going to take you on a Journey Through The Cuisines.If you are puzzled as to what we are up to this month, take a look at the intro post and you will understand what this is all about.
The first post for this edition is a sweet dish / a dessert. Any new beginning invariably starts with a sweet note our culture and this mega marathon is no exception.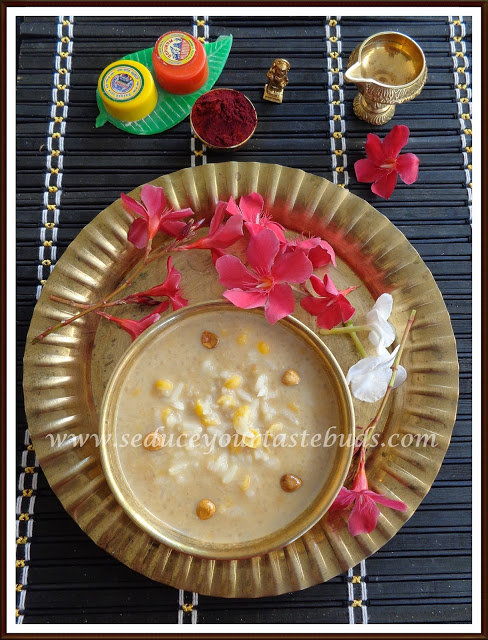 A – Akki Kadalebele Payasa
Akki – Rice ; Kadalebele – Channa Dal ; Payasa – Kheer / dessert
While serving a traditional lunch, we start with a sweet / kheer. During functions, festivals or poojas, this dessert is often served. A simple dish that can be made in a few minutes is a favorite among many.
Mom makes this often but I have never attempted it at home.Then one fine day, I asked her the procedure and got down to prepare this dish. Lil Angel loved it and somehow Lil Dude is yet to develop a taste for such 'watery' desserts and I did not compel him to taste.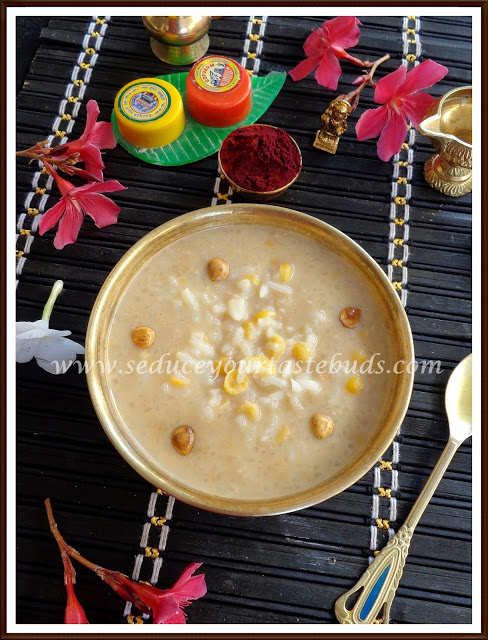 I used :
Akki / Rice – 3/4 cup
Kadalebele / Channa dal – 1/4 cup
Haalu / Milk- 2 cups or as needed
Bella / Jaggery. powdered – as needed
Thuppa / Ghee- 1 tablespoon
Roasted nuts to garnish – optional
Wash rice and dal and drain well. Heat ghee in a pan and add the rice and dal together. Saute till a nice aroma arises .Take care not to burn the mixture. Remove from pan and transfer onto a slightly big vessel.This step is optional but roasting the rice and lentil in ghee give the kheer a very good taste and aroma.

Add 3 cups of water and pressure cook for 7-8 hisses / 15 minutes, till the mixture is well cooked. If the mixture looks mushy and water, don't worry, that's how it is supposed to be. In my case, I misjudged the water quantity and added a little less, so though the rice and dal was cooked, it was not mushy so I churned it and added more hot water.
Once the pressure releases, transfer the mixture onto a pan and simmer.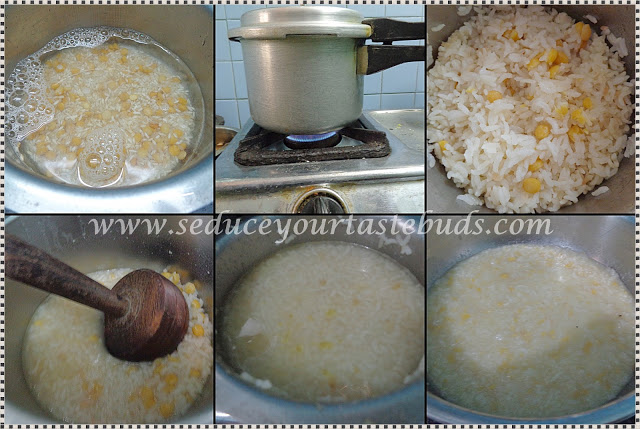 After 5 minutes add milk and continue to simmer. Add powdered jaggery and mix well. Remove from heat after a couple of minutes. There is no need to overcook the mixture.

Serve warm/ chilled garnished with roasted nuts.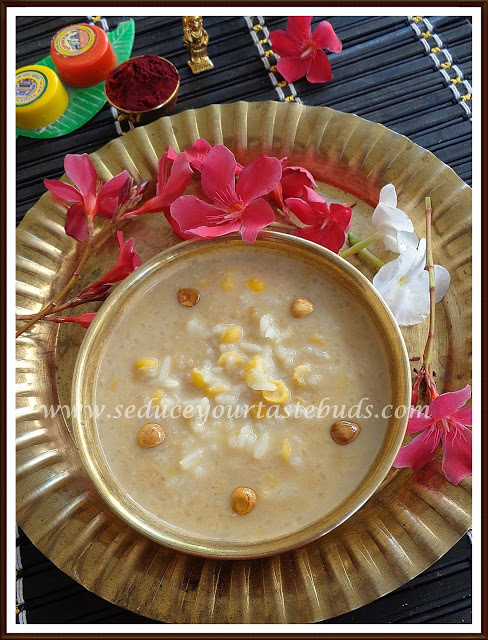 Note:
I used organic jaggery so used it as such. If using regular jaggery, dissolve it in a little water, filter and then add to the pan.
Raisins, cashews or other nuts are usually not added.I just added them for a visual effect.
A pinch of cardamom powder can be added just before taking the pan off the heat.
I kept aside a couple of tablespoons of the cooked mixture before mashing it and added it to the mixture at the end to get a textured effect. Usually, the kheer does not have separate grains of rice / dal.
Adjust the quantity of milk based how thick / thin you prefer the kheer to be.
Adding jaggery gives a nice flavor and color to the dessert.This is the sweetener that is used. In case you cannot find jaggery or don't use it, sugar can used but it will definitely compromise the taste.
Other recipes from Karnataka beginning with A
Akki Shavige Uppitu – Seasoned rice noodles
Appe Huli – Raw Mango Rasam / soup
Avarekalu Thovvay -Seasoned Hyacinth bean dal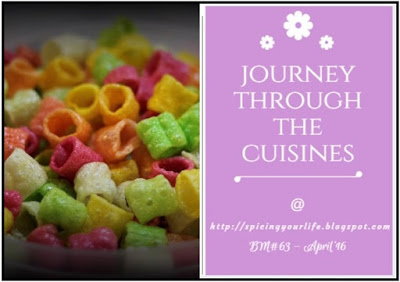 Check out the Blogging Marathon page for the other Blogging Marathoners doing BM# 63
This post also goes to the A-Z Challenge