Kids Lunch Box series is something I wanted to start last year but by the time I was ready with the list, school reopening was just a few weeks away and I knew I couldn't add much before it.This year I wanted to start early but was procrastinating till now!
When I saw the calendar this morning, it struck me that the post for Recipe ReDux is due today and I had made nothing for it. I saw the announcement on the 1st of this month and totally forgot about preparing something for it.
I took a look at it again and this is what it said…
Limpin' Along for Lunch
Ever get in a lunch rut? Need new ideas for packing your kids' or
your own lunch? Are packable noontime options dwindling? Surely you've
met the 'What shall I pack for lunch?" question head-on with creative
ideas. Please share your healthy lunch recipe – so we can swap it into
our own rotation.
So, I set aside my laziness and got down to make this simple lunch which would be the post for Recipe ReDux as well as kick start the Lunch Box Series.
I usually pack Rice, Chapathi / Roti / Poori ,Mini Idlis for the lunch box. Sandwich happens rarely for the lunchbox though they have it for breakfast / as an after school snack.
I have tried this sandwich to see if it was a fgood option for school on days when I am in a hurry to pack the lunch for the kids.Peanut butter sandwich is something Lil Angel loves. To make it a little more interesting, I used a cookie cutter to get a cure shape and added sprinkles for color.
So here is the healthy and colorful lunch box with Peanutbutter & Sprinkles Sandwich and Pom.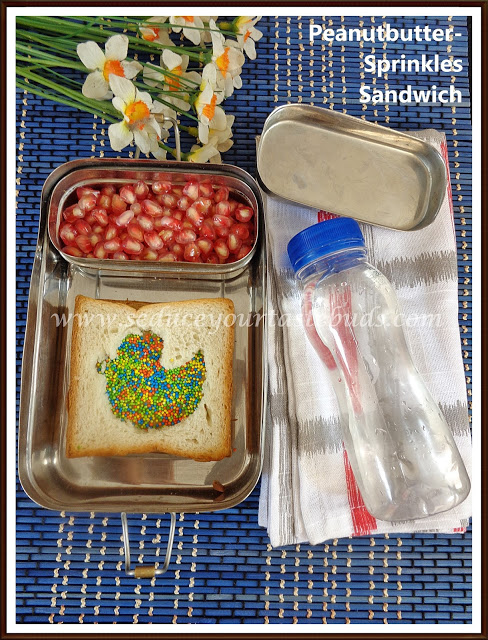 You need:
Bread slices
Peanut Butter
Colorful sprinkles
A cookie cutter
Cut out a shape with a cookie cutter. Spear peanut butter on both the slices.Add the sprinkles and cover it with the one with the cut out. So simple isn't it!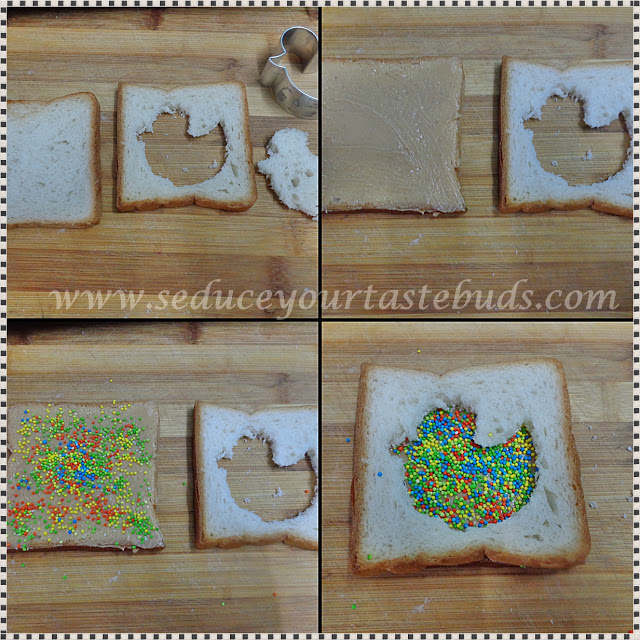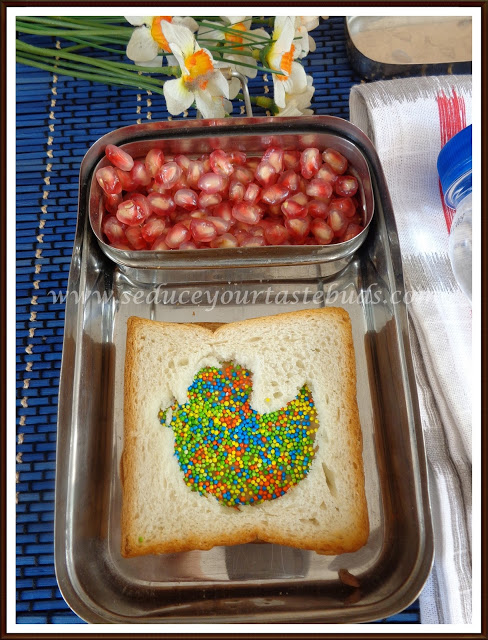 Note:
I applied peanut butter to only only slice and clicked the pic. Later I noticed that the other slice slid off. So I applied peanut butter on it too.
You can use different shapes of cookie cutters to make it all the more interesting.
Butter / Jam can also be used instead of peanut butter. Lil Dude had his with jam and sprinkles.