Today is Ganesh Chathurthi and though I wanted to post a dish apt for Neivedhyam like Kozhukattai, I am posting this easy dessert made with Poha/ Aval / Pressed rice / flattened rice.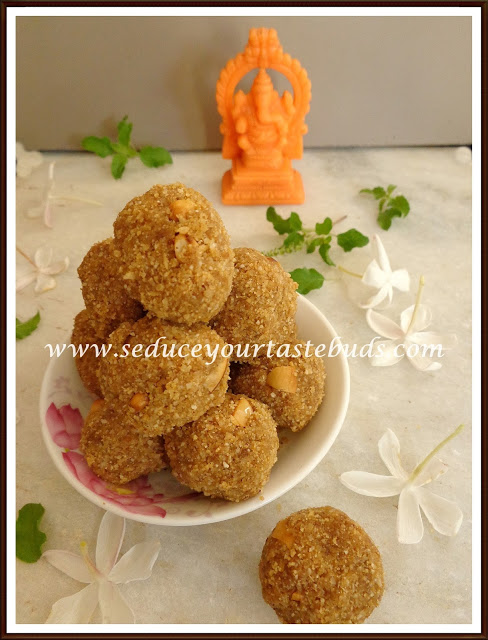 The reason I chose this dish is because I am going to post 6 recipes with Aval / pressed rice this week as we enter into week 2 of Mega Blogging Marathon #68 themed Cooking Carnival
I already have some recipes with Aval and wanted to add more to that collection.
Poha/ Aval is rich in iron and easy to digest. But in many households it is being neglected and newer and fancier ingredients have taken over the kitchen. From time to time I make snacks/ main dishes with this nutritious ingredient and thereby try to incorporate it into our routine menu.
Since today is a festive occasion I thought I will make a dessert with Aval and thus was born this Ladoo. It is so easy prepare and does not requite ghee or any other ingredient like milk or water to bind it to make ladoos.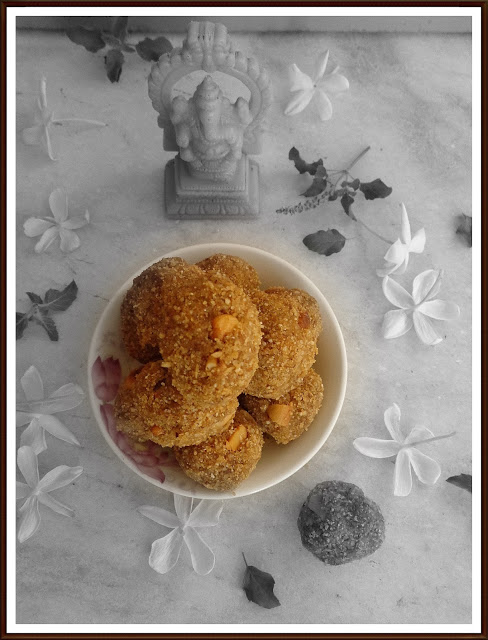 I used:
Poha / Aval – 1 cup
Unrefined cane sugar- 1/4 cup / as needed
Ghee – 1 tablespoon, divided
Coconut-1/4 cup, grated / finely chopped
Cashew bits- 1 tablespoon
Heat a little ghee in a pan and put in the poha. Roast on low heat till it becomes and a nice aroma arises.Take care not to burn it. Remove it onto a plate and keep aside.

To the same pan add, the remaining ghee and fry the cashew bits till golden brown. Once done, switch off the heat and leave it aside.

In a mixie jar take the cane sugar, coconut and grind it well.

Add the roasted poha and grind till you get a [somewhat] fine powder. Transfer onto a plate / bowl.

Add the cashew and the remaining ghee in the pan[if any] to the mixture and start shaping them into ladoos. Do this as soon as you grind the ingredients together. The light heat will make it easier to bind them

Serve / store in an air tight container….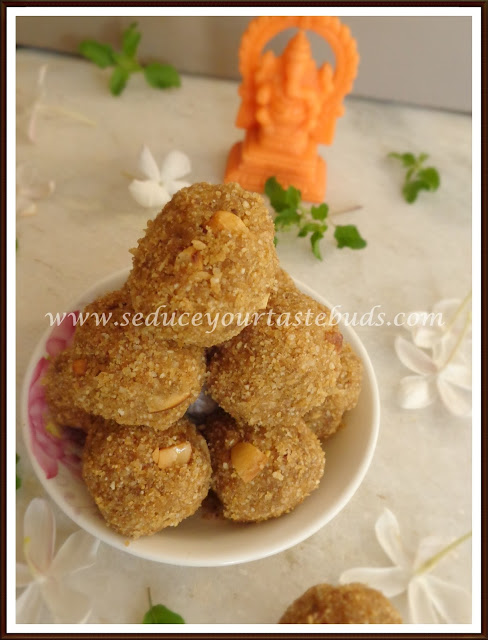 Note:
You can use regular sugar / jaggery instead of unrefined cane sugar
If you prefer, you can also add a pinch of cardamom powder to the mixture before forming the ladoos.
I made this ladoo with a grainy texture.If you want a fine powdery texture, grind the poha to a fine powder and then add the cane sugar and coconut.
Bon Appetit…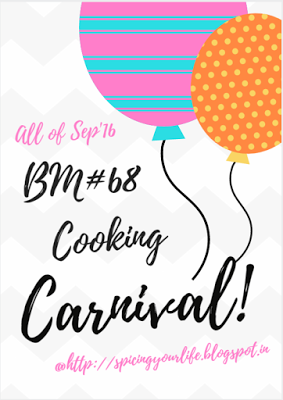 Check out the Blogging Marathon page for the other Blogging Marathoners doing BM# 68