These days, rice happens to be Lil Angel's favorite dish for lunch. So while packing for the lunch  box, I make some variations in the rice dishes so that the kids are not bored. Paneer being their favorite, I have made a pulao with it and added a bit of vegetables to it.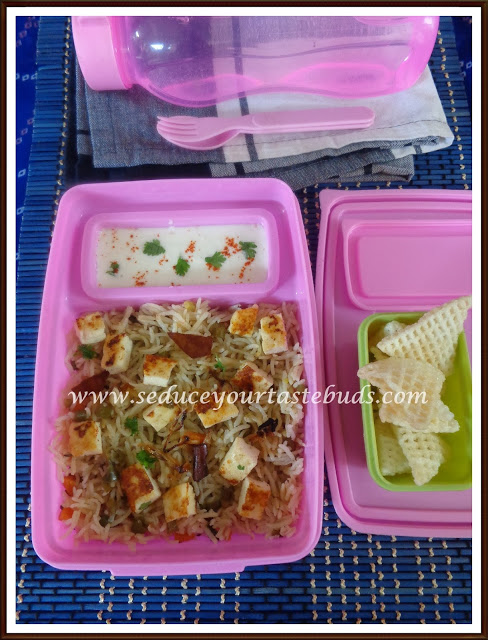 In the box
Cucumber Raita
Crisps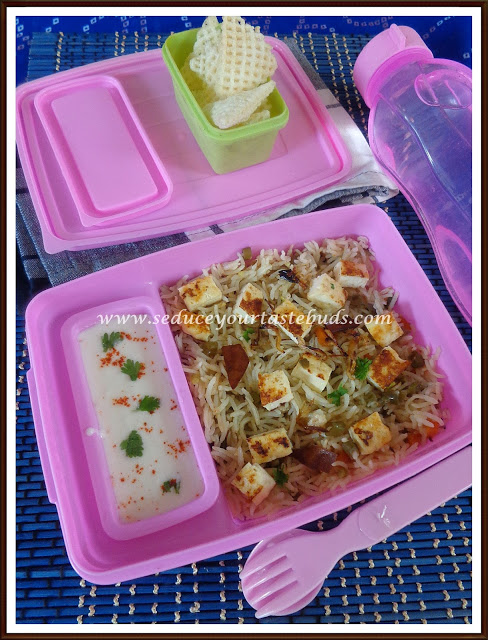 Pre-prep – things that can be made ahead[the night before] :
The vegetables can be cut and stored in the fridge.
Similarly, the paneer can be toasted,cubed and kept in the fridge. Be sure to remove it from the fridge as soon as you wake up so that it comes back to room temperature before you add it to the rice.
Note:
 For the raita, take lukewarm milk in the lunch box container, add salt and mix. Add grated cucumber and a little yogurt starter [ the previous day's curd] and sprinkle a little chili powder / chaat masala.Cover and keep in the lunch bag. The curd will set by the time the kid has lunch.
I use stainless steel boxes to pack the kids lunch.The ones used here are for the clicks only 🙂