Blogging Marathon #75
Day – 3
Name of the Bake – Chinsuko
Country – Japan / China
Today , we are in the third day of our Mega blogging Marathon, titled- Bake around the world. On day 1 we went to Australia to taste their bikkis – ANZAC and yesterday we came back to India to taste the buttery, melt in the mouth Benne Biscuit.Today I am taking you to Japan to taste the Chinsuko / Japanese shortbread cookies.
History / Origin:
History has it that Chinsuko dates back to the 15th century,during the Ryukyu  Dynasty. But back then they were Chinese style steamed sponge cakes. This form of baked dish came into being in the late 1800's in the Meiji era.
But if we trace back the history even further, I read that this was actually a dish of Chinese origin and was called Chinruko. This was introduced to Okanawa where there was a mix of Japanese and Chinese people.Later on these cookies became a traditional dish of Okinawa!
The word Chinsuko is said to mean something like – Expensive/ rare/ precious confectionery. True to the name,Chinsuko was considered to be an extravagant treat that only the aristocrats could afford!
But today, these traditional cookies are very popular and sold as souvenirs!
The primary ingredients from then to now are flour, lard and sugar.In those days since no one particular oil was used exclusively / abundantly, lard was used. It imparted a special taste to the cookies. Later it was with butter too.
Originally, this cookie it not have any particular flavor.Now it is available in various flavors and colors.
I have used oil in this recipe.With the overload of butter and sugar in the cookies that I will be baking, I wanted this one to be a lighter version and hence used vegetable oil instead of butter.
These cookies are supposed to be cut with a crinkled / fluted rectangular cookie cutter. Since I did not have it I used a knife to cut the rectangles. A mistake that I mad was rolling out the cookies a bit thin.These are supposed to be a bit on the plumper side!
There are several versions of these cookies. I looked into a lot of recipes and followed the one below.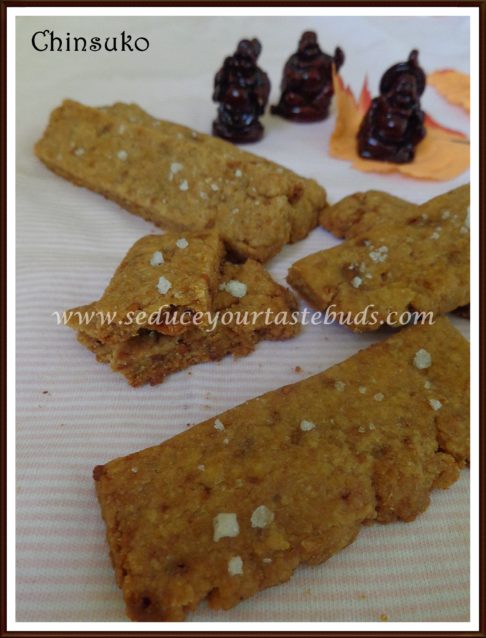 Step by step tutorial to make Chinsuko cookies:
I used:
Whole wheat flour- 2/3 cup
Unrefined cane sugar – 1/4 cup
Oil- 1/8 cup
Sea salt flakes- a few
In a bowl take oil and sugar. Mix well.Add flour and form a smooth dough.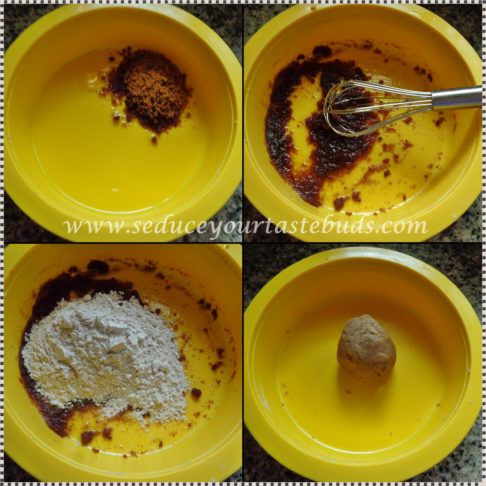 Take portions of the dough and roll out into thick sheets between sheets of parchment paper. Use a crinkled cutter / knife to cut rectangular cookies. Place on a baking sheet lined with parchment paper. Sprinkle a few pieces of sea salt flakes and press gently.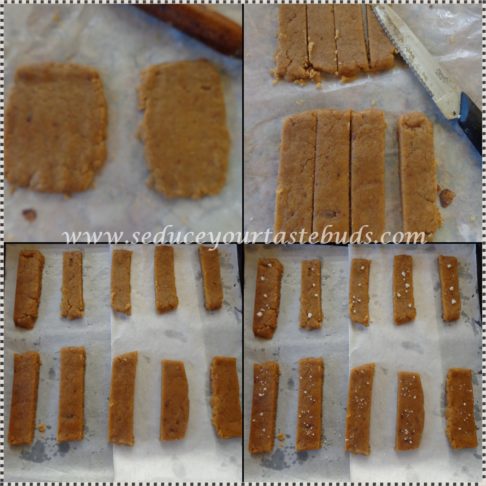 Bake in a pre heated oven at 180 degree C for 10 minutes or till the edges are brown. Remove from oven and let the cookies remain on the baking tray for 10 minutes. Remove from the tray and cool on a wire rack.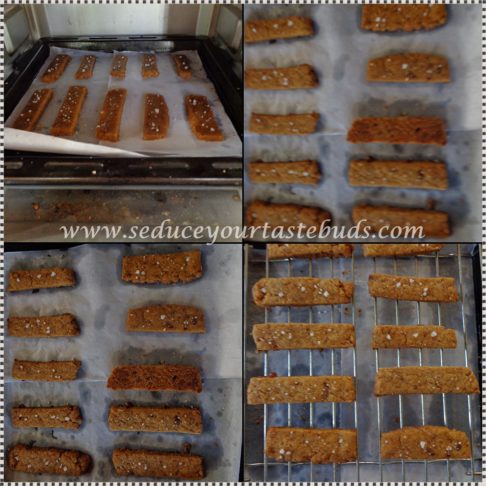 Delicious Chinsuko is ready to be served.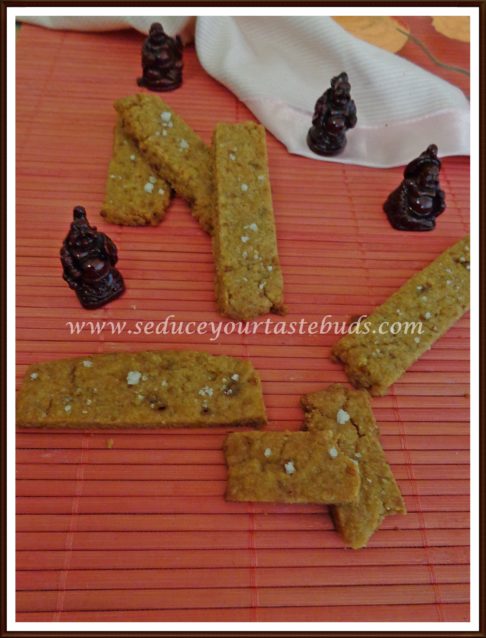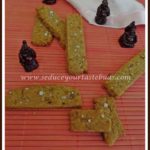 Chinsuko
A Japanese style shortbread cookie

Ingredients
3/4

cup

Whole wheat flour

1/4

cup

Unrefined Cane sugar

1/8

cup

Oil

A

tablespoon

Sea salt flakes
Instructions
In a bowl mix together oil and sugar


Add the flour and being together a soft dough. If it is too crumbly add a little oil. If it is too sticky, add a little flour.


Roll out the dough between sheets of parchment paper and cut rectangles with a knife / crinkled cookie cutter

Place the cookies on a baking tray lined with parchment paper.


Sprinkle a little sea salt over the cookies and press gently.


Bake in a pre heated oven at 180 degrees for 10 minutes [The time will depend on teh size and thickness of the cookies].Or bake till the edges turn brown


Let the cookies remain on the tray for 10 minutes and then transfer them onto a cooling rack


Serve / store in air tight container when completely cool.

Check out the Blogging Marathon page for the other Blogging Marathoners doing BM# 75
Loading InLinkz ...