Blogging Marathon- # 75
Day – 15
Name of the Bake – Ossi Di Morto
Country – Italy
Ossi Di Morto is the chosen cookie for O, which translates into bones of the dead!That is indeed a weird name for a delicious cookie!!
History / Origin:
Though the name sounds weird, it is actually almond cookies that is made with a lot of spices added in.
This cookie, which is from Italy, is made on November 2nd, on the All Souls Day / Day of the Dead which is observed after the All Saints Day.
In places like Sicily, people visit the cemetery on this day[with flowers] and remember the loved ones. Some people clean up the place and spend a little time with the family, reminiscing the loved ones.
In bakeries, these cookies are sold on All Soul's Days , especially in Sicily. It may or may not be found in other regions on Italy.
All through Italy, the method of preparing this cookie and the ingredients use vary vastly! It's not just the ingredients and methods that vary! In some places, it is also known by these names – ossa da mordere / oss de mord / torrone dei morti/ ossi di morti depending on the dialect and region!
Ossi Di Morto are made in Italy when the seasons first almonds are harvested and is usually served with coffee / wine
Traditionally, it is made with hazelnuts, almonds and eggs. Over the years the recipes have been modified. This one is my modified version of the original recipe.
Taking about the modifications, I read that there is a version of this cookie where the dough is rested for 2-3 days before baking it! In this fast paced world, I wonder if people would still prefer to make it that way!
After reading this are you still wondering why these are called so? Well, may be because they look like a pile of bones when stacked up. Or maybe its the texture- Crisp on the outside and chewy on the inside.Or maybe it is because of the day in which it it eaten.
Whatever be the reason, these delicious bites disappeared within minutes of baking and all I could save for the clicks is what you see in the pic below! Yes, they are truly delectable and I wish I had baked some more. I just got to taste one small piece!!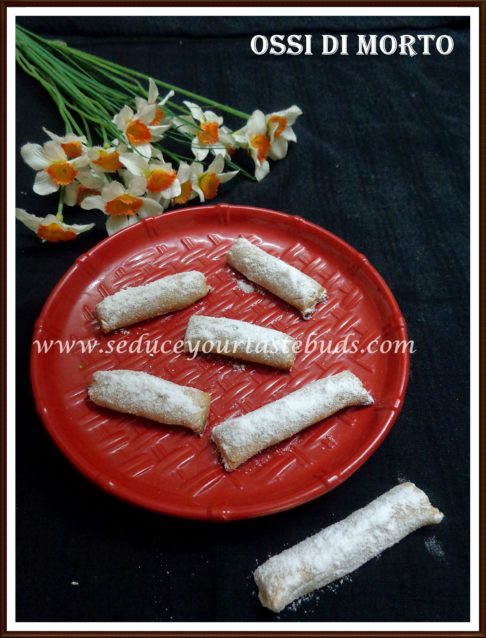 How to make Ossi Di Morto:
Adapted from here
Whole wheat flour – 3/4 cup
Almond meal – 1/4 cup
Butter – 1 tablespoon
Powdered sugar- 3/4 cup
Lemon zest- 1 teaspoon
Ground cinnamon-1/4 teaspoon
Milk a few teaspoons
Powdered sugar for dusting the cookies
Cream together butter and sugar.
Add the flour, ground almonds, cinnamon, lemon zest and fold in gently.
Add milk little by little and until you get a non sticky dough.
Wrap the dough in a plastic sheet and refrigerate it for an hour.
Divide the dough into 2 balls.
Form thin ropes[thickness of the finger] and cut into small pieces [size of the fingers].
Flatten the cookies a little and transfer them onto a baking tray lined with parchment paper.
Bake at 170 degrees for 10 minutes or till teh base is light brown in color.
After 5 minutes, transfer onto a wire rack.
While it is warm ,dust with powdered sugar.
Serve with coffee / store in an air tight container.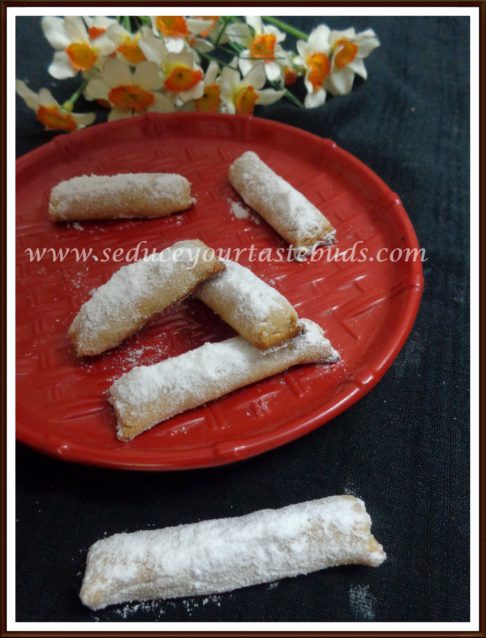 Check out the Blogging Marathon page for the other Blogging Marathoners doing BM# 75
Loading InLinkz ...