This Quick Sweet Corn – Carrot Dhokla has been on my mind for a long ,long time. Through the years of blogging and even before that, I have bookmarked so many recipes but when need arises I forget what I need to make from the bookmarks.
The list is so vast that it sometimes feels so exhausting just looking at it. Of late , I am trying to strike out a few from teh ever growing list and here is one of those.
A couple of days back, the sky looked dark, threatening to rain .We expected a downpour but Mother Nature had other plans!!
Yet, when it was downcast, we needed something quick and easy to satisfy the craving taste buds. A deep fried snack and coffee would have been the best idea but as mentioned earlier I made this quick and easy dhokla from Tarla Dalal's site that I had bookmarked eons ago.
I added a bit of sweet corn kernels that was in the fridge and we had this dhokla with Lemon leaf flavored buttermilk. My parents and the kids enjoyed this snack while we waited for the sky to open up.Sadly, that did not happen!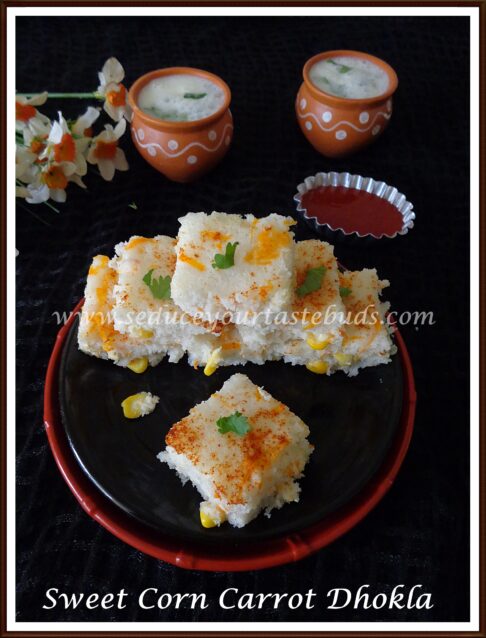 This dhokla is made with left over idli / disa batter and since we use fruit soft, ot came out extra soft. The carrot and sweet corn added a nice color to the dhoklas . All in all, this was a super hit!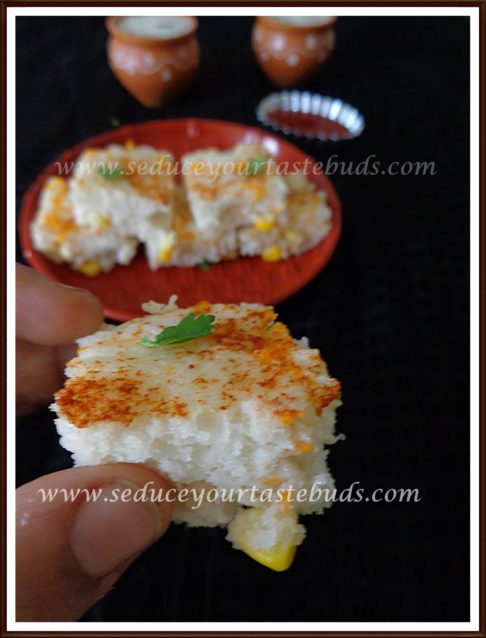 How to make Quick Sweet Corn – Carrot Dhokla
I used:
Idli batter- 3 cups
Rice flour- 1 tablespoon
Sweet corn kernels- 1/2 cup
Carrot- 1 grated
Eno- 1 sachet
Chili powder- 1 teaspoon
Coriander leaves – to garnish
Take the idli batter and rice flour in a bowl and mix well. Put in corn and grated carrot[reserve about a tablespoon].Mix well. Add eno salt and a tablespoon of water over it. It will start to froth.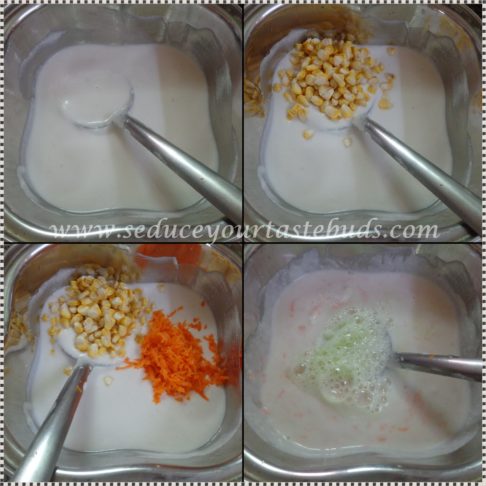 Keep a greased plate ready. Gently mix the batter and pour into the greased plate. Sprinkle the reserved carrot[grated], red chili powder .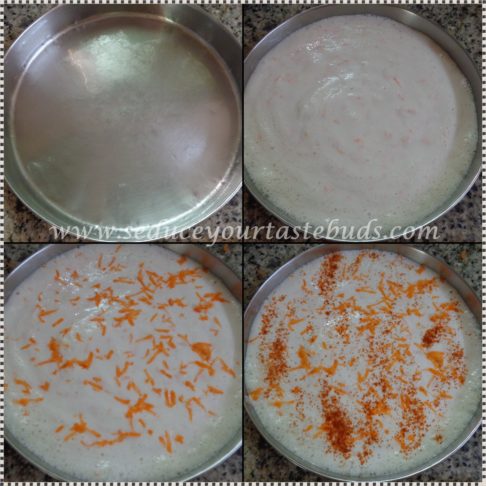 Steam for 10 minutes till done. To check doneness, insert a knife in the center, if it comes out clean the dhokla is done.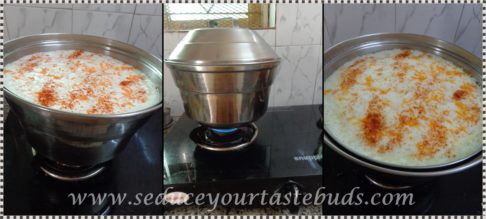 Remove from steamer and let it cool a bit. Cut into squares and serve.

Enjoy the soft and spongy dhokla with a side dish of your choice.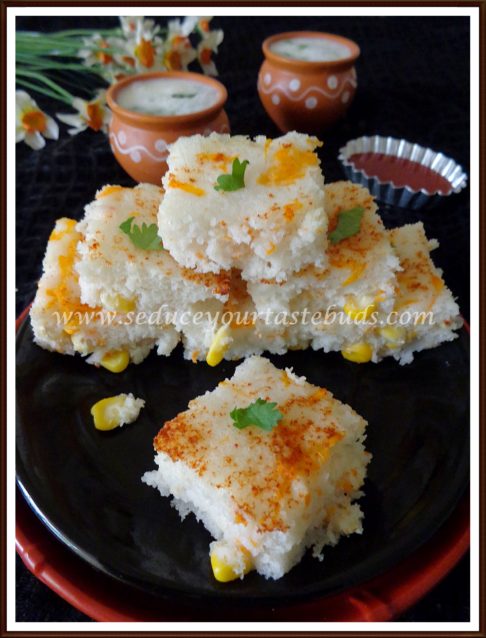 Check out the Blogging Marathon page for the other Blogging Marathoners doing this BM#76