The second menu in  Blogging Marathon #77.Week -2, themed – Week day lunches, I am sharing with you this simple meal that was made several months ago.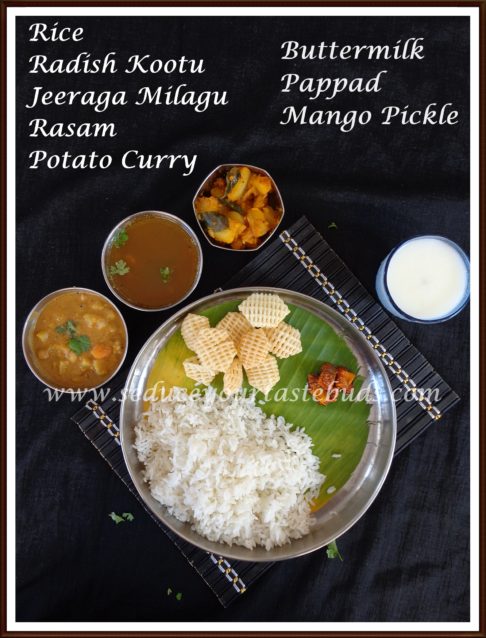 This was a meal that was enjoyed by all of us, more so by the kids. Lil Angel loved the kootu made of radish and refused to believe I made a kootu out of radish!I had a hard time proving it to her!
The best part was that she had it with lunch and at night with Chapathi too. There has been repeated requests for this dish.So you can guess how good it is!
The keeraga milagu rasam is a good digestive and tastes so good when it is paired with a simple potato podimas.
Piping hot Rasam rice drizzled with a little homemade ghee and podimas on the side are a match made in heaven and the ultimate comfort food!
This too is a very simple to prepare lunch that can be made on week days. The links below, will take you to the recipes. There will be a difference in the dish you see here and the ones you see in the linked post. The method of preparation might have changed slightly over the years but the essence of the dish remains the same 🙂
Here are the links to the dishes
Rice
Radish Kootu
Jeeraga Milagu rasam
Potato Podimas
Buttermilk
Crisps
Instant mango Pickle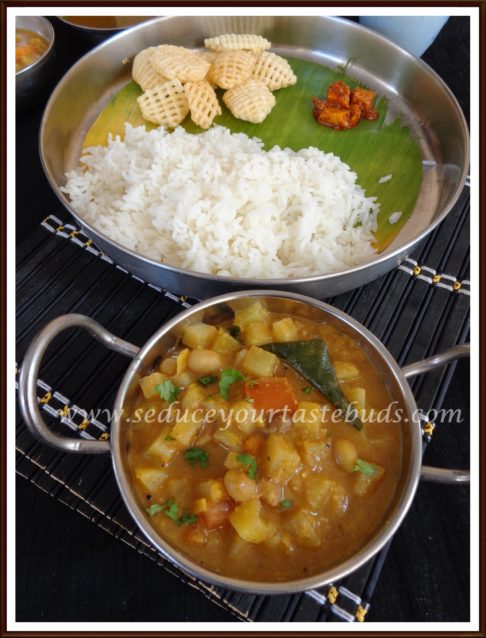 Check out the Blogging Marathon page for the other Blogging Marathoners doing this BM#77