A couple of month's after Lil Dude was born, I was at mom's place for Ugadhi [Telugu / Kannada New Year] . Knowing my penchant for clicking thali meals, mom prepared a full fledged festive menu just for the blog. Of course, we too had our fill of the delectable spread!
Here is the meal that is served in the traditional style…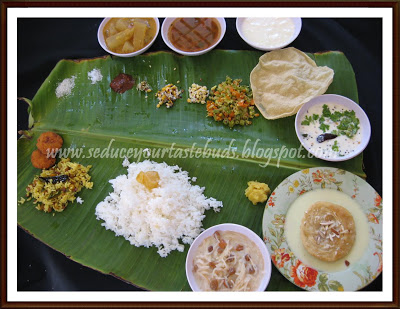 Served on the plantain leaf are…
From the top -Left to right…
Sugar
Salt
Pickle
Bevu Bella
2 types of kosambari / lentil salads
Vegetable curry
Pappad
Raita
On the lower half of the leaf – From left to right
Ambode / Lentil fritters
Gojju chitranna / tamarind rice
Rice with ghee
A bit of cooked dhal
Payasa / kheer
Pheni
On the top, served in bowls – from left to right
Sambar
Rasam
Homemade yogurt
Head over to the Ugadhi lunch post to read about the dishes. Also explained in that post is how to serve a traditional lunch on a plantain leaf.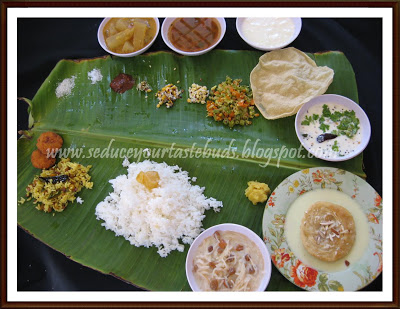 A scrumptious spread on the festival which I enjoyed immensely . Mom took extra care to prepare this meal as she knew I would feature this on my blog and was encouraging me to take the pictures clearly and explained the placement of the food stuffs on the banana leaf. Thanks mom 🙂