Uthappam Pizza |Desi Pizza with step by step pictures
Ever since I was breaking my head for a simple pizza recipe, that is for the past two days, one pizza that kept popping up in my mind was this desi version of pizza. So I had make it .But before I did, I asked the kids if they were ready to try out another modified pizza.
They had just finished the dessert pizza and so I was wondering if they would like a savory one. They seemed to be pretty excited at the prospect of another pizza!
The duo kept tailing me all through the cooking process and the photo shoot had to be done very quickly.So I just clicked a couple of pics and then had to hand out the plate to them. And I had to hurry back to the kitchen to make another one!Yes, another hit recipe! Its easy to make and there is no fuss around it.
For the desi touch I sprinkled some kobbari pudi [a dry coconut lentil spice mix] and it really did the trick. You can also use the regular idli milagai podi and! Even the kids loved this touch and they were going gaga over it!
This desi pizza is my third dish for Blogging Marathon # 82,Week 3, Day 3, with the theme – Pizzas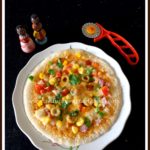 Uthappam Pizza
Ingredients
1

cup

Dosa Batter

4

teaspoons , each

colored bell pepper , chopped

1

number

onion, small, chopped

2

teaspoons

Tomato chili sauce

2

teaspoons

Idli milagai podi

2

tablespoons

boiled sweet corn

4

numbers

Olives, sliced

Coriander leaves to garnish

Mozzarella cheese as needed
Instructions
Spread a portion of the dosa batter on a heated tawa .Make a thick uthappam. Cook one side till only light brown spots appear. Cook the other side thoroughly.

On the side that is cooked thoroughly, Spread ,the tomato sauce, a little cheese,spread a portion of the vegetables, top with more cheese.Cover and cook till the cheese melts.

Sprinkle idli milagai podi and remove from the griddle.




Serve hot garnished with coriander leaves,
Step by step method to prepare Uthappam Pizza | Desi Pizza
Pour a portion of the batter on a heated griddle and make an uthappam . Cook one side thoroughly and the other side can be half done. On the well cooked side spread spread the sauce.

Sprinkle cheese and spread the vegetables and more cheese on top. Cover and cook for a few minutes till cheese melts and the bottom gets crisp.[If we do this on the well cooked side, then the bottom part will char and turn bitter.]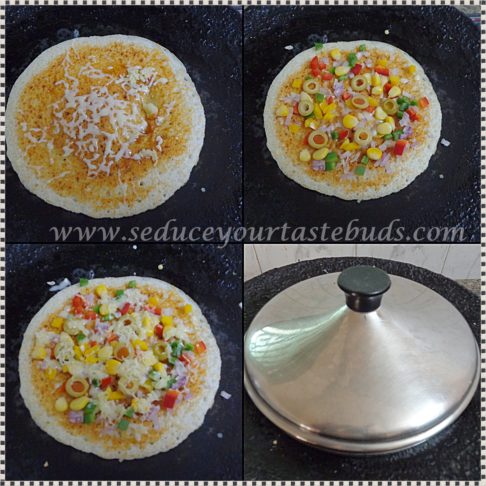 Open the lid and sprinkle a generous portion of kobari pudi [dry coconut-lentil spice mix] / idli milagai podi. Wait for a few seconds and remove from heat.

Serve hot!!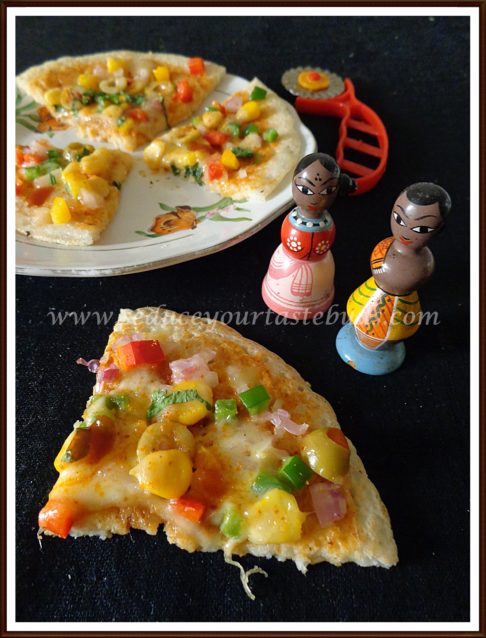 Check out the Blogging Marathon page for the other Blogging Marathoners doing BM#82