Egyptian Rose Cookies Recipe
This is probably one of the most aromatic and flavorful cookies that I have baked in the recent times!
As the name suggests, the aroma of rose wafts through the house and it is such a wonderful smell and delight to the senses!
No more description is on the way for these cookies as I am ready to conk off and this post needs to be up before mid night.
I made this with the Eggless Basic cookie dough and if this dough in the fridge you can bake these cookies within minutes!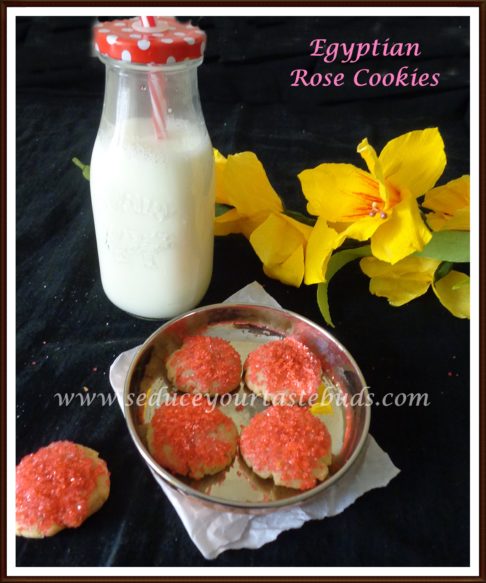 Here is how to prepare the Egyptian Rose Cookies Recipe
I used :
Eggless Basic Cookie dough -150 grams
Rose water – 1 teaspoon [see note below]
Pink colored sugar as needed
Add the rose water to the dough and knead gently.
Make even sized balls of this dough and flatten them slightly.
Spread the colored sugar on a plate.
Gently press one side of the cookie over this sugar and place them[sugar side facing up] on a baking tray lined with parchment paper.
Bake in a pre heated oven for 10-12 minutes / till the bottom is light brown
Remove from oven and cool on a wire rack
Serve / store in air tight container.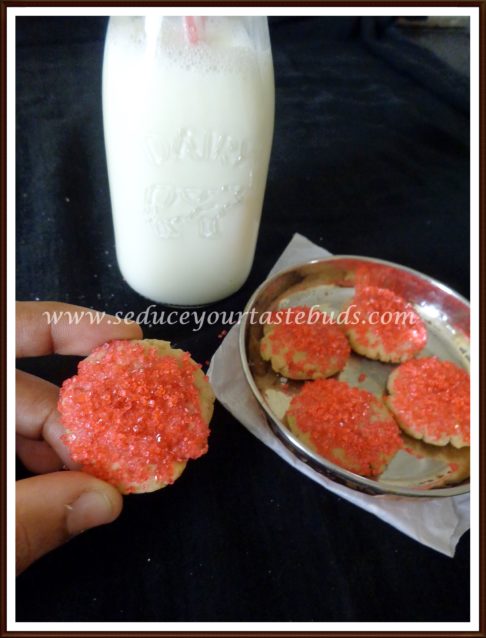 Note:
The flavor of the rose water / rose essence varied from brand to brand, so adjust the quantity as needed. With some brands just a few drops will be sufficient. With other brands you may need to add a couple of teaspoons!
If the dough is sticky after adding the rose water / rose essence, add a teaspoon or more of flour.
The baking time will depend on the size and thickness of the cookies.
This is part of the Bake-a-thon 2017 
Loading InLinkz ...