Kids Breakfast Ideas #4 – Toast and Flavored Milk
When I was planning to do the series on Kids breakfast dishes, the first thing that I knew was that there would be a lot of posts with bread in it!
As you already know, there is always a loaf of bread at home and the kids like to have it with jam or peanut butter or as a sandwich.
Bread toast is another favorite which is eaten as such with no spread.A tasty drink with it is one of the best side that the kids love to have.
During my days as a Dietitian, we had an intern who was way elder than us. She wanted to just refresh her degree leanings and though it would nice to do an internship.
Though there was this age gap, she was so eager to learn and apply it practically. She used to come with one of us for our daily rounds and during the tea break, she used to share with us her routine at home.
And that is when she mentioned this flavored milk!
Her school going son would not eat much in the morning so she used to make him flavored milk to go with corn flakes or bread sandwich.
This idea sounded delicious and I started making it once in a while. After the kids arrived, I made it often and they too seemed to love it.
Then, as with every dish, it became monotonous and boring and I stopped making it. A couple of days back, I suddenly remembered this beverage and made it for this series..
So check out the other Kids breakfast ideas…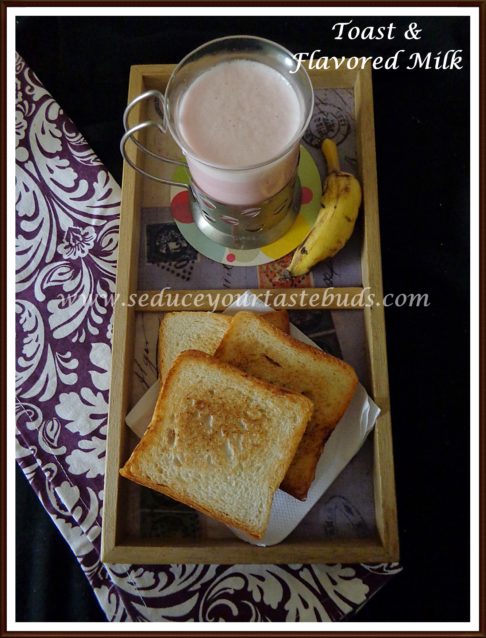 On the tray
Bread Toast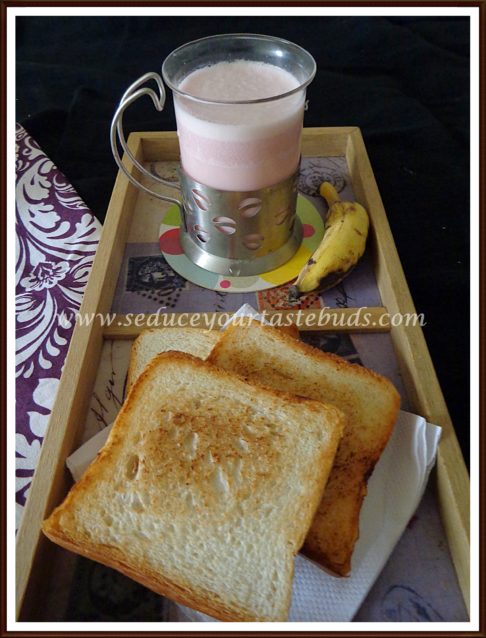 Note:
Check out the Blogging Marathon page for the other Blogging Marathoners doing this BM#78
And also for Srivalli's kids delight event that I am hosting here with the theme – Quick / Innovative kids breakfast dishes.