If the previous recipe – Toast with flavored milk can be called a quick breakfast, then this one can be filed under innovative!
Innovative as in sneaking in fruits or rather apples into the kids meal!. My Lil one does not like apples or any fruit for that matter! I always sneak them into his diet in various ways, like adding it as puree, using it in bakes and stuff.
Then once I saw this Apple peanut butter sandwich somewhere on the net and I was really tempted to try it out on the kids!
Lil Angel eats fruits without complaints but to make Lil Dude eat it is the real challenge. So one day during the holidays, I made this and gave one to Lil Angel. Seeing the peanut butter and the chocolate chip the little guy was literally drooling!
He wanted a bite and Lil Angel knew that if she said no, he would come to me for one. She went on to tell how tasty it was and she was going to eat a few more sandwiches and if he wanted one, he must ask Amma.
As planned, the little guy came running to me asking me for a 'sandwich'. Lil Angel winked ! The plan was a success!
I had one ready as I knew he would come for one and also I did not want him to see me spreading those yummy stuffs on a slice of apple!
Lil dude was completely bowled over and happily munched this 'sandwich'. Happy mommy!!
So isn't this an innovative and easy way to get the kid to eat an apple!!
This is also a quick breakfast dish where it is easy to prepare and also kids can eat it quickly without a mess. This can also be served as an after school snack.
So check out the other Kids breakfast ideas…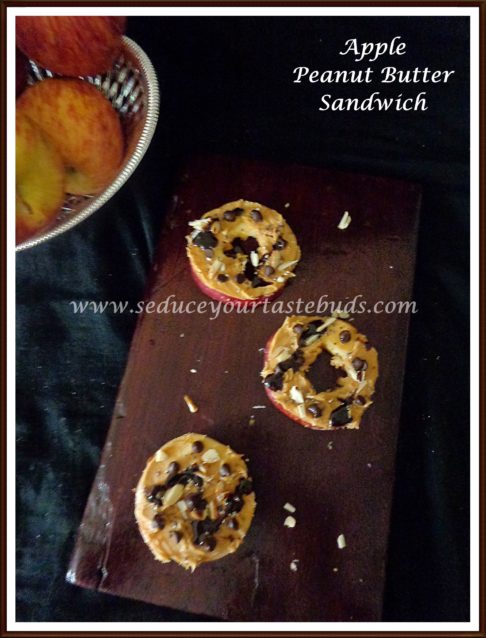 Here is what I did…
Core and cut the apple into thick slices. Spread peanut butter on the slice and sprinkle some chopped nuts ,chia seeds and chocolate chips. Serve.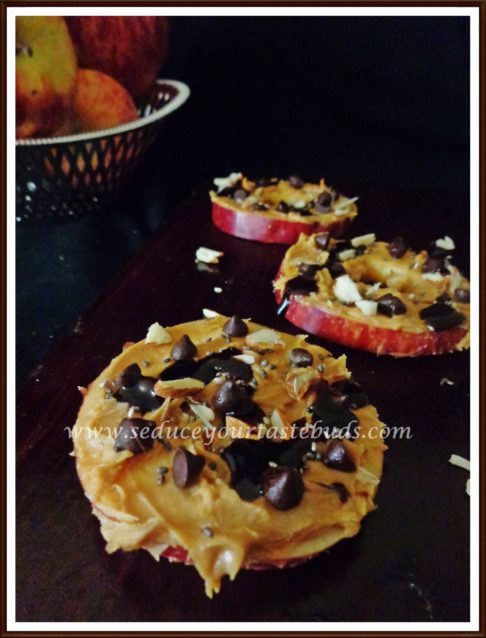 Note:
You can sprinkle any nuts / sprinkles of your choice.
Chia seeds are optional.
Check out the Blogging Marathon page for the other Blogging Marathoners doing this BM#78
And also for Srivalli's kids delight event that I am hosting here with the theme – Quick / Innovative kids breakfast dishes.