The Queen of the Comeback by Nidhika Bahl : Book Review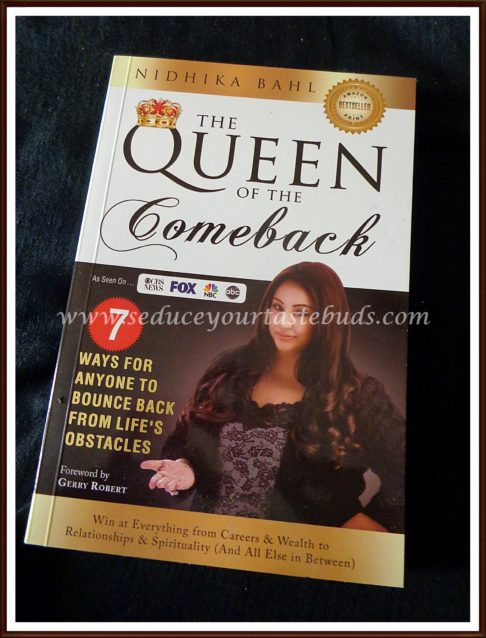 I haven't read that many self help books and I haven't  written reviews of those either.When the publisher team contacted me for review, I thought it might be a good place to start reviewing self help books.
The Queen of comeback is a book by Nidhika Bahl with a forward by Gerry Robert. The cover has the tag lines – 7 ways for anyone to bounce back from life's obstacles. Win at everything from Careers and wealth to relationships and spirituality [And all else in between].
I received a signed copy of the book.It took a little time to start this one as I had a couple of books that came in earlier to be reviewed.
The book has 7 chapters and 7 survivor tales, lot of quotes and diagrams!
So, here are my thoughts on this book…
The author had me at the dedication that says – "This book is dedicated to all those who are battling with the dark days and think they are alone." Wow!
I liked how Nidhika has started the book and the topic with how she went into depression and the struggles that she faced on the road to recovery. This helped bond with the author and the subject.Since she has tried and tested the solutions, they are bound to be helpful.
I could not finish this book in a single sitting. I gave a gap of a day or so before going to the next chapter.This gave me time to think and assimilate the points in each of the chapters.
The language is simple and easy to understand. No fancy words- the points are mentioned in easy to understand terms.
Each chapter has line diagrams / diagrams to explain the points in the chapter.
There are exercises in some chapters where we can actually do the test and find out where we stand / understand what is going on / what action has to be taken.
There is a quote at the beginning of every chapter which is really nice. Here are some of my favorites from the book…
The only people without problems are those in cemeteries – Tony Robbins.
When your inner world comes into order, your outer world will come into order- I Ching
It does not matter how slowly you go as long as you do not stop – Confucius 
I can go on, for each of them is so good to think over and follow.
The main points  are high lighted in small boxes throughout the chapter so that you can go back and just read those lines to recollect / follow.
The book is not very preachy. The reader is able to relate to several problems / situations mentioned. So there are more chances of one trying out the methods of recovery.
She has mentioned in this book that it is not a substitute for professional help;rather it is a mission to help people bounce back from the obstacles long before they deteriorate to the stage of needing professional help. So this book is basically – Prevention is better than cure, right!
I tried out the exercises like the wheel of life, gratitude exercise  given in this book and they seem to point out what is OK and what needs to be changed. I am planning to do the 15 minute wonder planner as well.
Each problem / goal is broken down into simpler steps that are easy to understand and follow so that we can sort out the confusion / help in attaining the goal.
The inspiration stories shows us how the 7 people mentioned in the book [Dr.A.Velumani , Jules Dornan , Kanika Tekriwal ,Anurag Kashyap,Patricia Narayan, N.R. Narayan Murthy, Surendran Jayasekar] have overcome all setbacks and are now shining and proving to be an example in the respective fields! Though we know these people are famous now, the story of the struggle that they went through to achieve this position in the society is really inspiring.
My final verdict – Do read this book even if there is no serious problem going on.As mentioned on the cover this book provides a lot of ways to win at everything from careers and wealth to relationships and spirituality and all else in between.
This is not a book that should be aimed at finishing in one go. But it is one that should be read slowly and the contents assimilated and tried out.
And it is also one to which we can always go back to any time we feel a need to change something that bothers us /  solve a problem that needs attention.
About the author
Nidhika Bahl is an author,an entrepreneur, international speaker, and life transformation coach. She holds a master's degree in finance from Lancaster University and is the founder of Parallel Circles Entertainment Media Company.
Check out the other books that were reviewed in the Book Bites Section. [Click on the link]