Simple Coconut Rice
Today, I have a post from the past! 10 years back, I posted this coconut rice recipe. It was just under a year that I had started blogging and we had just landed in China.
Everything was new to us! I had lugged  almost all the groceries needed in the kitchen as I was warned that we do not get 90% of the Indian stuffs there.
Each visit to the mall's grocery aisle would bring in new discoveries and this post was written after once such important discovery.
I am redoing this post from Dec 2008, for BM 85, Week 4,day2, with the theme redoing old posts .
—————————–
Hubby dear is so much used to having coconut chutney with idli that the first time I prepared Rava iddli after coming to China,he felt the meal was not complete.Thus began the hunt for the coconut .The veggie section in the mall didn't have coconut and our mandarin pronunciation of coconut sounded absurd to those people.We went looking for it in the local veggie market but still could not catch a glimpse of it.
The futile search continued till one day we struck upon an idea when we saw a packet of 'Pure coconut juice' with a picture of a coconut tree and a bunch coconuts below it.I took that packet to the girl standing nearby and indicated the coconut and told her I wanted to buy 'that'.
She took me straight to the fruits section and this is what she showed me!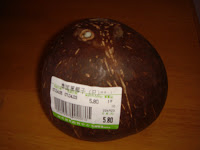 We had a good laugh because we had seen it so many times and thought it was some kind of fruit!For me it doesn't even come near to the picture of coconut we are used to see in India with all that husk around it.Anyways,hubby dear is now getting his dose of coconut chutney .
The other day I got 2 coconuts and was tempted to prepare a simple coconut rice for lunch.I rarely prepare coconut rice-reasons not known even to me.But then I must have been too lazy or too hungry to cook anything else so I settled in for this.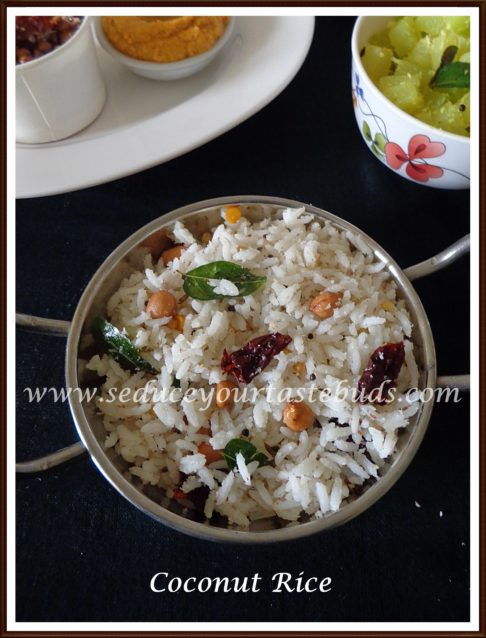 You need:
Rice- 1/2 cup
Coconut,grated-1/4 cup
Red chillies – 3 ,broken into bits
Roasted peanuts- a few
Curry leaves a few
Mustard-1 teaspoon
Jeera -1/2 teaspoon
Urad dhal-1/2 teaspoon
Gram dhal-1/2 teaspoon
Coconut Oil-1 tablespoon
Salt to taste
Step by step method to prepare Coconut Rice Recipe
Cook the rice so that the grains are sepearate. You can also use left over rice.
Heat a pan with coconut oil. Add mustard, cumin, urad dal, gram dal, peanuts, curry leaves . Once the dal turns brown, add the grated coconut and red chilies.

Saute for a minute and add the cooked rice.Give it a mix and and add salt. Mix and cook on low flame for the flavors to blend.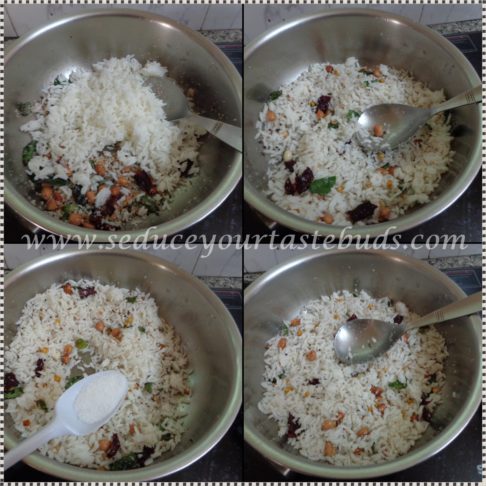 Remove from heat and serve!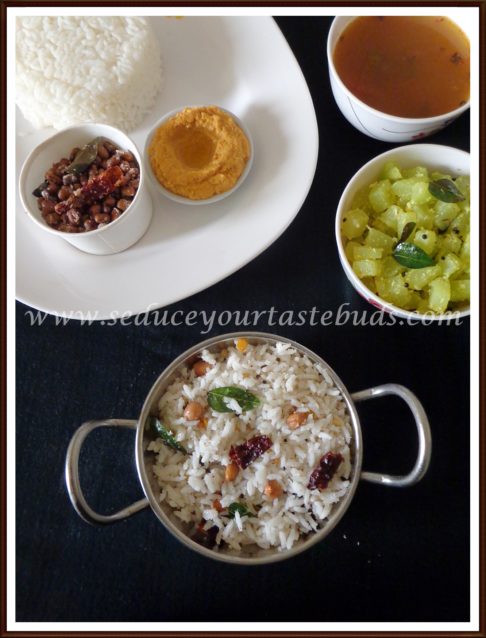 Note: