Coming Back Home is the second novel by author – Anuradha Prasad. I got an author signed copy of this book in exchange of an honest review.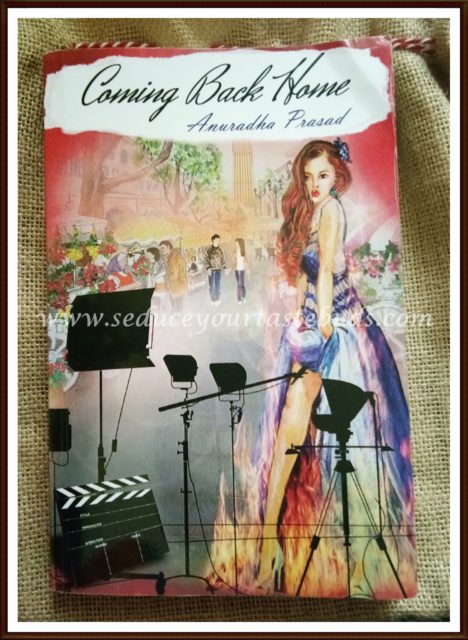 At a glance:
Title – Coming Back Home
Author – Anuradha Prasad
Genre– Fiction
Pages-305
ISBN – 987-93-52017-45-4
Price – I got a review copy.
Available in print and ebook format
Overview of the book:
The story revolves around two people and a few others set in Bollywood or rather about the life in Bollywood.
Arpita is the fresh face of Ponds India and has landed in a big role in one of the popular channels. Riku is from a small town and in search of a major break in the film industry. His good look does little in getting him a role though.
The two meet and the fate of Arpita and Riku takes a turn.
Book Review:
The book is divided into 7 chapters, each with a title -Struggle,A new beginning, Afterwards,The big break,The glass ceiling,Regret,Gratitude.
The story starts with the present day Riku who is very frustrated and asks his driver to drive on non stop.After a few pages, it goes back to the past where he lands in a very small part in a movie.
Riku had always aspired to be an actor and comes from a small town. He has faith in his good looks and hence is optimistic in landing in a big role in the movies.
Arpita has snubbed the casting couch and yet lands in a leading role in one of the soaps in a popular channel. Her approach and the way she treats her co-starts and helpers places her in everyone's heart as well.
One fine day Arpita and Riku meet and it turns into romance and they both live together. Riku uses her to get roles in movies and starts climbing up the Bollywood ladder.
When he feels he needs a higher influence to go further up, he mercilessly ditches a pregnant Arpita and goes behind another popular actress.
While Riki rises up Arpita's life tumbles down until she is saved by Sunny. Arpita picks back pieces of her life yet lives in depression.
Does she get a break again? What happens to Riku? What is the relation between Arpita and Sunny? Will Riku realize his mistake and come crawling back to Arpita?Well, these questions will be answered when you read the book!
My thoughts on the books:
The title of the story almost tells you how it is going to end which is good thing when you can really relate to the title and the story line.
The story flows through effortlessly and in an easy language.
We hear a lot about the likes of Arpita and Riku. The life in Bollywood is not as glamorous or happily-ever-after as it may seem!You can relate to almost all the Bollywood situations mentioned in the story.
Aprita's character reflects maturity and also shows how she becomes so gullible when in love, believing all the lies dished out by Riku. The grey shade of people and the heights to which they will go to fulfill their wishes is so well portrayed by Riku.
Overall ,Good characterizations and the emotions have been depicted realistically.
Pros:
Light read in a simple language
Good characterization especially Arpita,Riku and Sunny.
Looking at the blurb , we cannot categorize this book under the regular love story-breakup-end of actress kind. It breaks that stereotype.
Cons:
The editing could have been better ,avoiding the typos.
Few occasions in Arpita's life could have been cut down from the later part of the book. They seem a kind of dragged / repetitive.[I don't want to spell them and I will have to add  *spoiler alert* to this post if I do!]
Final Verdict:
Go for it! It is a light read .It was a refreshing change for me after the thrillers and mystery novels that I usually settle down with.I am sure you will find yourself routing for Arpita and cursing Riku at places!
ABOUT THE AUTHOR
Anuradha Prasad is an artist,author,speaker and a feature writer. She has published thousands of articles with the top newspapers and magazines. Blogging, observing nature,listening to music and watching Bollywood movies are her many passions.
She has a Phd in English literature from Mumbai University and was on the cover of west side plus and several notable publications.
'Two Winters and 365 Days' and 'Coming Back Home' were her previous books.
'Rain drops and Caterpillars' is her third that is going to release soon. She often deals with self discovery and internal transformation of the characters in her writings. She is recognized for a  beautiful flowing language, for replicating life in touching emotional expressions, that shift thinking realistically and inspire her fans.
Her Facebook Page is- https://www.facebook.com/AuthorAnuradhaPrasad/
Twitter- https://mobile.twitter.com/anuradhap2?lang=en
Check out the other books that I have reviewed so far .Click the link – Book Reviews .