As I sipped the chilled welcome juice served by a staff clad in a traditional South Indian dress and that too in a brass tumbler while listening to the strains of the Saxaphone ,it looked like the culinary trip across the South Indian cuisine was bound to be an enjoyable one!
This culinary trip is a new concept introduced by Radisson Blu,Coimbatore with an aptly named theme – Samayalarai , South Indian Cuisines, Preserved.This is Coimbatore's First South Indian Thali Restaurant in an Upper Upscale restaurant!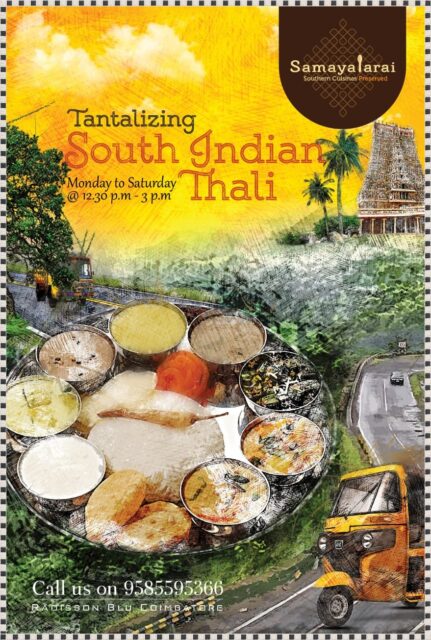 This week,fellow food bloggers and my dear friends – Sharmi , Jinoo and I were invited to be apart of this new dining experience.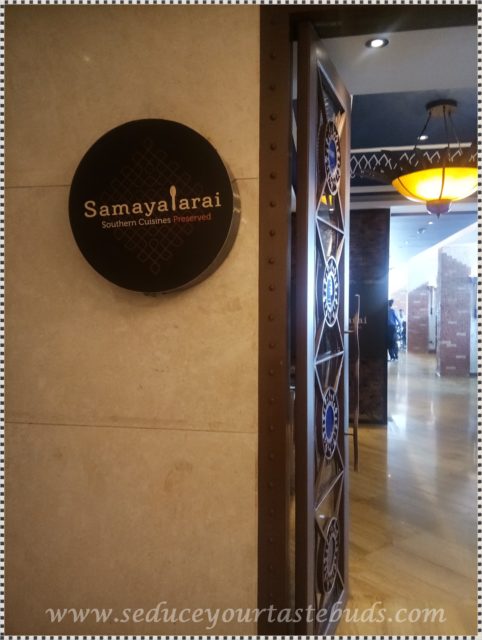 The ambiance is good , right?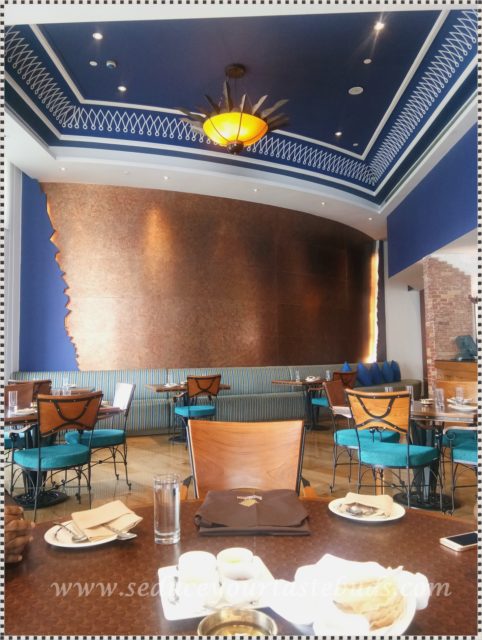 Each guest has an apron that can be worn during dining.A new concept!
We were served a welcome drink called – Vasantha Neer – A delicious concoction of Tender coconut water, lemon and honey with a generous dose of mint. The taste was so refreshing and that point goes to the mint leaves! This drink is supposed to be a part of the Chettinad tradition of serving this to the guests who visit them. The other one is Paanakam, the traditional drink made during Sri Rama Navami.
These two drinks are served on alternate days and my vote definitely goes to the Vasantha Neer.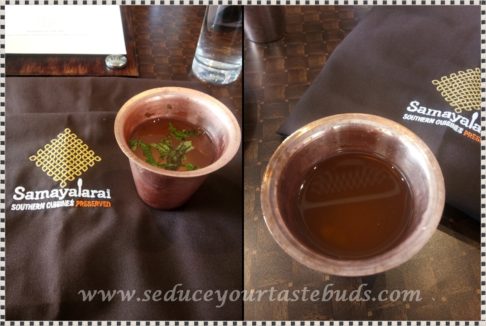 So, here is the menu card  with the Non veg and veg choices of the day.As you can see, some of the items on the menu are common in both the Thalis. The items in the menu changes everyday.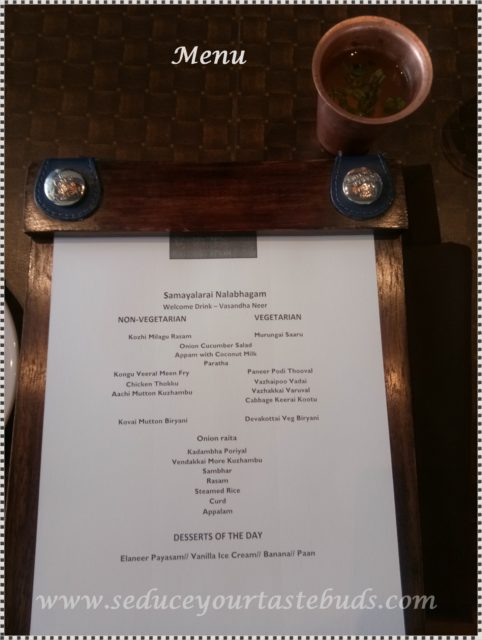 I opted for the vegetarian thali. Here are the usual basics – Pappad, Fried sun-dried chilies / More Milagai , Paruppu Podi and pickle.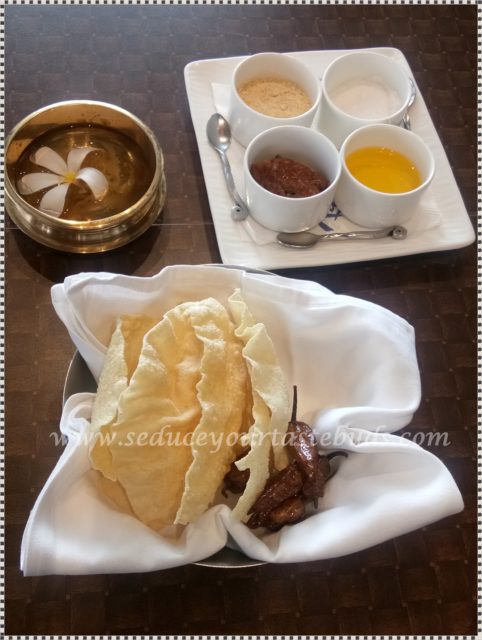 The first to arrive [after the welcome drink] is the Murungai Saaru .This drumstick soup was served piping hot and it was brimming with drumstick flavor.I made a mental note to recreate this soup for my family.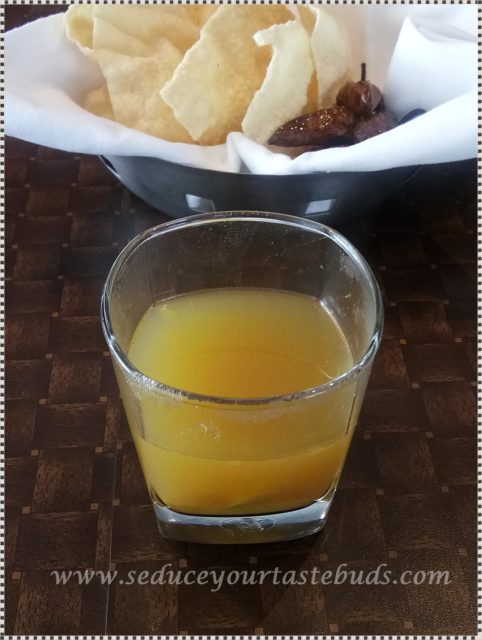 The main thali arrived. Starting from the left we have Vendakkai more kuzhambu[Ladies finger in yogurt gravy] ,Cucumber salad, Curd,Elaneer Payasam[tender coconut dessert / kheer],Onion Raita, Carrot beans curry/Kadhamba porriyal, Cabbage-greens kootu ,Vazakkai Varuval [Raw plantain fry] and Vazhapoo vadai [Banana flower vadai] in the center.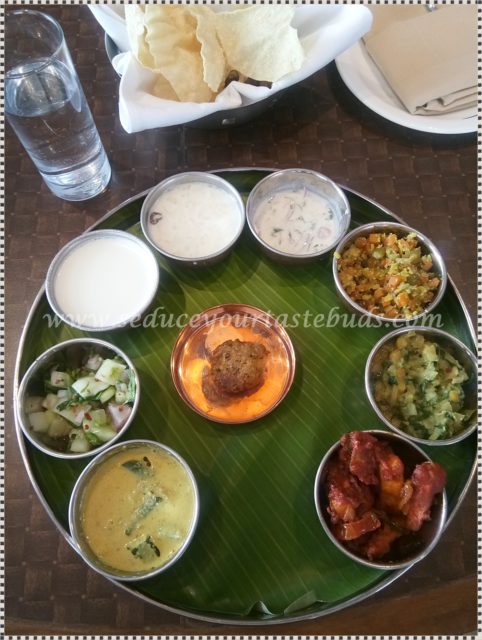 Hot Appam was served with its match-coconut milk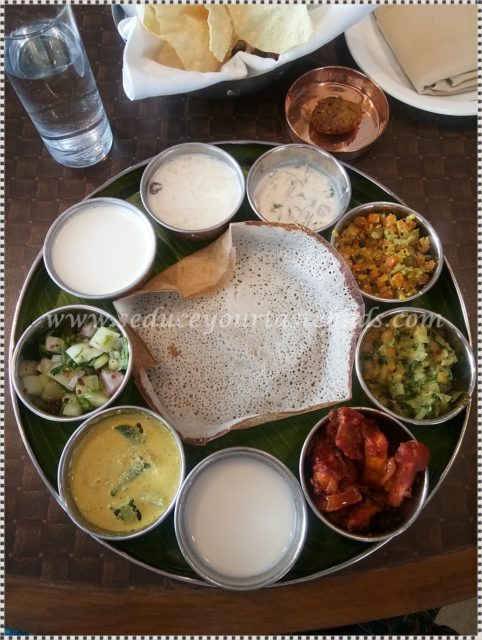 Then came the Parotta with Vegetable kurma . This kurma tasted good without the overwhelming aroma / flavor of spices that are normally added to this dish.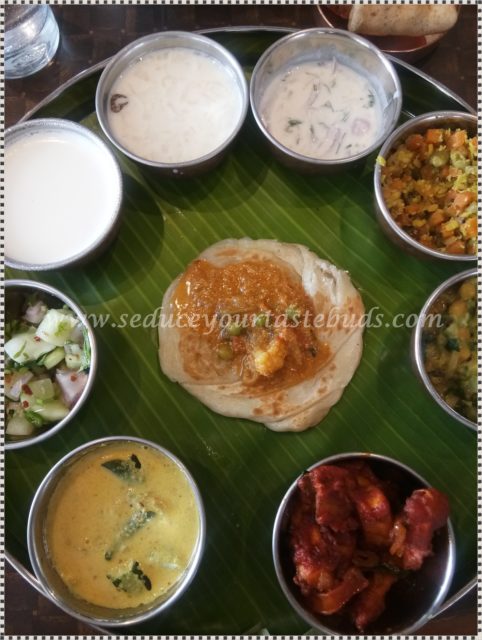 Devakottai Briyani was served next. This tasted just like the way we prefer briyani. Mildly spiced without too many spices in it. It was perfect!
Steamed rice,Drumstick sambar, rasam are served next. The drumstick sambar needs a special mention here.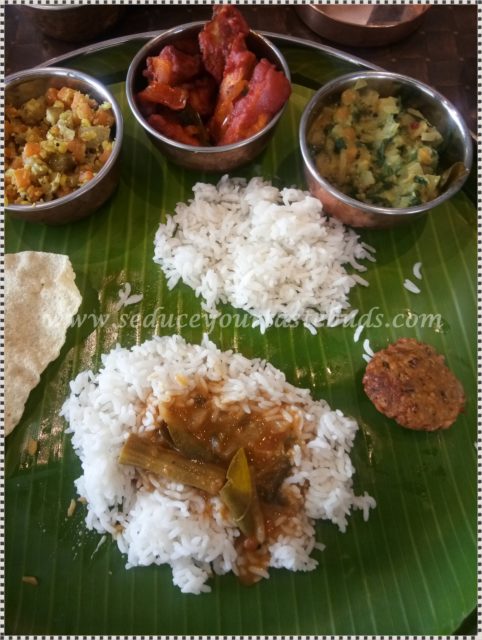 Another interesting feature in this menu is that if the guest does not prefer one of the vegetable sides, there is an alternative – Paneer Podi thooval. A deep fried panner side which is actually paneer coated with idli batter , deep fried and tossed in Idli Milagai Podi. It did taste good!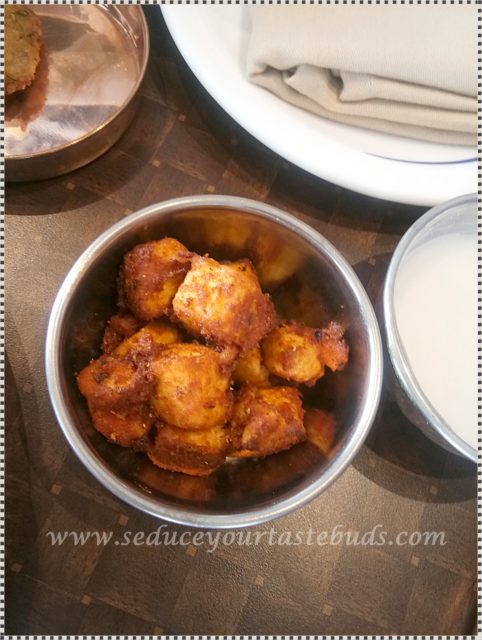 The meal ended with Ice cream, Paan/Beeda and Fruit.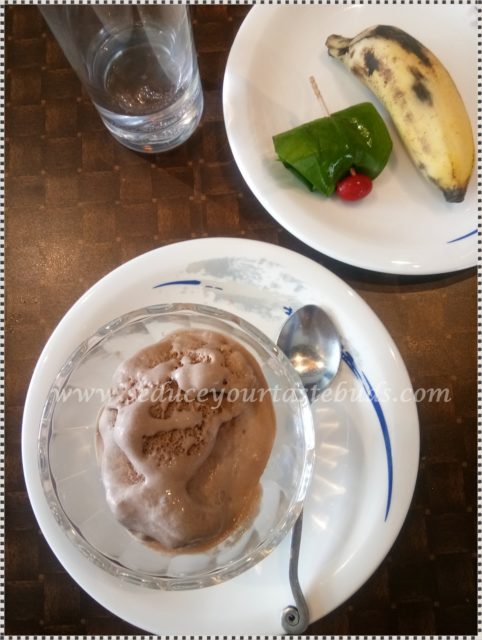 My thoughts:
The food was mildly spiced and it was just right for me. I do not prefer something too spicy and I don't like bland food either. So this meal was really perfect in terms of spice level.
There is a good choice of dishes for the Vegetarians. Usually,in many restaurants the non vegetarian menu gets the spotlight and the vegetarian meal is sort of side tracked. But here, equal importance has been given to the vegetarian dishes as well.
The meal is very heavy!So be sure to be super hungry before you reach the restaurant. We were almost full by the time we had the Briyani and we hadn't even moved on to the steamed rice and sides part!
The dishes are served in brass serve-ware and it gives an authentic look to the South Indian meal.
Many  Kongunadu specials are included like the Vazhapoo vadai and Elaneer Payasam.
Also authentic dishes from Chettinad and other parts of Tamil nadu are present.
The ambiance is good and offers a place for a quite meal with family or with friends / Corporate dining.
The Thali is very pocket friendly with the Vegetarian meal costing INR 500 and Non Vegetarian meal INR 600!
We were told that a lot of trail and error / experimentation was carried on before this concept was introduced and by going by the meal we had,the newly launched theme is sure to be a hit.
The gentle Carnatic music being played is an added bonus. It sets the tone for the concept.
The only thing we felt could be changed was serving soup in a serve-ware that fits the theme and also to replace the choice of ice cream with a more regional flavored one like Karupatti ice cream / Jackfruit ice cream etc.It would also be nice if the guests were offered betel leaves and the fillings separately and they could fold the betel leaves with their choice of fillings.
In all this was a meal that all three of us enjoyed a lot!
A special thanks to Mr. Madhusoodhanan.S (Director- Food & Beverage), the man behind the concept, for inviting us over to Samayalarai. Also thanks to his team of Chefs and Staffs for serving us with such good food.
So, if you are in Coimbatore,so drop in to experience the South Indian food at its best!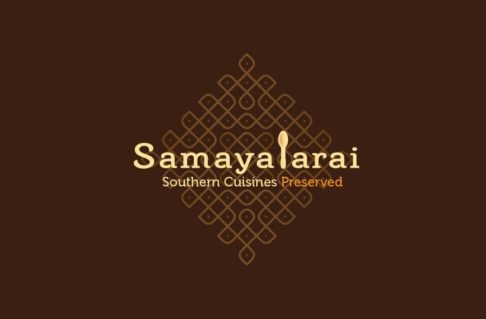 Where :1st floor, Radisson Blu,Coimbatore
When : Monday- Saturday
Timing :12.30 pm – 3 pm
For reservations contact:
Radisson Blu Coimbatore,
Address:164/165 Avinashi Road, Peelamedu, Coimbatore – 641 004, India
Website: www.radissonblu.com
Tel: 95855 95366 / +91 422 2226000