Between You and Me – Flight to Societal Moksha – Book Review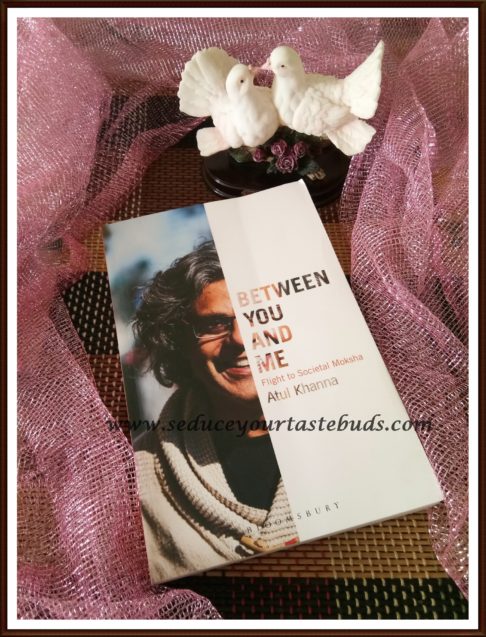 Title – Between You and Me – Flight to Societal Moksha
Author – Atul Khanna
Pages – 304
Publishers – Bloomsbury India (September  2018)
Format – Paperback
Genre – Non fiction
Price- INR 499/-

A young soul trapped in an old body. 

A ticking clock slower than time. 

Can this be the ironic destiny of 600 million bright and young Indians? Are we born free and yet trapped by our circumstances?
Between You and Me is a conversation that makes the reader ponder about the much-needed transformational changes for the twenty-first century. Why should we get up to act only when we are pushed to the corner? After all, a stitch in time saves nine. Could it be that the parameters of economics, administration, democracy, and social and political constitutions were all ideated and executed for another era? Will tinkering with these institutions help or are fresh ideas needed?
Encompassing an extensive discussion and analysis of what comprise our society-government, economy, education, healthcare, science, technology and so on-this book gives the reader a holistic view of India and helps in deriving solution-oriented ideas for a new societal design and structure which will ensure a thriving democracy. It presents the hope and aspiration of an ancient society that wants to break through the colonial legacy and land safely into the future. It is a gripping petition with operating models for redefining the citizen's role-from the audience to the hero-which, if implemented, would bring societal moksha of peace, power and prosperity.

The title of the book may look like a romantic novel or something like a conversation between 2 people. Well, it is definitely has nothing to do with romance but it is a sort of conversation on different topics of the constitution between the author and the reader.
The book is divided into 3 sections. The first part has 3 chapters, the second part 3 chapters and the third 2 chapters.
In the first section,the first chapter starts with the story of Eklavya and Karna in Ancient India.In this he rightly shows how injustice had been in practice even in those ancient times where the worthy have never been given due recognition!
And from there the second chapter goes on to Modern India and the Personality Driven Subcontinent.The third chapter has the Structures we Need.
There are a lot of things in our constitution that needs a change and the author shows us ways in which the society can attain Moksha / deliverance.
The author shows us the perspective from which we can view the situations thereby aiding one to take better decisions / see the situation in a new light.
The various aspects and elements of the constitution has been laid bare and discussed thereby explaining a lot of things that a common man should know. It is certainly enlightening.
I am not into politics and many of the terms generally seem unclear to me. But in this book the author has explained it clearly and many times with examples that will help us get a better picture of the scenario.The author has drawn several examples from his own life too.
Right from the basic education, health care, science and technology, economic condition of our country, there are so many faults which the author points out rightly. And he does not stop with that! He goes on to try and provide a possible solution and he feels that it can be implemented as well.
Key messages are given as bullet points making main points of discussion simpler. Explaining the situations / setting in layman's term needs to be applauded! The language is simple and clear.
I did learn quite a few new things about out country and constitution and the laws and that was definitely an eye opener as well.
The only thing for me is that I could not finish this in one go. This is a genre that I don't read often and hence I found it difficult to keep reading continuously. So I took breaks and even read them a few days apart.
In all,I can say that this book gives a clear view of political situation in the present day India and ways and means by which each and every citizen can mold / shape the country into a better place.
This book can also be used as a reference material, something that you can go back to and reread a while later.

If you are looking for a book that will give you a clear insight to the present day politics / constitution, then you can definitely pick up this one. It not only gives you a picture of India today but also methods/ ways that we can follow to make the constitution / nation better.

Atul Khanna is a risk-taking, self-taught entrepreneur who is connecting people, cultures and technology, often ahead of its time. He has built enterprises in manufacturing, engineering, machine vision, life sciences and now education by building an Indian-European knowledge corridor over the years. He lives a quiet, joyous life with his family and friends in Pune, India, and travels to Europe for work.
---
I got the book as a part of the review program in Outset 
Check out the 60+ books that I have reviewed so far in the Book Reviews page.