This is the first time I am trying it out.Wanted something with carrots for JFI and rice for Rice mela.Result-Carrot rice…I had some of the masala powder I made for the capsicum rice and used it with carrots.I expected the rice to be sweet but I was wrong cos it tasted great…
You need:
Rice-1 cup,cooked [Grains should be seperate]
Grated carrot- 1/2 cup
Onion-1 finely chopped
Curry leaves-a few
Red chillies -4
Peanuts-2 tablespoons
Coriander-To garnish
Salt to taste
Mustard-1 teaspoon
Jeera-1/2 a teaspoon
Urad dhal-1/2 a teaspoon
Oil-1 tablespoon
Roast in Ghee[1 teaspoon] and powder:
Red Chillies- 3 [More if u want it spicy]
Jeera-1/2 teaspoon
Urad dhal-1 teaspoon
Roasted groundnuts-1 tablespoon
Heat oil in a pan and add the mustard and jeera.
When they splutter add curry leaves,redchillies and saute for a few seconds.
Add onions and saute till transclucent.
Put in the carrot and cook till the raw smell disappears.
Add the peanuts,salt and the 1-2 teaspoons[depending on ur taste] ground masala and mix well.
After a few minutes add the cooked rice,sprinkle a little water if it is too dry and mix .
Remove from heat after a few minutes
Garnish with coriander leaves and serve with a raita and crispy.
This goes to JFI-Carrots hosted by The cooker and also sending it over to Srivalli's Rice mela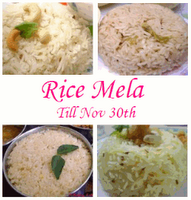 Also in the rice mela…
Rice Sevai
Lemon sevai
Aval Upma
Curd rice
Ridgegourd rice
Capsicum Rice
Fusion Rice
Check out my team mates on RM # 2 day 28
1) DK 2) Siri 3) Srivalli 4) Ranji 5)PJ [That's me]6)Curry Leaf 7)Medha 8)Priya 9)Bhawna 10)Raaji 11)Ruchii
12)Anu 13)Kamala 14)Roopa 15)Divya Kudua 16)Rekha 17)Divya M 18)Lakshmi 19)Raaga 20)Lakshmi Venkatesh 21)Sripriya22)Viji 23)Kamalika24)Pavani25)Karuna26)Roochi