Something to heat up the tastebuds on a cold rainy day.Increase or decrease the pepper to your taste.This lovely,pungent and sharp tasting spice can best be relished when used fresh ground pepper instead of the preground powder.
You need:
Rice- 1 cup ,cooked,each grain should be seperate
Ghee-2 tablespoons
Jeera-1 teaspoon
Mustard seeds-1 teaspoon
Black peppercorns-1.5 tablespoons
Black sesame seeds-1 tablespoon
Curry leaves-few
Salt to taste
In a pan ,dry roast peppercorns,sesame seeds and curry leaves till you get a wonderful aroma.Remove from heat ,let it cool a bit and powder coarsely.
Heat the ghee and add the mustard seeds and jeera,let them splutter and add the curry leaves and wait till it turns crisp.
Add the cooked rice,salt and the ground powder and mix well to combine.
Remove from heat and serve with a raita/gravy and crispies .This rice is a breeze to prepare,right!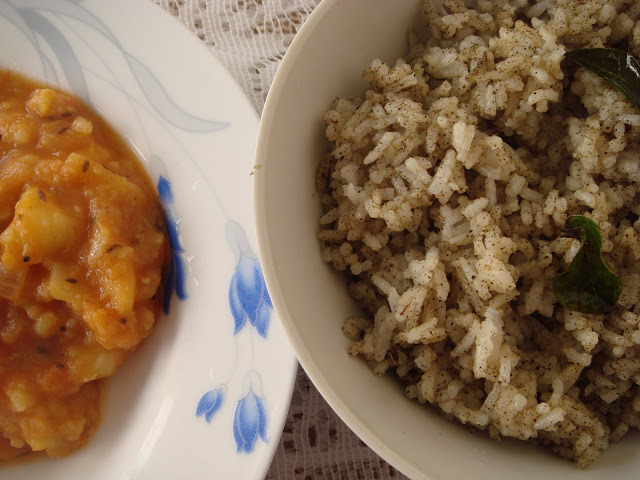 .I served it with a tangy potato gravy for which the recipe will be posted shortly…
Sending it over to Srivalli's Rice mela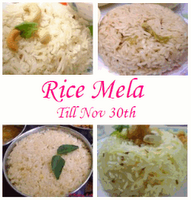 Also in the rice mela…
Rice Sevai
Lemon sevai
Aval Upma
Curd rice
Ridgegourd rice
Capsicum Rice
Fusion Rice
Carrot Rice
Check out my team mates on RM # 2 day 29
1) DK 2) Siri 3) Srivalli 4) Ranji 5)PJ [That's me]6)Curry Leaf 7)Medha 8)Priya 9)Bhawna 10)Raaji 11)Ruchii
12)Anu 13)Kamala 14)Roopa 15)Divya Kudua 16)Rekha 17)Divya M 18)Lakshmi 19)Raaga 20)Lakshmi Venkatesh 21)Sripriya22)Viji 23)Kamalika24)Pavani25)Karuna26)Roochi