If you have been reading my blog regularly ,you might well be aware about my love for Yoghurt.So,when mom and me were discussing about new recipes,the topic turned to raita and she asked,'You have posted Beetroot Raita ,right?' and thats when I remembered I had forgotten all about it :).
So off dad went to get Beetroot and here is the simple raita..It can be used as side-dish with pulao or any rice varities and also goes well with Sambar sadham[Sambar rice] and Ennai Kathirikkai[Baby brinjal in tangy sauce].

You need:
Beetroot-1,small,Peeled and grated
Curd-1 soupbowl full
Salt to taste
Seasoning:
Mustard-1 teaspoon
Urad dhal-1/2 a teaspoon
Curry leaves-a few
Green chillies -2 slit
Oil-1 teaspoon
1.Heat oil a pan and put in the mustard and urad dhal.
2.When the dhal turns brown add the green chillies and curry leaves.
3.When the curry leaves turn crisp,put in the grated beetroot andsaute for a few seconds.
4.Sprinkle a little water and cook covered till soft.
5.Meanwhile beat curds well with salt.
6.When the beetroot is done,pout into the curd.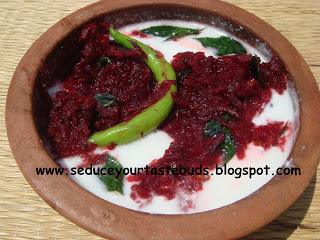 7.Mix well and serve as such/chilled.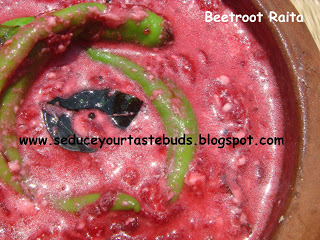 You can also microwave the grated beetroot [sprinkle a little water and cover] for 5 minutes or till cooked and then add it to the pan after the seasoning are done,Saute for a few seconds and pour over the curd.Mix and serve.
This raita 'looks' like pink to me so off it goes to Sunshinemom's FIC event,which is hosted this month by Priya. Priya has choosen lovely pink/Rose for the theme and if you cooking aything in pink don't forget to send it to her…