Fenugreek is considered to be a cleansing and heeling spice in Ayurveda but it does not earn its place in the menu owing to its bitter taste.
Health benefits of fenugreek:
• Fenugreek seeds are helpful in balancing cholesterol and blood sugar levels.
• It is a galactogogue ie it aids in increase milk secretion in lactating women. It is given in the form of meethi laddoo to the new mothers.However large doses of fenugreek should not be taken by pregnant women as it may induce uterine contractions.
• The large amounts of mucilaginous fiber in fenugreek seeds act as a laxative.
• They purify the blood.
• Purifies the liver and spleen.
• Good source of Carbohydrates,protein,Vitamin A & C,fiber,iron
With so much goodness,it is often neglected in our diet.Here is a tasty way incorporate this super spice in our menu.
Sprouted fenugreek sambar…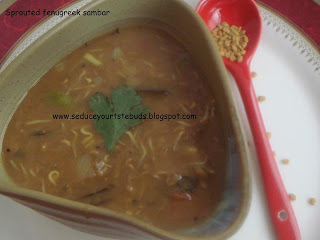 I used:
Sprouted Fenugreek-1 1/2 cups
Toor dhal-1/2 a cup
Tomato-1,chopped
Onion-1 chopped
Garlic-2 pods,minced
Green chillies- 2,chopped
Sambar powder-2 teaspoons
Tamarind extract-1/4 cup thick
Curry leaves- a few
Mustard seeds-1 teaspoon
Cumin seeds-1 teaspoon
Split urad dhal-1 teaspoon
Gram dhal-1 teaspoon
Oil -1 tablespoon
Salt to taste
Pressure cook toor dhal and sprouted fenugreek with enough water till soft.[I thought the fenugreek sprouts will disintegrate on pressure cooking but they didn't!]
In a pan heat oil and put in mustard,jeera,urad dhal,gram dhal,curry leaves and wait for the dhal to brown.Add minced garlic and onion and saute till onion is soft.
Put in green chillies and tomato and cook till tomato is soft.
Add the tamarind extract and boil till it reduces to half the quantity.
Put in cooked dhal+fenugreek mixture,sambar powder,salt and mix well.Adjust the consistency by adding water if required.
Let it come to a rolling boil.
Simmer for 2 minutes and remove from heat.
Serve with steamed rice.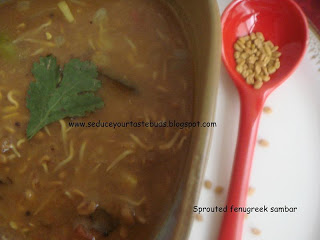 To sprout fenugreek at home,soak fenugreek seeds ovenite.The next morning,drain the water and tie them in a cheescloth and set aside for a couple of days,away from direct sunlight.Sprouts can be upto an inch long.
Happy cooking…