Lotus seeds /Lotus nuts[ or Makhana in Hindi]as it is called, is an ingredient that is very new to me.Lotus seeds are a part of East Asian cuisine and are used extensively in Chinese medicine and Chinese desserts.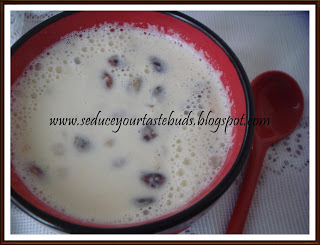 I used:
Milk- 5 cups
Lotus seeds – 15 numbers
Almonds -10 numbers
Pista nuts-10 numbers
Saffron-a few strands,soaked in a tablespoon on warm milk
Cardamom powder- a pinch
Sugar to taste
Ghee-2 tablespoons
Roasted pista nuts- to garnish
1. Microwave the almonds for 2 minutes and remove skin. Soak pista nuts in hot water for 5 minutes.
2. Grind almonds and pista nuts to a smooth paste adding a little water and keep aside.
3. Heat ghee in a small pan.Put in lotus seeds in batches and fry till it puffs up/turns light brown. Drain and keep aside.
4. In the same ghee put in pista nuts and fry till golden brown.Drain and keep aside.
5. Heat milk in a heavy bottom pan and when it comes to a boil, simmer.
6. Put in the ground nut paste, sugar, lotus seeds and mix well.
7. Keep stirring once in a while so that it does not stick to the bottom of the pan.
8. When the volume of milk reduces to ¾ th, put in cardamom powder and saffron.
9. Let it cook for a couple of minutes and remove from heat.
Serve warm or chilled garnished with pista nuts.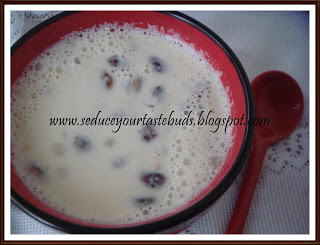 A different kind of kheer with a different taste!!!
This is one of the dessert that I prepared for lil angels b'day a couple of days ago.Her birthday falls on the day before spring festival and notyet100 has invited us to share something fresh and festive celebrate the spring festival and her blog anniversary.So sending it to her for her event – Let's Celebrate with colors
Bon appetit…