I was multi-tasking a few weeks ago-telling mom that it was ages since I tasted Rasmalai and was checking my mail side by side.That's when I saw Srivalli's announcement for this month's Indian Cooking Challenge.I was surprised!This months the chosen recipe was Rasmalai!!!Rasmalai is a traditional sweet from West Bengal,India and also a favorite in Bangladesh.
I decided then and there that I would make this.The reason being-I had missed last months challenge and I had developed a sudden craving for Rasmalai.Though I wanted to make it ASAP,I could do this only a couple of days ago and thoroughly enjoyed every step of this procedure.The process may seem lengthy but the result is worth every bite!!!
Take a look at the yummy dessert before I proceed to the method…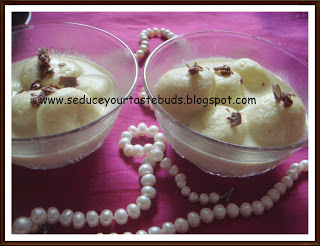 Now for the step by step guide to make this delicious dessert at home.
I used:
Milk-1 liter + 3/4 liter
Lemon juice from half a lemon
Sugar -a little less than half a kilo
Maida- 1 teaspoon
Cardamom-2 pods,crushed
Saffron-a few strands,soaked in a tablespoon of warm milk
Powdered nuts-2 tablespoons
1.Heat 1 liter milk in a vessel and bring it to boil.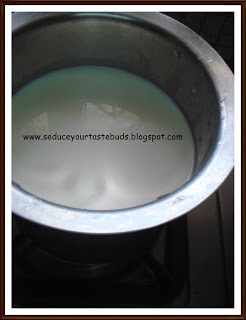 2.Switch off the flame and squeeze out the juice from the lemon.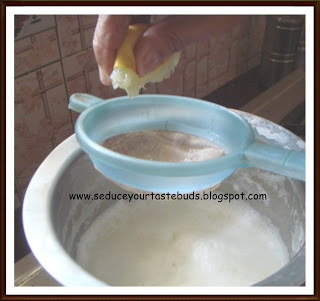 3.It will curdle immediately,else add more lemon juice.Let it stand for 10 minutes.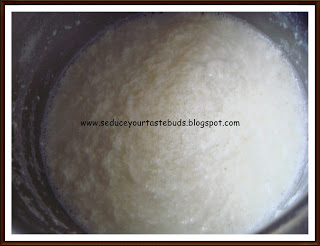 4.Strain.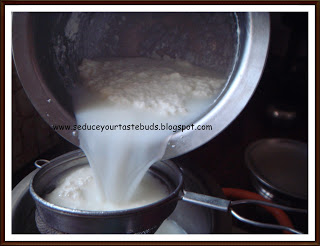 5.Put the panner into a vessel and wash a couple of times with water.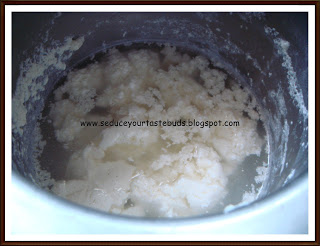 6.Transfer the paneer onto a cheese cloth and squeeze out excess water.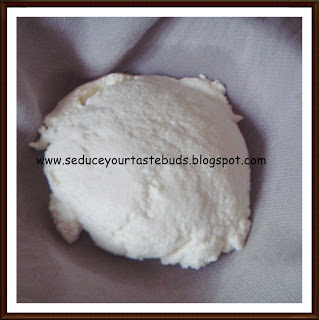 7.Tie the cloth and hang it so that the whey drains out completely.It took almost an hour.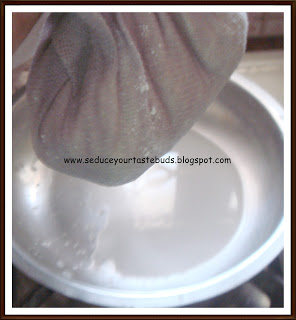 8.The whey water is very nutritious .So do not discard it.Store it in the fridge for later use.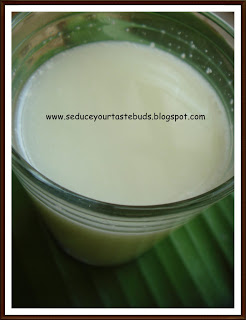 9.After the whey has drained completely here is the paneer ready to be used.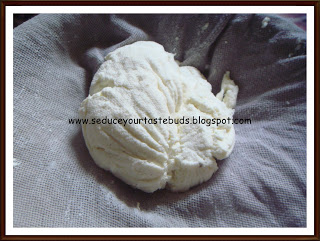 10.Add the maida to the paneer and knead for 15 minutes.Knead well else it may break when dropped into the sugar syrup.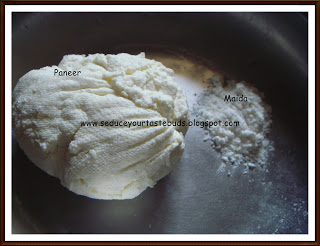 11.Make small balls.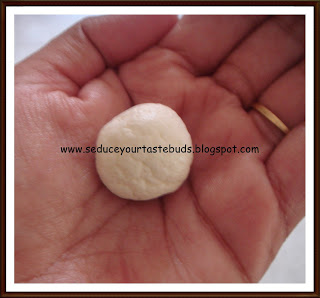 I got 15…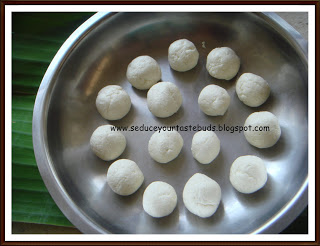 12.In a pressure cooker,take 2 cups of water and add half the sugar.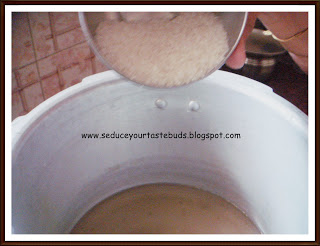 13.Once the sugar dissolves,put in the paneer balls and pressure cook for 2 whistles / 10 minutes.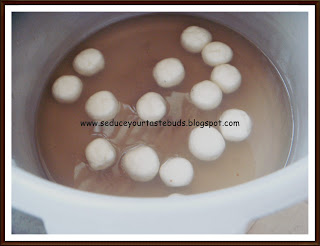 14.The paneer will be double the original size now.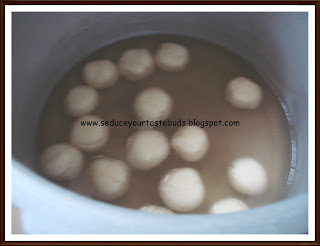 15.Heat the 3/4 liter milk in a heavy bottomed vessel and add the remaining sugar, nuts, saffron, cardamom and simmer till it reduces to 3/4th of the original quantity.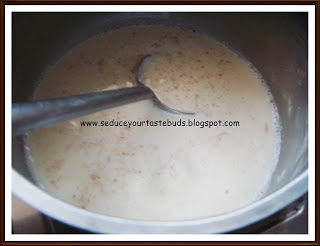 16.Remove the paneer from the syrup and squeeze them gently to remove excess syrup.Flatten them lightly.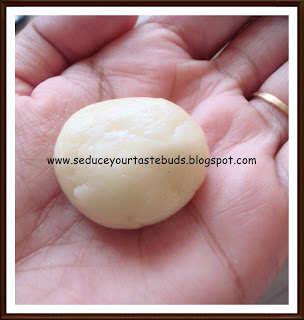 17.Drop them gently into the reduced milk mixture.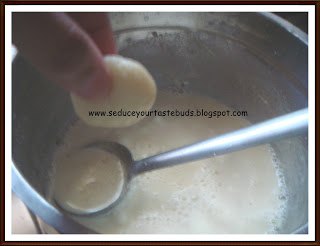 18.Simmer for 10 minutes.Remove from heat.Let it cool,refrigerate and serve!!!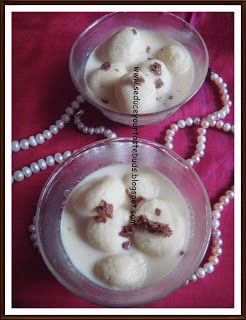 Isn't it pretty easy.I finished the actual procedure in an hour.The waiting time was 1 hour for the whey to drain.During this time I could have started heating the milk and the nuts mixture but I was happily reading Jeffery Archer's-Prison diary Volume 3 and almost forgot that I had still more work in the kitchen!My nephews who love this dessert were eager to taste it and they were totally taken in by the taste!!!They want me to prepare this again!!!I am so glad it turned out perfect…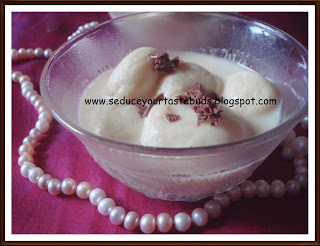 The chilled Rasmalai was way better than the ones I used to have outside.It does make sense,after all, its home made!!!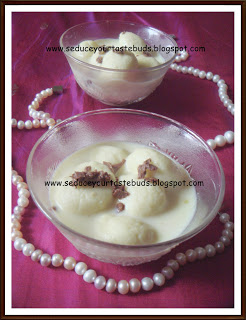 Note:
The whey that we get when milk coagulates is rich in nutrients.It can be used in a plenty of ways.All you need to do is store it in the refrigerator and
Use it to prepare chapathi/Roti use this water to make the dough.
It can also be used instead of lemon juice[as a starter] the next time you make paneer.
Use it as a soup base
Add a pinch of salt and drink it up.
Use it while preparing baked goodies.
Use it in milkshakes instead/with milk.
Earlier in ICC
Ariselu / Athirasam
Kachori
Moong dhal halwa
Chegodilu
Gulab jamun
Happy feasting…..